Are you looking for a reliable trading platform to invest your hard-earned money? If so, then you have come to the right place. In this article, we are going to talk about Spreadex, one of the most popular trading platforms available in the market today. We will take an in-depth look at the platform and evaluate its features, services, and performance in 2023 – is it worth your investment?
Investing is not easy; it requires knowledge and understanding of the market. With so many different trading platforms available, how can you determine which one is suitable for you? This article will provide you with an objective review of Spreadex and give you an insight into its features that make it stand out from other platforms.
We will also discuss what makes Spreadex unique and why it could be a great option for those looking to start their journey as a trader or investor. So if you are curious to know more about Spreadex review 2023 – read on!
Recommended: Fineco Bank Review 2023: Pros & Cons, Features, App & Accounts
Overview
Spreadex is a trading platform that offers a range of services to traders. It has been in operation since 2003, making it one of the longest running platforms in the market. The company provides access to thousands of markets, including stocks and indices from around the world. It also offers a range of innovative features such as guaranteed stop-losses and trailing stops. So what can potential traders expect from Spreadex in 2023?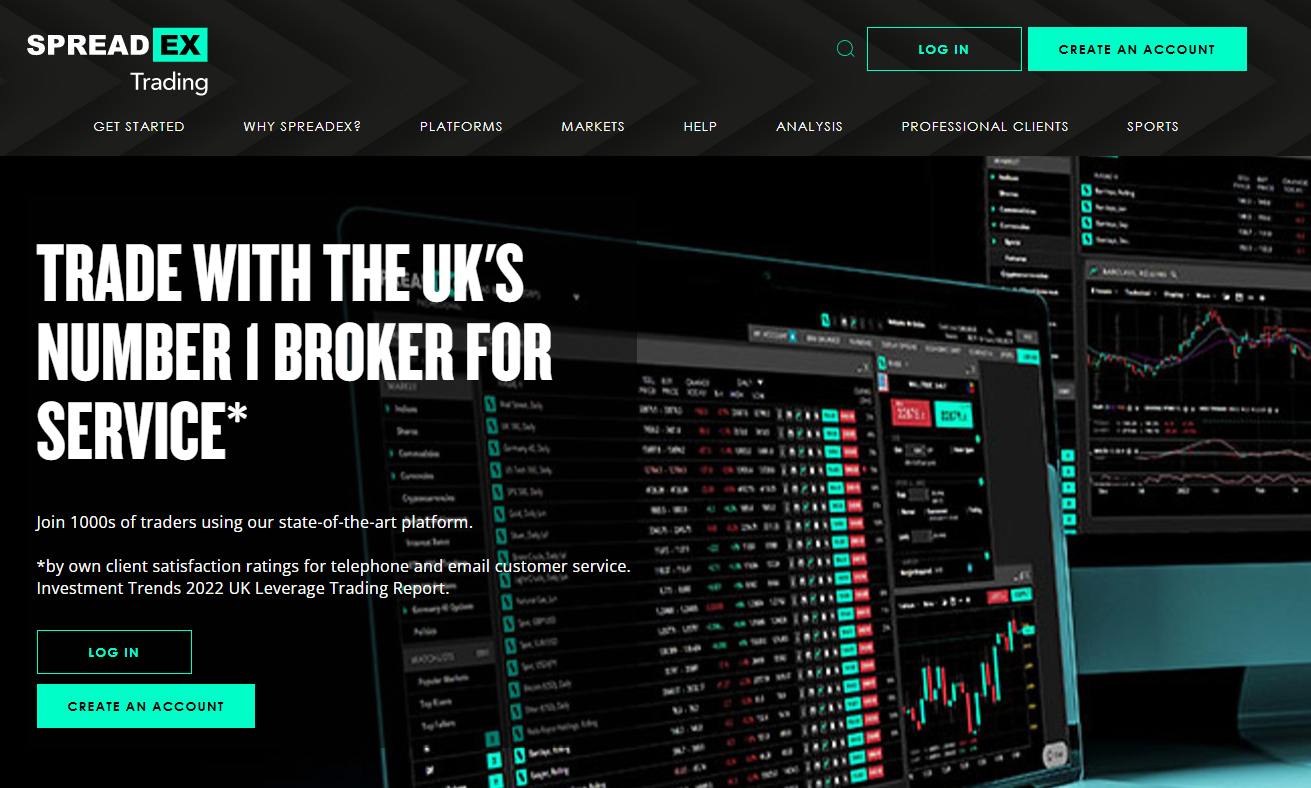 The first thing that stands out about Spreadex is its commitment to customer service and security. The company has an impressive track record when it comes to offering reliable customer support, with a team of experienced professionals always on hand to answer queries and provide assistance. In addition, the platform uses encryption technology to ensure that all data remains safe and secure at all times.
Overall, Spreadex is a reliable trading platform with great customer service and plenty of features to help traders make informed decisions. With its wide range of markets and high level of security, it's certainly worth considering for potential investors looking for a safe place to invest their money in 2023.
Read Next: Multibank Group Review 2023:A Detailed Look at This Forex Broker
Pros & Cons of Spreadex
Pros
Offers a range of trading instruments, including forex, indices, commodities, and shares.
Provides low spreads and commissions, which can be beneficial for traders looking to minimize trading costs.
Offers access to its own proprietary trading platform, which includes a range of features such as sports spread betting and binary options.
Provides access to educational resources, including trading guides and video tutorials.
Regulated by the FCA.
Cons
Limited availability of trading platforms compared to some other brokers.
No cryptocurrency trading options.
Higher minimum deposit requirements than some other brokers.
Limited availability of customer support outside of regular trading hours.
Limited availability of payment methods for deposits and withdrawals.
Overall, Spreadex is a reliable trading platform that offers many features that can benefit both beginner and experienced investors alike. Despite some drawbacks in terms of availability and customer service, its competitive fees and wide range of features make it an attractive option for those looking to start trading or diversify their portfolios.
Account Types
Moving on from the overview of Spreadex, we'll now take a look at the different account types available. This trading platform offers something for everyone, with a range of different accounts suitable for everyone from beginners to experienced traders.
The first type is the Standard Account, which is ideal for those who are new to trading and want an easy-to-use platform. This account comes with no commission charges, as well as guaranteed stop loss protection and a range of educational materials to help you get started.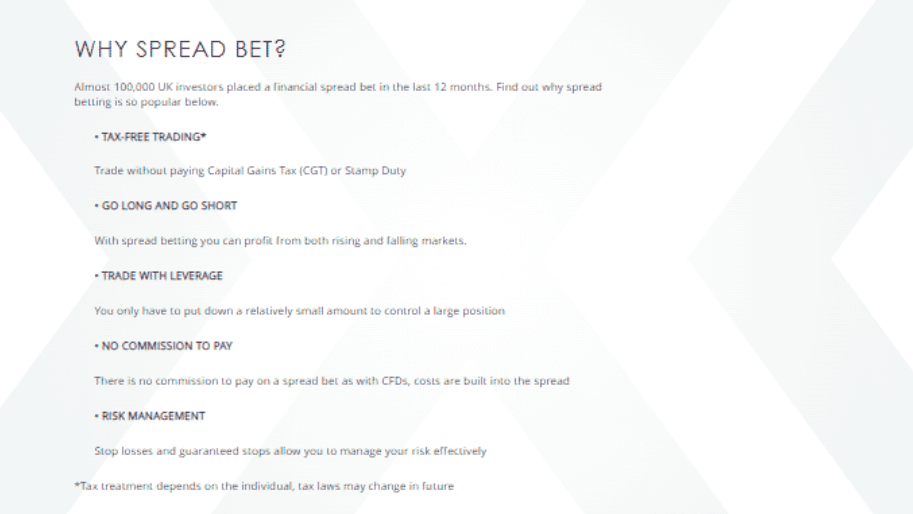 The next account type is the Professional Account, which is designed for more experienced traders. With this account, you get access to tighter spreads and better execution speeds, as well as advanced charting tools and in-depth market analysis reports. There's also a low minimum deposit requirement of just £500.
Overall, Spreadex provides something for everyone, no matter what your experience level or budget may be. Whether you're just starting out or already have some experience in trading, this platform has plenty of features that can help you make informed decisions when it comes to your investments.
Take a Look: VT Markets Review 2023: A Detailed Look at This Forex Broker
Trading Instruments Offered
Spreadex offers a wide range of trading instruments to its clients. This includes forex, indices, commodities, stocks and shares, cryptocurrencies and ETFs. The company also offers Spread Betting and CFD trading services.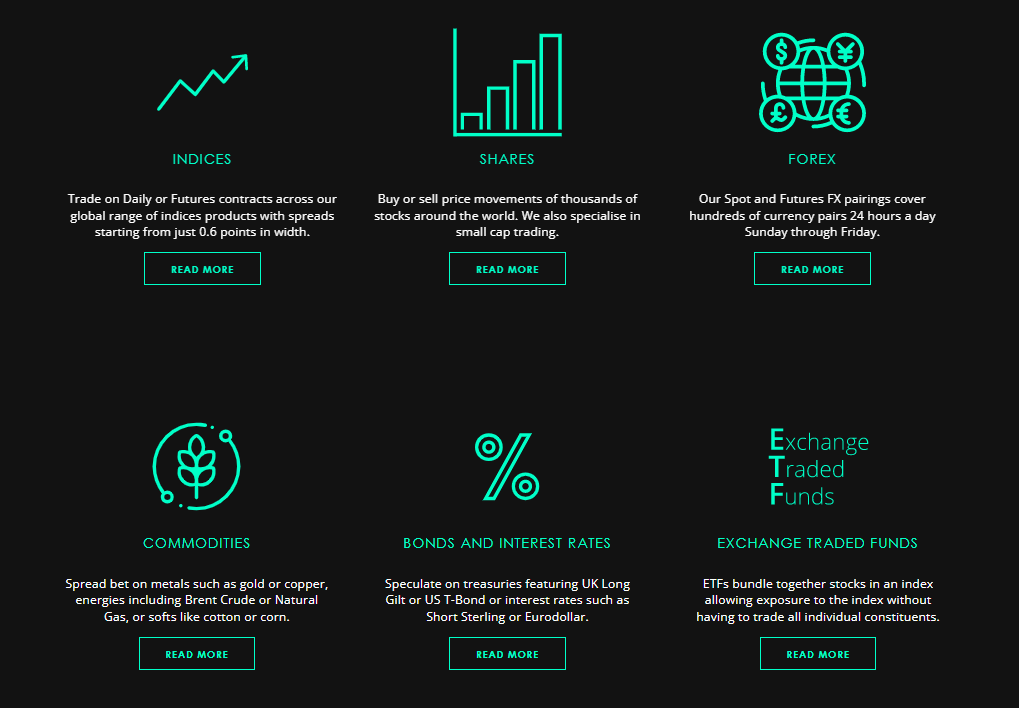 The platform allows for both manual and automated trading. For manual traders, the platform provides access to market data in real-time, as well as charting tools which allow traders to monitor their positions and analyze the markets. For automated traders, Spreadex offers an API which allows users to build custom bots that can be used to automate their trading activities.
Overall, Spreadex is a comprehensive trading platform that offers a range of instruments to suit the needs of different types of traders. It has the features necessary to help users become successful in the world of financial markets.
Continue Reading: GKFX Prime Review 2023: Pros, Cons, and Everything in Between
Platform Usability
Moving forward, let's take a look at the platform usability of Spreadex. This trading platform provides users with an easy-to-use interface, allowing them to quickly and accurately place trades on a variety of markets. The site is well designed, with intuitive menus and a clean layout that make it simple to navigate. There are also helpful tutorials available to help new traders get up to speed.
One of the great features of Spreadex is its mobile app, which allows users to manage their trades from any location. The app has been designed for both iOS and Android devices, and is simple to use no matter the device type. All relevant data is stored securely in the cloud, so traders can access their accounts from any device with an internet connection.
Overall, Spreadex offers a comprehensive trading experience for investors who are looking for an easy-to-use platform that provides access to a wide range of markets. With its intuitive interface and secure mobile app, this platform could be an ideal choice for those who want to trade with confidence.
Dig Deeper: Teletrade Review 2023: Is This Forex Broker a Reliable Choice?
Fees And Charges
When it comes to fees and charges, Spreadex has a few different options to offer its customers. Firstly, they don't charge any commission on trades. Instead, they make their money through the spread, which is the difference between the buy price and sell price when you open or close a position. Secondly, there are overnight financing fees if you hold a position overnight which vary depending on the instrument you're trading.

Finally, there's also an inactivity fee of £12 per quarter for accounts that have been inactive for six months or more. All in all, these fees are relatively competitive compared to other online trading platforms. Spreadex also offers discounts for active traders who meet certain criteria such as volume of trades per month and amount of money invested. So it's definitely worth looking into if you're interested in trading with them.
Find Out: FlowBank Review 2023: What Makes This Forex Broker #1?
Security Features
Spreadex is a trading platform that offers investors the highest levels of security. All data sent to and from their servers is encrypted, and the site itself is regularly monitored for any suspicious activity. They also provide two-factor authentication, which requires users to enter a code sent to their phone or email in order to access their accounts. This ensures that no one but the user has access to their account information.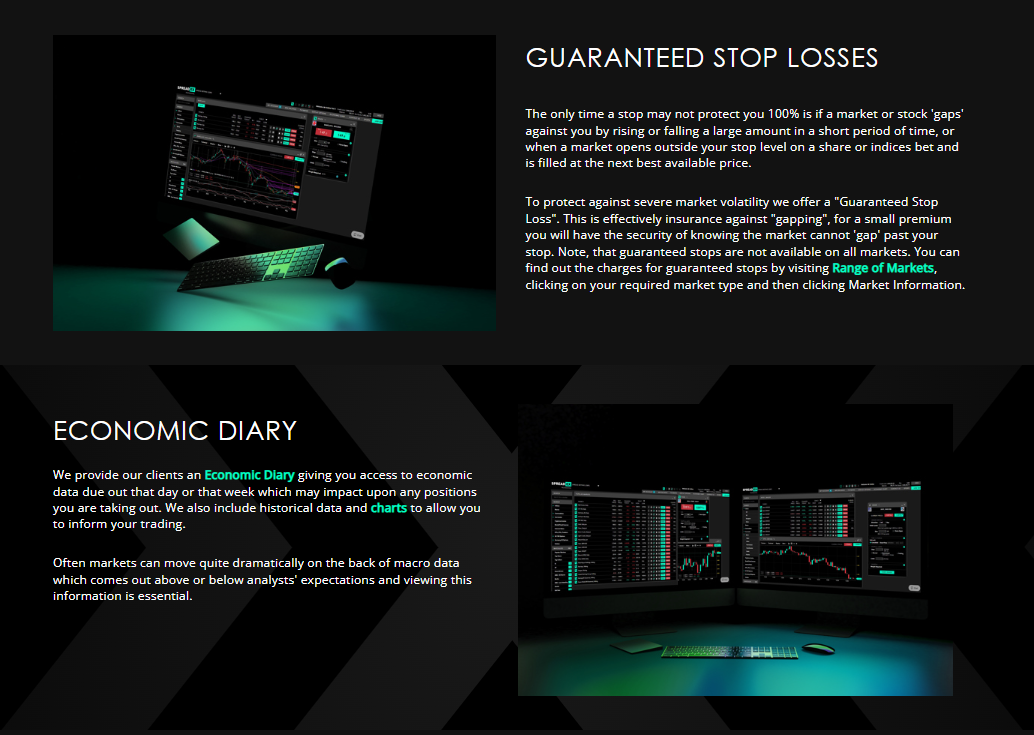 In addition, Spreadex has implemented a number of measures designed to protect against fraud and theft. For example, they have invested in state-of-the-art security systems, which detect and prevent unauthorized access to user accounts. Furthermore, they use advanced encryption technologies such as SSL (Secure Socket Layer) and TLS (Transport Layer Security), ensuring that all transaction data remains safe and secure.
All in all, Spreadex provides investors with an incredibly secure trading environment. With these robust security features in place, it's easy to see why Spreadex is worth your investment.
Learn More: Trade Nation Review 2023: Everything You Need to Know
Customer Service Options
Spreadex offers a range of customer service options to accommodate its traders. It has a dedicated customer service team on hand who can answer any queries and provide advice on trading strategies. They are available via phone, email or live chat 24 hours a day, seven days a week.
The customer support team is highly knowledgeable and experienced, ensuring that customers get the most accurate information possible. Additionally, they provide extensive educational resources for those looking to learn more about trading. These resources include webinars, e-books, video tutorials and more.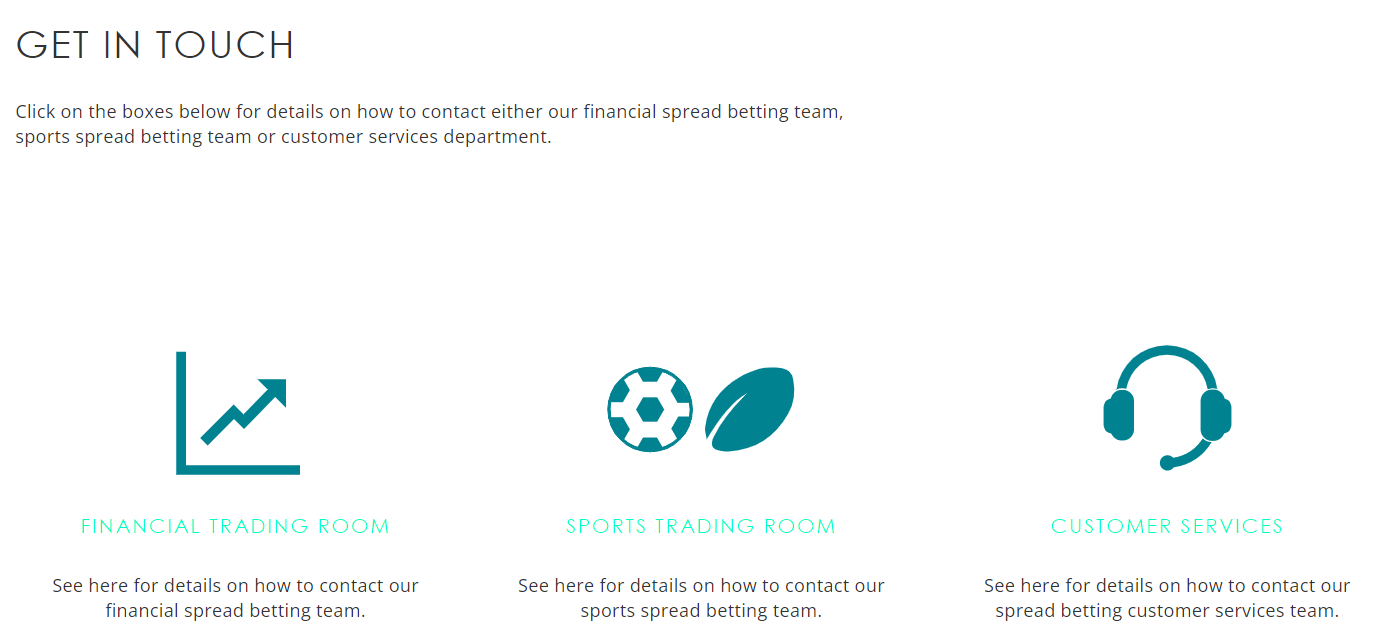 Spreadex also provides several features to make trading easier for its customers:
One-click execution for faster trades
Automated risk management tools to help manage losses
Real-time market data updates
Advanced charting and technical analysis capabilities
Overall, Spreadex is an excellent choice for those looking for an easy to use trading platform with great customer service options. The range of features available ensures that users have all the tools necessary to maximize their profits.
More Resources: FXPrimus 2023 Review: Is This Forex Broker Right For You?
Education & Research Tools
Spreadex offers a wide selection of education and research tools to help traders make informed decisions. Their online library is full of resources, such as tutorials, webinars, and video lessons. There are also several articles on trading strategies and market analysis written by experienced traders that can help you gain a better understanding of the markets. Additionally, they provide a comprehensive glossary with detailed explanations for each term. Furthermore, Spreadex offers a variety of technical indicators and charting tools which can help you identify trends in the market and develop successful trading strategies.
Their trading platform also provides users with real-time news updates from reputable sources. With this information at their fingertips, traders can keep up to date with the latest events in the markets and take advantage of potential opportunities as they arise. Moreover, Spreadex's support team is always on hand to answer any queries or provide assistance when needed.
All in all, Spreadex offers an array of education and research tools that are sure to be beneficial for anyone looking to gain a better understanding of the financial markets or start trading successfully. They have something for everyone; from beginners looking to learn more about trading to experienced traders seeking new strategies and insights into the markets.
Check out: Forex4You 2023 Review: Is This Forex Broker Right For You?
Bonuses & Promotions
Spreadex is a great choice for traders looking to maximize their investment. The trading platform offers several bonuses and promotions that can be used to increase your overall return on investment. Here's a quick look at some of the incentives you can expect when you sign up with Spreadex:
Welcome Bonus: Get up to £300 bonus cash when you make your first deposit.
Referral Program: Earn money for referring friends and family to the platform.
Cashback Bonuses: Receive cash back on losing trades, helping to reduce your losses.
Weekly Promotions: Get access to exclusive weekly promotions, including bonus cash and other rewards.
These bonuses and promotions are designed to help traders maximize their profits while minimizing risk. Plus, they give users an extra incentive to continue trading with Spreadex instead of switching platforms in pursuit of better deals elsewhere. All in all, these benefits make Spreadex a great option for anyone looking to make their investments go further in 2023 and beyond.
Discover: Capital.com Review 2023: Everything You Need to Know
Conclusion
Overall, Spreadex is a great trading platform for those looking to invest in the financial markets. It offers a wide range of account types, trading instruments, and education and research tools that can help traders make informed decisions. The platform is also easy to use and has reasonable fees and charges. Customer service options are also impressive and include live chat, phone, and email support. Plus, there are bonuses and promotions available to help traders maximize their returns.

That being said, it's important to note that any form of investing carries risk. So it's always advisable to do your own research before investing with any broker or platform. After all, you want to make sure your money is going into something worthwhile!

In conclusion, Spreadex is a great option for those looking for an online trading platform with plenty of features and resources. Its user-friendly interface makes it easy to navigate while its fees remain competitive within the industry. Additionally, the company provides excellent customer service as well as education and research tools that can help traders stay informed about the markets. All in all, Spreadex might be worth considering if you're looking for a secure online trading platform.