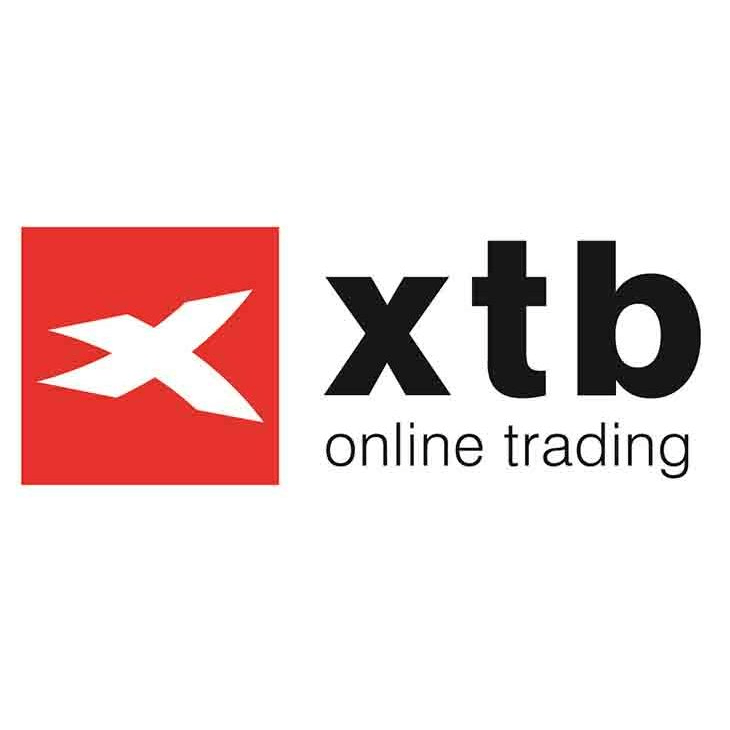 Are you looking to grow your wealth in the stock market? XTB is a leading online broker that offers investors access to global markets. In this XTB review, we'll explore everything you need to know about them before investing your hard-earned money. We'll look at their customer service, platform tools, fees and more so that you can make an informed decision.
XTB has been around since 2002 and over the years they have grown into one of Europe's largest brokers with offices in 15 countries. They are regulated by MiFID II which ensures investor protection and transparency when trading on their platforms. Additionally, they offer a wide range of products such as CFDs, forex, stocks and ETFs for traders who want diversified portfolios.
Finally, we will examine their award-winning platforms – xStation 5 and MetaTrader 4 – both of which provide users with powerful charting functions, automated trading capabilities and advanced order types. Whether you're a novice trader or experienced pro, this comprehensive XTB review will help you decide if it's the right brokerage for you!
Recommended: Axitrader Review 2023: Is Axitrader a Good Broker?
Overview Of XTB
XTB is a leading online trading broker, offering comprehensive services and tools for traders of all levels. Established in 2002, they have established themselves as an industry leader by providing their clients with the highest quality platforms, products and services to meet their needs. XTB's suite of trading solutions includes CFDs, Forex, indices and commodities. They feature a wide range of award-winning platforms including xStation 5 and MetaTrader 4. Alongside these platform options are educational materials such as webinars, seminars and ebooks which help ensure that traders get everything they need from XTB.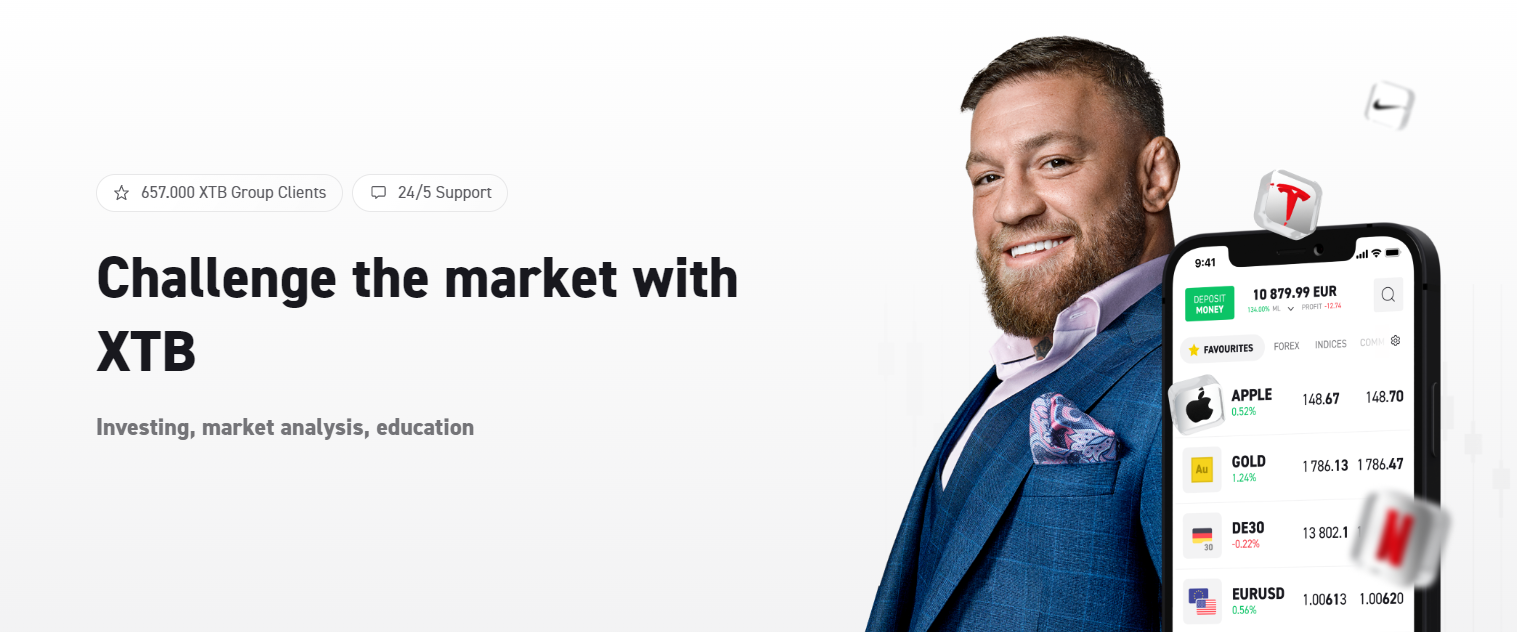 The XTB review shows that customer service is also top notch on this platform. Clients can contact customer support 24/7 via email or live chat in multiple languages, ensuring they always receive prompt answers to any queries they may have. Furthermore, there are also plenty of rewards available through the loyalty program Cashback Plus where traders can earn cashbacks when trading certain instruments within specified periods.
Overall, it's clear why so many people choose XTB for their online trading needs – excellent platforms coupled with great customer service make them one of the best brokers around today. With awards from top financial institutions backing up their reputation year after year, it's easy to see why more and more traders opt for XTB each day!
Read Next: ActivTrades Review 2023: Is ActivTrades Trustworthy?
Pros & Cons
Pros
Comprehensive coverage of the stock market and range of investment options.
It provides a user-friendly platform for traders so they can easily find what they need quickly.
The trading fees are also reasonably low compared to other online brokers.
Cons
It doesn't have access to all US stocks or mutual funds which may limit investor choices in certain cases.
Their customer support is not as reliable as some other services; response times may vary depending on your inquiry type.
Overall, XTB has both merits and disadvantages that should be taken into account before deciding if it's right for you. It is important to weigh up these elements carefully in order to make an informed decision about whether or not the service will meet your needs.
Markets And Instruments Offered
XTB offers a wide range of markets and instruments for traders. CFD trading is available, which includes the ability to trade on indices, commodities, forex pairs, stocks and more. Traders can also access multiple asset classes such as bonds, ETFs and cryptocurrency contracts-for-difference (CFDs). XTB's innovative platform allows users to easily analyze different market conditions in real-time with live data feed from over 50 exchanges worldwide.
| | |
| --- | --- |
| Forex Trading (Spot or CFDs) | Yes |
| Tradeable Symbols (Total) | 12000 |
| Forex Pairs (Total) | 57 |
| U.S. Stock Trading (Non CFD) | Yes |
| Int'l Stock Trading (Non CFD) | Yes |
| Social Trading / Copy Trading | Yes |
| Cryptocurrency (Physical) | No |
| Cryptocurrency (CFD) | Yes |
Traders are able to leverage their trades up to 500:1 across all major currency pairs. They can also take advantage of tight spreads starting from 0 pips on forex trading and 1 pip on stock index CFDs. Users will find an impressive selection of commodities including oil, gold, silver and other metals that they can trade through XTB with confidence. The platform supports trading in numerous global indices such as NASDAQ100, DAX30 and S&P500 among others for those who wish to diversify their portfolio further.
In addition to these features, XTB provides educational resources such as webinars and video tutorials designed to help newbies gain valuable knowledge about financial markets. This review found that the broker's services offer something for everyone – whether you're a beginner or experienced trader looking for advanced tools or just getting started in investing – XTB has you covered!
Take a Look: Vantage Review 2023: Is Vantage a Safe Broker?
Trading Platforms
XTB offers a range of trading platforms that allow customers to trade efficiently and securely. The XTB platform is the main online trading platform, enabling users to access all financial markets with advanced charting tools and analysis. It also allows for automated trading. In addition, there are mobile and desktop versions available so traders can access their accounts wherever they are.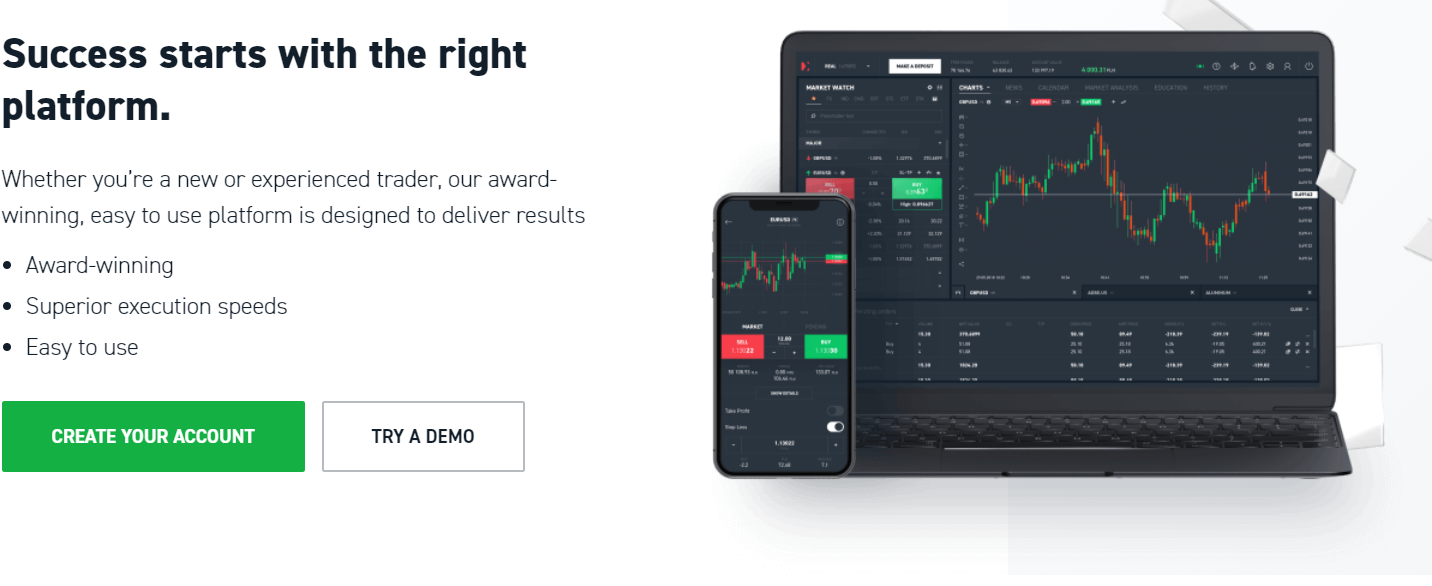 The mobile app provides a convenient way to manage trades on the go, while the desktop version has advanced features such as pattern recognition software and one-click order execution. Both apps offer live streaming quotes and market news, allowing traders to stay up to date with any changes in price or conditions.

Overall, XTB's trading platforms provide an easy-to-use interface that gives customers a comprehensive overview of the markets, along with powerful analytical tools for making informed decisions about their investments. They ensure secure transactions by providing multiple layers of security within each account. Customers can therefore be confident that their money is safe when using these platforms.
Continue Reading: XM Review 2023: Is XM a Good Broker for Beginners?
Account Types Available
When it comes to trading with XTB, there are a variety of account types available. Their basic accounts offer the ability to trade Forex, Indices, Commodities and Cryptocurrencies while their Pro Accounts allow access to additional markets such as stocks and ETFs.
| | | |
| --- | --- | --- |
| Account | XTB Standard | XTB Swap Free |
| Execution Type | Market | Market |
| Instruments | 2100+ | 2100+ |
| Max Leverage | 1:500 | 1:500 |
| Min. Spread | 0.5 | 0.7 |
| Segregated Accounts | Yes | Yes |
| Minimal Order | 0.01 | 0.01 |
| Trading Platform | xStation | xStation |
The basic accounts include Standard Account and Cent Account, both offering low spreads in over 1500 instruments. They also have a range of leverage options for each type of asset traded with them – starting from 1:30 up to 1:400 depending on the market being accessed. The Basic Accounts do not require any commissions or fees when placing trades resulting in lower costs overall for traders using this option.
XTB's Pro Accounts come with some more advanced features including dedicated support personnel and priority services for withdrawals and deposits. These accounts offer tighter spreads than those found in their standard accounts but charge commission on every position opened by the trader. Despite these charges however, they remain competitively priced compared to other brokers that offer Pro Accounts. This makes them ideal for experienced traders who need fast execution and tight spreads when entering into positions quickly.
Dig Deeper: In-Depth Analysis of IC Markets | Is IC Markets a Good Broker?
Fees And Commission Structure
Moving on from the account types available, let's discuss xtb's fees and commission structure. It is important to understand what trading costs one can expect when using their services as these can add up over time. Generally speaking, xtb offer competitive rates in comparison to other platforms available. This includes both a low spread cost per trade and no additional commissions or account charges apart from those incurred through withdrawals.
| | |
| --- | --- |
| Minimum Deposit | $0 |
| Average Spread EUR/USD – Standard | 1.07 |
| All-in Cost EUR/USD – Active | 1.04 |
| Active Trader or VIP Discounts | Yes |
| ACH or SEPA Transfers | No |
| PayPal (Deposit/Withdraw) | Yes |
| Skrill (Deposit/Withdraw) | Yes |
| Visa/Mastercard (Credit/Debit) | Yes |
| Bank Wire (Deposit/Withdraw) | Yes |
When it comes to withdrawal fees, they are determined by the currency that you have requested your funds be withdrawn in. If this differs from your base currency then you may incur an exchange rate fee as well as any other associated third party costs like commission payments. Additionally, all withdrawals must exceed $50 otherwise there will be a processing fee of $30 charged for each transaction under this amount:
Low spreads with no added commissions or charges.
Determined withdrawal fees based on chosen currency and its exchange rate against base currency.
Processing fee of $30 if withdrawing amounts less than $50.
Overall, XTB strive to keep their fees and commission structures as transparent and straightforward as possible so that customers know exactly what they're getting before entering into any trades. By doing so, users can be sure that they won't be hit with unexpected expenses along the way which could make a considerable difference to their profits in the long run!
Find Out: Tickmill Review 2023 | Is Tickmill a Safe Broker?
Deposits And Withdrawals Options
XTB offers a wide range of secure deposit and withdrawal options. The broker supports the most popular payment methods such as credit cards, wire transfer, e-wallets, cryptocurrency deposits, etc. Withdrawals can be made through the same method used for funding an account. XTB also has some features that make them stand out from other brokers; they have no minimum deposit amounts and do not charge any additional fees in addition to standard withdrawal fees.
The variety of payment methods available makes it easy for traders to fund their accounts without having to wait for long periods of time or paying extra costs. Additionally, all deposits are done almost instantly with no delays due to the automated process used by XTB's system. Furthermore, there are no maximum limits when depositing funds into your account so you can easily manage your money according to your needs.
XTB provides a safe trading environment where traders can trust their transactions will be securely handled at all times. This is thanks to the regulated services offered by this broker which includes advanced encryption technology as well as strict compliance guidelines set forth by official financial institutions worldwide. As a result, traders can rest assured knowing their deposits and withdrawals are completely protected while trading on XTB platform.
Learn More: Honest and In-Depth Analysis of FXCM | Is FXCM a Good Broker?
Research & Education Resources
XTB provides a comprehensive range of research and educational materials to assist traders in gaining market insights. For example, their Market Analysis section includes daily updates on major currency pairs as well as simple technical analysis tools. They also offer trading strategies that help new users get started with their platform. Additionally, the XTb Trading Toolkit includes an array of resources such as interactive charts, economic calendars and live webinars for more advanced traders.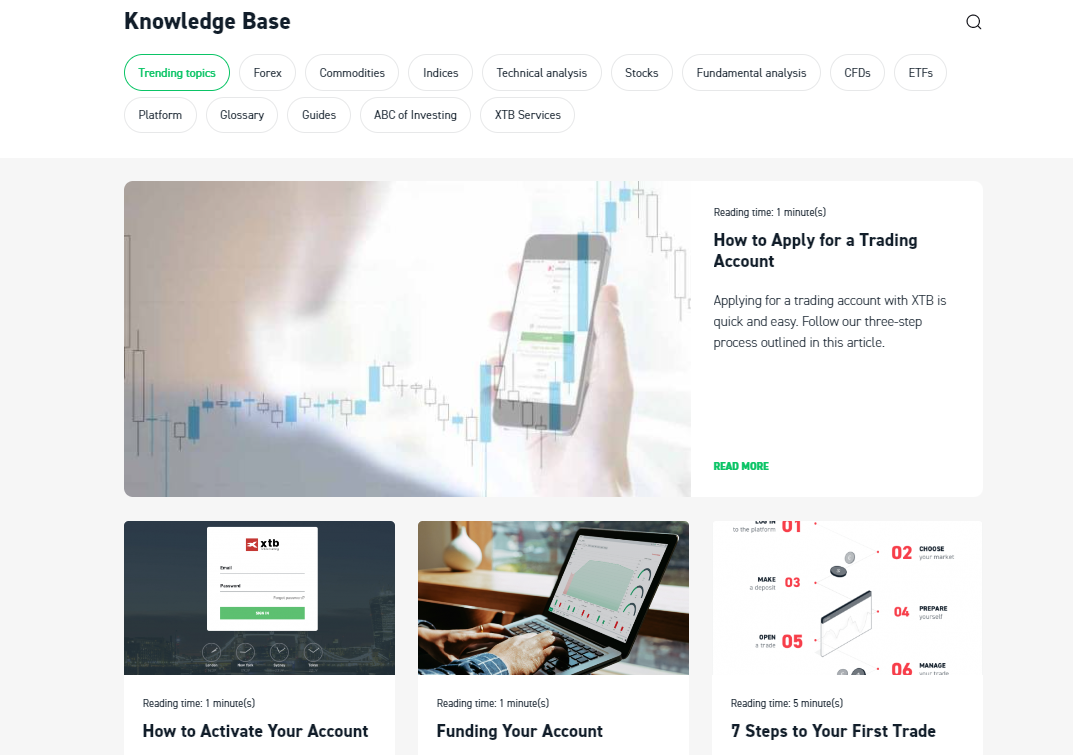 The company also offers high-quality educational videos so that users can learn how to use different functions of their platform quickly and easily. The tutorials cover topics like basic principles of trading, risk management strategies, charting techniques and even automated trading systems. Furthermore, these videos are designed to be beginner friendly so newbies don't have to worry about feeling overwhelmed by complex concepts or jargon.
Overall, XTB has put together a great selection of research and education resources which provide not only valuable information but also useful tools for all levels of traders. From market analyses to educational videos and trading toolkits, they make sure that customers have access to everything they need to become successful at online trading.
More Resources: Pepperstone Review 2023 | Is Pepperstone a Reliable Broker
Customer Support Services
Moving forward, XTB offers excellent customer support services. They provide multiple support options to make sure clients have their questions answered quickly and efficiently. Their helpful website includes a help center with frequently asked questions, live chat option, as well as an email contact form. Clients can be certain that the team is available 24/7 in order to assist them promptly.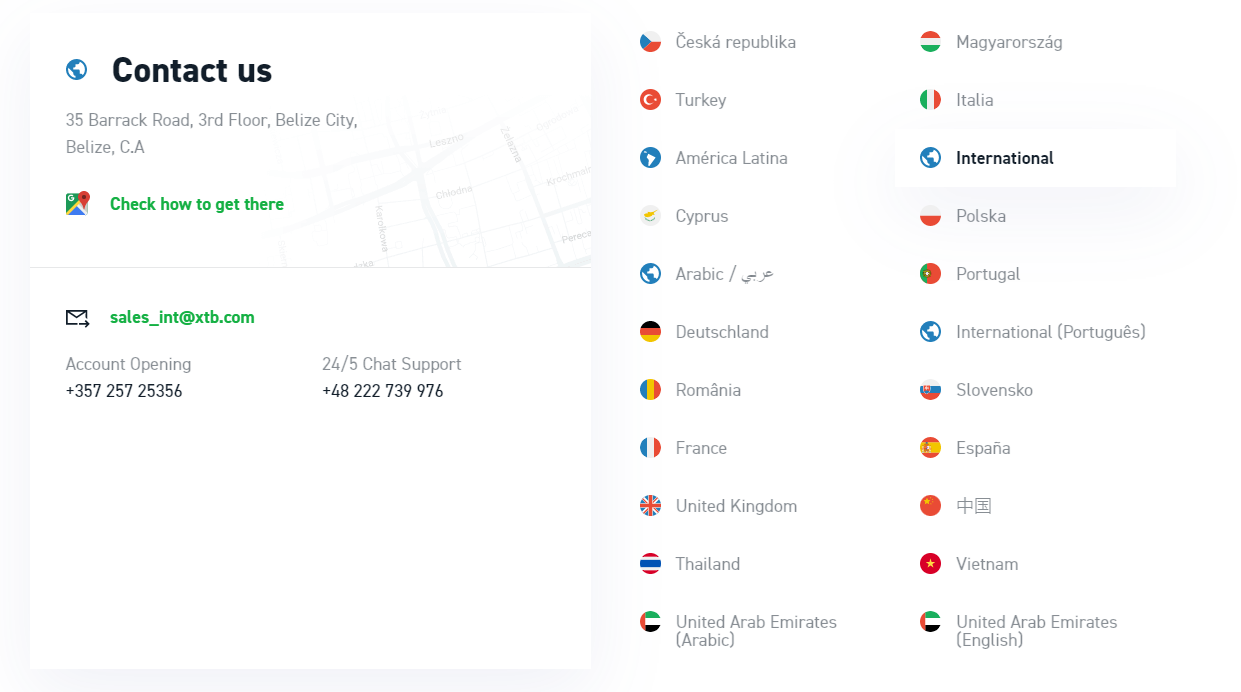 The customer service representatives are knowledgeable and friendly, always providing courteous responses in a timely manner. In addition to this, they offer detailed tutorials for more complex inquiries or issues that require further explanation. This makes it easy for users to access answers and solutions quickly without having to wait long periods of time for assistance. Furthermore, customers will appreciate the fact that all emails received by the company are responded to within a few hours of submission.
XTb has developed comprehensive customer support services which enable clients to get quick resolutions any time day or night. From helpful FAQs to professional customer service reps, they strive to ensure everyone receives exceptional care and attention when needed most.
Check out: Honest and In-Depth Analysis of Octafx | Is Octafx a Good Broker?
Regulation & Security Measures
XTB is a regulated broker that adheres to the highest standards of financial security. To ensure clients' funds are safe, XTB implements risk management practices and data encryption measures for all transactions. Funds in client accounts are held in segregated bank accounts so that they cannot be used for any other purpose than trading on behalf of clients.
Furthermore, investors' account information including username and passwords must be kept secure at all times by using strong passwords and two-factor authentication when logging into their accounts. The platform also complies with Anti Money Laundering (AML) regulations, ensuring no suspicious activity can occur on the platform.
Overall, XTB provides its traders with a secure environment where they can trade without worrying about their financial security or sensitive personal data being compromised.
Discover: Exness Review 2023 | Is Exness a Safe Broker?
Conclusion
In conclusion, XTB is a broker that has been providing trading services for over 20 years. They offer an impressive range of markets and instruments to choose from, as well as multiple account types with different fee structures. I found their research and education resources useful too, plus their customer support team are always on hand when you need them. The security measures in place provide peace of mind which is great.

Overall, the pros outweigh the cons when it comes to using XTB's services – they're reliable and trustworthy brokers who do all they can to ensure your safety while trading. Plus, they've got some really competitive prices compared to other brokers out there so you know you're getting value for money.

I'd definitely recommend giving XTB a try if you want to start trading – they have everything you need!