Looking to enter the world of Forex trading but uncertain about choosing the right broker? Worry not! Our comprehensive FBS Review 2023 is your go-to resource for everything related to Forex Trading Brokers. Whether you're a novice or an experienced trader, our review will assist you in making the optimal choice for your trading requirements.
We'll commence by examining FBS's distinctive features and how they measure up against competitors in today's market. Explore their range of account types, cutting-edge trading platforms, research tools, and additional services that set them apart. Additionally, we'll provide insights from unbiased user reviews and testimonials, offering you an authentic glimpse into the broker's performance.
To further assist you in your decision-making process, we'll conduct a thorough comparison of FBS with its industry peers. Assess factors such as costs, customer support, security measures, and more, allowing you to make an informed choice. Our ultimate aim is to equip you with the knowledge needed to select the ideal broker for your Forex journey. Let's embark on this journey together and delve into FBS Review 2023: Your Ultimate Forex Trading Broker Guide!
Related Post: Alpari Review 2023 | Is Alpari a Reliable Broker?
Overview Of FBS Broker
FBS is an online forex broker that has been operating since 2009. It offers a wide range of services and platforms for traders to use when trading with foreign currencies. The company has more than 12 million active customers in over 190 countries. FBS is regulated by the International Financial Services Commission (IFSC) and holds several licenses, including those from CySEC, IFSC, and Belize IFSC. In addition, the company is also a member of the Financial Commission, which helps protect traders' funds.
FBS provides a diverse selection of trading platforms, including the highly acclaimed MetaTrader 4 and 5 platforms, alongside their proprietary copy-trading platform, FBS CopyTrade. They offer traders the advantage of flexible leverage, reaching up to an impressive 1:3000 on select accounts, and boast a comprehensive range of account options tailored to cater to various trader preferences. Furthermore, FBS stands out with its 24/7 customer support, accessible through email, live chat, or phone, offered in 13 different languages.
In essence, FBS is a well-established brokerage firm renowned for its unwavering commitment to delivering trustworthy services to its clientele. The company's array of features is meticulously designed to meet the diverse needs of traders and investors. With an extensive suite of services, competitive spreads, and the allure of high leverage ratios, it's evident why FBS continues to maintain its status as one of the most favored choices among forex traders today.
You May Also Like: IG Review 2023 | Is IG a Top Broker for Investment Needs?
Pros & Cons Of FBS Brokerage
FBS is a popular Forex trading broker founded in 2009. It has been providing its services for more than 10 years, and it has a wide range of services to offer. Here are some of the pros and cons of using FBS as your Forex broker.
Pros
Low spreads: FBS offers very low spreads on all major currency pairs, making it one of the best in the industry.
High leverage: FBS offers high leverage up to 1:3000, so traders can make big profits with small investments.
Wide range of trading instruments: FBS provides traders with a wide variety of trading instruments such as stocks, commodities, indices, cryptocurrencies and more.
Fast execution time: FBS has fast execution times which makes it easy for traders to open and close positions quickly and efficiently.
Cons
Lack of customer support: FBS's customer support team is not always available when needed, which can be frustrating.
Limited educational resources: Although FBS does provide some educational resources for beginners, they are limited compared to other brokers who offer more comprehensive educational materials and tutorials for new traders.
No bonus programs or promotions: Unlike other brokers who offer bonus programs or promotional activities, FBS does not have any such offerings which may be a disadvantage for many traders looking to maximize their profits from trading forex markets with this broker.
Withdrawal fees: Some withdrawal fees apply when you withdraw funds from your account with this broker, so you should take this into consideration before investing your money here.
Overall, FBS is an established forex broker that offers attractive features like low spreads, high leverage, and fast execution speeds – but there are also some drawbacks such as lack of customer support, limited educational resources and no bonus programs or promotions offered by them that should be taken into account before deciding whether or not to use them as your forex broker of choice.
FBS Broker: Trading Platforms And Accounts Offered
FBS offers an array of trading platforms and accounts to suit the needs of all forex traders. Their flagship platform, MetaTrader 5, is a powerful yet user-friendly platform with advanced charting and analysis capabilities. It's also compatible with mobile devices, so you can trade on the go. For more experienced traders, they offer MT5 Pro which includes additional features such as algorithmic trading and virtual hosting.
They also provide ECN and STP accounts for those who wish to trade directly with the market makers. These accounts allow for faster execution speeds and lower spreads on trades. Furthermore, FBS offers an Islamic account specifically tailored to meet the needs of Muslim traders by offering no swap fees on overnight positions.
Accounts
Cent Account
Micro Account
Standard Account
Zero Spread Account
ECN Account
Crypto Account
Minimum Deposit ($ / ZAR)
$1 / R 16 ZAR
$5 / R 80 ZAR
$100 / R 1600 ZAR
$500 / R 8000 ZAR
$1 / R 16 000 ZAR
$1 / R 16 ZAR
Spread
Floating spread from 1 pip
Fixed spread from 3 pips
Floating spread from 0,5 pip
Fixed spread 0 pip
Floating spread from -1 pip
Floating spread from 1 pip
Leverage
up to 1:1000
up to 1:3000
up to 1:3000
up to 1:3000
up to 1:500
up to 1:5
Maximum open positions and pending orders
200
200
200
200
No trading limits
200
Order Volume
from 0,01 to 1 000 cent lots
(with 0,01 step)
from 0,01 to 500 lots
(with 0,01 step)
from 0,01 to 500 lots
(with 0,01 step)
from 0,01 to 500 lots
(with 0,01 step)
from 0,1 to 500 lots
(with 0,1 step)
from 0,01 to 500 lots
(with 0,01 step)
Overall, FBS provides a number of trading options that can fit the needs of both beginner and experienced traders alike. With their high-quality customer service team available 24/7, you can always get help when you need it most. Regardless of your trading experience level, FBS has something to offer everyone looking to make money in the forex market.
Further Reading: HFM Review 2023: Honest and In-Depth Analysis of HF Markets
FBS Broker: Commission And Fees Structure
FBS is an outstanding forex trading broker for traders of all experience levels. Their commission and fees structure is simple and straightforward, with no hidden costs. Here's a breakdown of what you can expect when trading with FBS:
Spreads: From 0.2 pips on major currency pairs, up to 1 pip on exotic currency pairs
Leverage: Up to 1:3000
Commission: None
Swap/Rollover Fees: Low overnight swap rates
At FBS, there are no surprises when it comes to commissions and fees. You can easily estimate your potential profits and losses before opening any trades. Additionally, the low spreads ensure that you maximize your profits with minimal effort. All in all, FBS offers an excellent commission and fees structure for forex traders of all levels.
Explore More: FXCC Review 2023 | Is FXCC a Safe Broker?
FBS Broker: Leverage And Margin Requirements
Let's delve deeper into the crucial aspects of leverage and margin requirements, which play pivotal roles in the world of forex trading. These factors can significantly impact your profitability, so comprehending them is essential for making informed decisions when selecting a forex trading broker and assessing its fee structure.
Leverage stands as a cornerstone, often represented as a ratio like 50:1 or 100:1. Essentially, it empowers traders to magnify the scale of their trades without necessitating a substantial initial deposit. To illustrate, for every $1 deposited into your account, you can control trades worth 50 or 100 times that amount. For instance, depositing $100 can grant you the ability to manage a trade valued at up to $5,000 with 50:1 leverage or $10,000 with 100:1 leverage. It's crucial to bear in mind that while leverage opens doors to potential gains, it also heightens the risk of losses, as it amplifies both profit and loss margins in trading activities.
Margin requirements are a variable among brokers but generally hover in the range of 1-2% of the total trade size. In practical terms, if your broker stipulates a 1% margin requirement, then for every $100 in your account, you can initiate a trade with a value of up to $10,000, spanning various asset classes such as currency pairs, stocks, or commodities. It's imperative to meet these margin requirements to keep your positions open, as failure to do so may prompt your broker to close them. While a higher margin requirement may potentially trim profits, it serves as a protective shield against excessive risk-taking, minimizing potential losses.
Discover: easyMarkets Review 2023: Can You Trust This Forex Broker?
FBS Broker: Deposit/Withdrawal Options
FBS offers a wide variety of deposit and withdrawal options for its clients. Credit and debit cards, as well as e-wallets, are all accepted by this broker. Bank transfers can also be used if preferred. All deposits and withdrawals are free from fees, which is great news for traders who want to save on transaction costs. Furthermore, the processing times are quite fast, so traders can access their funds quickly.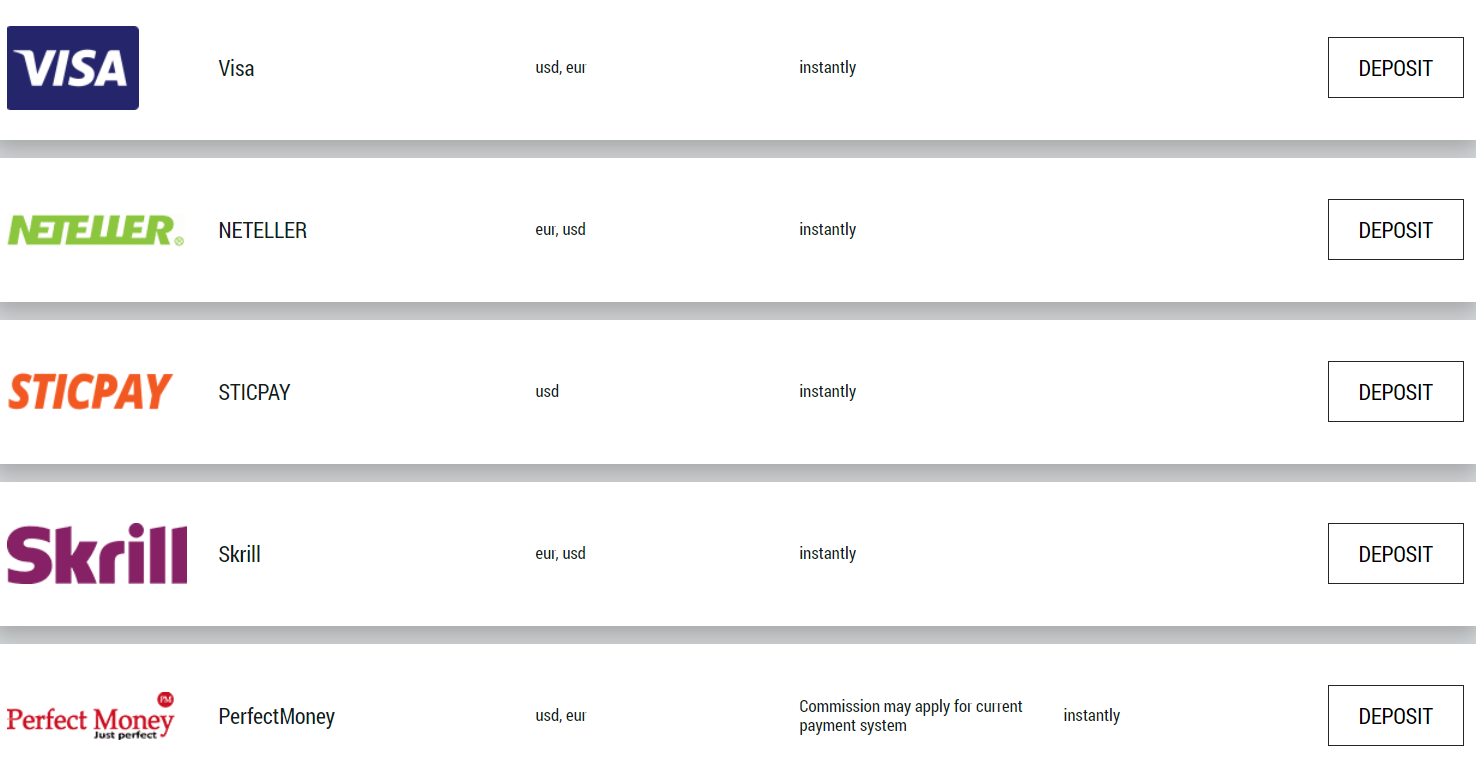 The broker extends a diverse array of account types, catering to the distinct preferences of its clients. Depending on their preferred trading style, clients can effortlessly select an account tailored to their specific needs. Additionally, account holders have the opportunity to unlock a host of bonuses and promotions thoughtfully offered by the broker. These incentives encompass deposit bonuses, empowering traders to bolster their capital base without incurring additional costs.
FBS boasts an exceptional customer service team renowned for its prompt and efficient response to inquiries. Available around the clock, this dedicated team facilitates communication through various channels, including email, telephone, live chat, and more. Their unwavering commitment to customer satisfaction is evident in their provision of invaluable advice and guidance, ensuring seamless experiences with deposits and withdrawals while trading with the broker.
Check out: HYCM Review 2023: Pros, Cons, Fees, Accounts & Features
FBS Forex Broker: Customer Support Services
Moving on from deposit and withdrawal options, we now review the customer support services offered by FBS. In this section, we'll look at the various methods of communication available to customers and the general level of service provided by FBS representatives.
FBS facilitates seamless customer support access through a diverse range of channels. Clients can easily reach out to FBS via email, live chat, telephone, or through their engaging social media platforms. Furthermore, their website boasts an extensive Frequently Asked Questions (FAQ) section that comprehensively addresses an array of topics, spanning from account registration and trading procedures to troubleshooting technical issues.
The support team at FBS is characterized by professionalism and friendliness, ensuring swift responses to customer inquiries. For those venturing into forex trading for the first time, FBS goes the extra mile by offering an array of tutorials and video courses. This commitment to support is further underscored by their 24/7 availability, with multilingual representatives fluent in languages including English, Spanish, and Russian. In essence, FBS delivers a top-tier customer service experience, making assistance readily accessible and hassle-free for traders across the globe.
More Resources: FxOpen Review 2023: Reliable Forex Trading Platform or a Scam?
Trading Education Resources By FBS Broker
When it comes to Forex trading, having the right education resources is key. FBS offers a variety of courses and tutorials that are designed to help traders of all experience levels become successful. The courses cover topics such as beginner strategies, advanced technical analysis, and risk management. The tutorials provide step-by-step instructions for how to use their platform and other tools. Additionally, FBS has an extensive library of articles and videos that can assist traders with their research and knowledge of the market.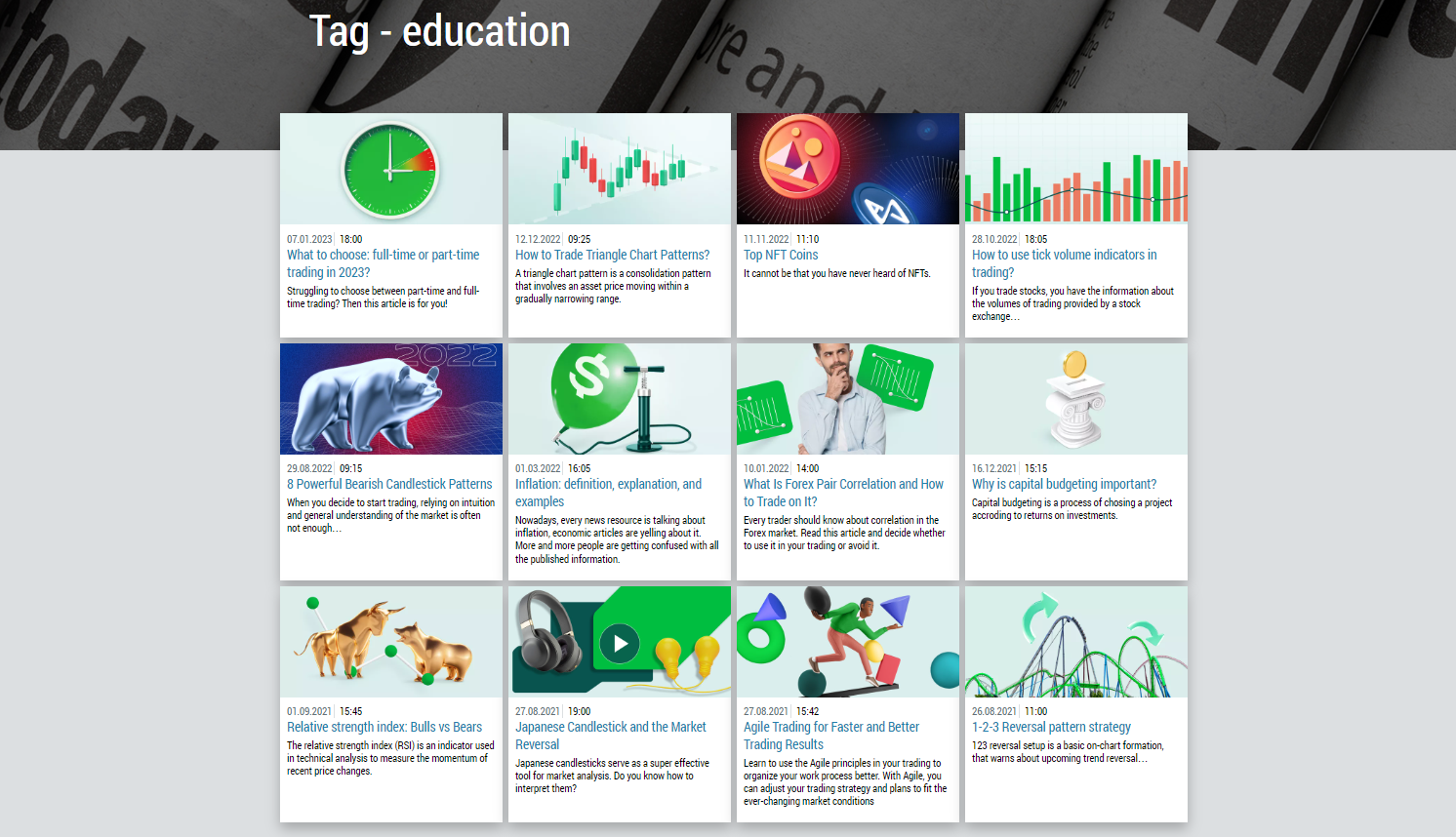 FBS enriches its client experience with a series of live webinars led by seasoned traders and analysts. These insightful webinars serve as a treasure trove of knowledge, offering guidance on trading strategies, market analysis, and effective risk management techniques. Moreover, FBS delivers daily market reviews, providing an in-depth exploration of prevailing market conditions and potential trading opportunities. This invaluable resource empowers traders to stay abreast of the latest market developments and make well-informed investment decisions.
Learn More: ATFX Review 2023: Is This Forex Broker a Good Fit for You?
FBS Broker: Security Policies & Regulations
The security aspect of a forex trading broker holds paramount importance for traders, and fortunately, many brokers have taken stringent measures to safeguard their clients. These proactive security measures are instrumental in shielding traders from potential fraud and unethical practices, fostering a secure trading environment.
Firstly, brokers prioritize compliance with regulatory requirements established by esteemed bodies like the Financial Services Authority (FSA). This entails stringent identity verification processes, the segregation of client funds, and strict adherence to anti-money laundering statutes. Additionally, brokers maintain robust capital reserves to align with FSA standards. By diligently following these regulations, brokers establish a solid foundation for providing their clients with a secure trading atmosphere.
Secondly, brokers leverage advanced technologies such as encryption and two-factor authentication to fortify the security of all accounts. Routine system and procedure evaluations are conducted to proactively identify and rectify potential risks or vulnerabilities that could be exploited by hackers or malicious entities. Some brokers further bolster their security by deploying dedicated teams to monitor accounts for any signs of suspicious activity on an ongoing basis.
These comprehensive security policies and regulatory adherence not only create a protective shield for forex traders but also cultivate trust between brokers and clients. Ultimately, this commitment to security contributes significantly to an overall successful and trustworthy trading experience.
Find Out: XTrade Review 2023: In-Depth Look at Its Features & Performance
Final Thoughts & Recommendations About FBS Broker
In summary, FBS, the Forex trading broker, stands out as an exceptional choice catering to traders across all expertise levels. With its competitive spreads, cost-effective fee structure, and the capacity to engage in trading with over 50 currency pairs, FBS offers a comprehensive and dependable service. Their intuitive platform provides easy access to advanced charting tools, in-depth analysis resources, economic calendars, and real-time news feeds. Moreover, their dedicated customer support team remains accessible around the clock, promptly addressing any issues or inquiries.
FBS is particularly well-suited for novice traders seeking to expand their knowledge of the forex market, offering a treasure trove of free educational resources on their website. These resources are invaluable for those looking to deepen their understanding of this trading arena. Meanwhile, experienced traders will find a plethora of tailored features to meet their requirements, encompassing low spreads and precise stop losses, providing all the essential components for success in the forex market.
Dig Deeper: BlackBull Markets Review 2023: Honest Feedback from Traders
Frequently Asked Questions
What is FBS Forex Broker known for?
FBS Forex Broker is renowned for its comprehensive services, competitive spreads, and advanced technology. They offer traders access to over 50 currency pairs, making it a versatile choice for forex trading.
Can you tell me more about FBS account types?
Certainly! FBS provides a range of account types to suit different trading preferences. Whether you're a beginner or an experienced trader, you can find an account that aligns with your specific needs and goals.
What is the leverage offered by FBS?
FBS offers flexible leverage options, allowing traders to amplify their trades by up to 1:3000 on select accounts. However, it's crucial to remember that higher leverage also increases the risk of potential losses.
How can I contact FBS customer support?
FBS offers 24/7 customer support through various communication channels, including email, live chat, telephone, and social media platforms. Their multilingual team is dedicated to addressing any queries or concerns promptly.
What educational resources does FBS provide?
FBS offers a wealth of educational resources, including tutorials, articles, videos, webinars, and daily market reviews. These resources are valuable for both beginners looking to learn and experienced traders seeking to enhance their skills.
Is FBS suitable for beginner traders?
Yes, FBS is an excellent choice for novice traders. They offer free educational materials on their website, making it an ideal platform for those looking to gain a deeper understanding of forex trading.
What sets FBS apart in terms of security?
FBS adheres to strict regulatory requirements, including identity verification, fund segregation, and anti-money laundering laws. They also employ advanced security measures like encryption and two-factor authentication to safeguard accounts.
Can I trade cryptocurrencies with FBS?
Yes, FBS provides the opportunity to trade cryptocurrencies alongside traditional currency pairs, offering a diversified trading portfolio for traders interested in digital assets.
How does FBS assist traders in staying informed about market conditions?
FBS offers daily market reviews, providing in-depth insights into current market conditions and potential trading opportunities. This feature empowers traders to make well-informed decisions.
What types of bonuses and promotions does FBS offer?
FBS offers various bonuses and promotions, including deposit bonuses that enable traders to boost their capital without additional costs. These incentives add value to the trading experience for FBS clients.