Looking to enhance your trading journey with a reliable platform that can propel you towards your financial aspirations? Discover HYCM Review 2023, your gateway to informed decision-making. In this comprehensive review, we'll dissect the strengths, weaknesses, and features of this sought-after trading platform. Whether you're a novice or a seasoned trader, HYCM caters to all, ensuring a tailored experience for everyone. Dive into the details to unveil what this platform has in store for you!
HYCM stands as an esteemed name in the trading arena, with its 2023 version offering even more features to empower traders. With a legacy dating back to 1977, they have continually refined their services. From advanced charting tools to cutting-edge automated trading bots, HYCM provides a holistic trading experience. Notably, they boast competitive fee structures, transparent commissions, and an exceptional standard of customer support.
If you're ready to elevate your trading game, join us in this insightful HYCM review to uncover why it stands out as a compelling choice for traders worldwide. We'll dissect its advantages, disadvantages, and notable features, enabling you to determine if it aligns with your trading needs.
Related Post: FxOpen Review 2023: Reliable Forex Trading Platform or a Scam?
Overview Of HYCM
HYCM (formerly known as HY Markets) is a trading platform that has been around since 1977. It provides access to a wide range of global markets, including Forex and CFDs on commodities, indices, shares and cryptocurrencies. With its advanced technology, HYCM provides traders with an intuitive interface and low spreads on all major currency pairs. The platform offers a variety of features such as automated trading, market news, technical analysis tools and account management services. Furthermore, it also offers mobile trading capabilities and customer service in multiple languages.

The main advantage of using HYCM is its competitive pricing model which includes tight spreads and commission-free trades. Additionally, the platform also offers powerful charting tools which allow traders to gain insights into the market and make informed decisions. Moreover, the customer service team is available 24/7 via phone or email for any queries or assistance needed by traders.
You May Also Like: ATFX Review 2023: Is This Forex Broker a Good Fit for You?
Pros & Cons Of Trading With HYCM
Pros
Offers a wide range of trading instruments, including forex, stocks, indices, and commodities.
Provides low spreads and commissions, which can be beneficial for traders looking to minimize trading costs.
Offers several trading platforms, including MetaTrader 4 and MetaTrader 5.
Provides access to educational resources, including webinars and trading guides.
Regulated by top-tier authorities, such as the FCA and CySEC.
Cons
Limited account types compared to some other brokers.
Higher minimum deposit requirements than some other brokers.
No cryptocurrency trading options.
Limited research tools and market analysis.
Some users have reported slower withdrawal processing times compared to other brokers.
Types Of Financial Instruments Offered By HYCM
The HYCM trading platform offers investors a wide range of financial instruments to choose from. These include forex, shares, indices, commodities, and cryptocurrencies. This variety allows traders to diversify their portfolios with different asset classes based on their risk appetite and preferred trading styles. In addition, the platform provides an array of educational materials such as videos, webinars, and e-books that can help investors make better informed decisions when selecting their investments.

HYCM also features an intuitive user interface which makes it easy for beginners to navigate the platform. It also has powerful tools such as price alerts and charting tools that allow more advanced traders to monitor the markets in real time and make smart investment decisions. Moreover, HYCM's customer service team is available 24/7 for any queries or concerns that may arise during the trading process.
Further Reading: XTrade Review 2023: In-Depth Look at Its Features & Performance
HYCM: Account Types And Fees
At HYCM there are several account types, each with their own features and fees. The most basic account is the Standard Account, which has a minimum deposit of $100 and no commission on trades. This account also offers leverage up to 1:30, as well as 24/5 customer service.

The Premium Account requires a minimum deposit of $2,000 and offers higher levels of leverage up to 1:200. It also offers reduced spreads in comparison to the Standard Account. Additionally, customers have access to all available trading instruments from commodities to currency pairs.
Finally, HYCM's VIP Account requires a minimum deposit of $25,000 and gives customers access to all the benefits offered by the previous accounts plus additional features such as personalized trading advice from experienced traders and monthly market review sessions with financial analysts. Each type of account comes with its own set of fees that include spread charges, rollover fees and other associated costs.
Explore More: BlackBull Markets Review 2023: Honest Feedback from Traders
HYCM: Security And Regulation
When it comes to security and regulation, HYCM has some of the highest standards in the industry. They are regulated by the FCA (Financial Conduct Authority) and SFC (Securities and Futures Commission). This means that all customer funds are kept in segregated accounts, so you know your money is safe. Additionally, they use advanced encryption technology to keep your data secure.
Here's a list of benefits regarding security and regulation:
Regulated by two reputable organizations
Customer funds are kept in segregated accounts
Advanced encryption technology used for data security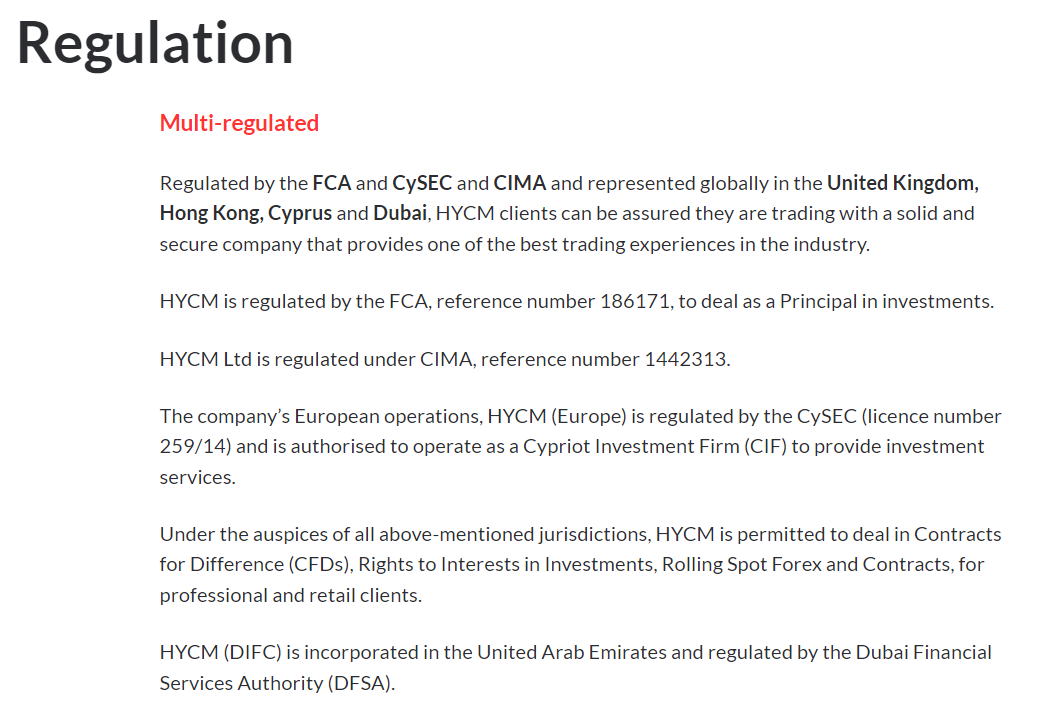 Overall, HYCM provides a safe trading environment for its customers, with excellent security measures in place to protect their funds and personal data. You can rest assured that your investments will be secure when trading with HYCM.
Discover: TMGM Review 2023: Is This Platform Suitable for Your Investment?
User Experience of HYCM Broker
Moving on from the security and regulation offered by HYCM, this section will take a look at the overall user experience of the platform. In terms of ease of use, HYCM stands out with its intuitive interface, making it easy to find the features you need. The website is well designed and the trading platform itself is highly customizable so that users can personalize their experience. Additionally, there are plenty of educational resources available for those wishing to learn more about trading.
In terms of customer support, HYCM excels in offering multiple channels to contact them. Whether you prefer live chat, email or phone call, they have you covered. Their staff is knowledgeable and friendly and usually respond quickly to inquiries. Furthermore, they provide comprehensive FAQs and videos which can help answer basic questions quickly.
Check out: ThinkMarkets Review 2023: Everything You Need to Know
Education And Research Tools Offered By HYCM Forex Broker
HYCM provides an array of education and research tools to help traders improve their skills. The broker offers a comprehensive library of educational materials such as webinars, videos, tutorials, and ebooks. These resources cover a wide range of topics including trading strategies, fundamental and technical analysis, risk management techniques, charting techniques, and more. All these materials are free to access for both new and experienced traders.
The broker also offers market analysis from experienced traders through its three-tier news center – Basic News Center, Advanced News Center, and Professional News Center – which provide timely updates on the latest global financial markets news. Additionally, the platform's Pro Charting feature gives users access to over 50 technical indicators for advanced charting analysis.
More Resources: Spreadex Review 2023: An Honest Guide For Investment
HYCM: Customer Support
HYCM's customer support team is available 24/7, allowing traders to contact them whenever they need help. The customer service representatives are knowledgeable, friendly and quick to respond. They can address technical and account-related queries as well as provide guidance on the usage of the trading platform.

HYCM also offers a variety of educational resources, including webinars, seminars and tutorials. This allows traders to gain an understanding of the basics of trading as well as more advanced topics such as risk management and technical analysis. They also offer a glossary with common financial terms which can be useful for new traders who need to get up to speed quickly.
Learn More: Fineco Bank Review 2023: Pros & Cons, Features, App & Accounts
Final Verdict of HYCM
Now, let's deliver the final verdict on the HYCM trading platform while keeping SEO in mind. In summary, HYCM stands out as an attractive choice for most traders, thanks to its impressive features. To begin, its user-friendly web-based trading platform is equipped with a comprehensive suite of tools and services, ensuring a seamless trading experience. Moreover, it boasts a diverse range of asset classes and various order types, enabling traders to capitalize on diverse market conditions. Additionally, the responsive and knowledgeable customer support team ensures that assistance is readily available when required.
However, it's essential to note some potential drawbacks. Certain products and services on the platform come with relatively high fees. Furthermore, HYCM lacks educational resources and demo accounts, which could be valuable for novice traders. Lastly, while they offer leverage up to 1:500, stringent margin requirements may discourage some traders from fully utilizing this feature.
Find Out: Multibank Group Review 2023:A Detailed Look at This Forex Broker
Frequently Asked Questions
What is HYCM Forex Broker?
HYCM Forex Broker is a reputable online trading platform that allows traders to buy and sell various financial instruments, including forex, cryptocurrencies, stocks, and commodities.
How do I open an account with HYCM?
To open an account with HYCM, visit their website, click on "Open Account," and follow the registration process, providing the required personal and financial information.
What trading platforms does HYCM offer?
HYCM offers the popular MetaTrader 4 (MT4) platform, known for its advanced charting tools and features, as well as its proprietary web-based trading platform.
Can I trade cryptocurrencies on HYCM?
Yes, HYCM allows traders to access the cryptocurrency market, providing a variety of cryptocurrency pairs for trading.
What are the different account types available on HYCM?
HYCM offers various account types, including Micro, Standard, and VIP accounts, each with different features and minimum deposit requirements.
What is the leverage offered by HYCM?
HYCM offers leverage up to 1:500 for forex trading, allowing traders to potentially amplify their trading positions.
How do I deposit and withdraw funds from my HYCM account?
You can fund your HYCM account through various methods, such as bank transfers, credit/debit cards, and e-wallets. Withdrawals are processed using the same methods.
What are the typical spreads on HYCM?
Spreads on HYCM can vary depending on the account type and trading instrument, but they are generally competitive in the industry.
Does HYCM provide educational resources for traders?
Yes, HYCM offers a range of educational materials, including webinars, tutorials, and market analysis, to help traders improve their skills.
Is there a demo account available on HYCM for practice?
Unfortunately, HYCM does not currently offer a demo account, but you can start with a Micro account with a lower initial deposit.
What customer support options does HYCM offer?
HYCM provides responsive customer support via email, live chat, and phone support to assist traders with any inquiries or issues.
Are there any promotions or bonuses for HYCM traders?
Yes, HYCM occasionally runs promotional offers and bonuses for traders, so be sure to check their website for the latest promotions.
Is HYCM regulated?
Yes, HYCM is regulated by multiple financial authorities, including the Financial Conduct Authority (FCA) in the UK and the Cyprus Securities and Exchange Commission (CySEC).
Can I access HYCM trading on mobile devices?
Absolutely, HYCM offers mobile trading apps compatible with both Android and iOS devices, allowing you to trade on the go.
Does HYCM provide trading signals and market analysis?
Yes, HYCM offers daily market analysis, trading signals, and insights to help traders make informed decisions in their trading activities.