Are you a trader in search of an online broker for CFD and Forex trading? Look no further than IC Markets! With a solid reputation in the trading sector, IC Markets stands out as a top choice, offering competitive spreads and cutting-edge trading tools. In this 2023 review, we'll delve deep into IC Markets, examining its features and services.
For those unacquainted with IC Markets, this Australian-based broker was established in 2007 and was among the pioneering brokers to provide access to MetaTrader 4 (MT4). Since then, their reach has expanded to encompass over 21 countries worldwide. Today, they are renowned in the trading industry for their reliability, characterized by low spreads and swift execution speeds.
In this article, we'll chart the evolution of IC Markets since its inception, shedding light on how it can benefit traders in 2023. We'll also closely examine key aspects such as commission rates, leverage options, customer service, and more. Continue reading to discover whether IC Markets aligns with your trading needs!
Related Post: Tickmill Review 2023 | Is Tickmill a Safe Broker?
Overview of IC Markets
IC Markets is a leading online CFD and Forex broker, offering over 200 tradable instruments across a diverse range of asset classes. The company provides access to global markets including indices, commodities, stocks and cryptocurrencies. IC Markets offers a wide range of products including commission-free trading accounts with no minimum deposit requirements.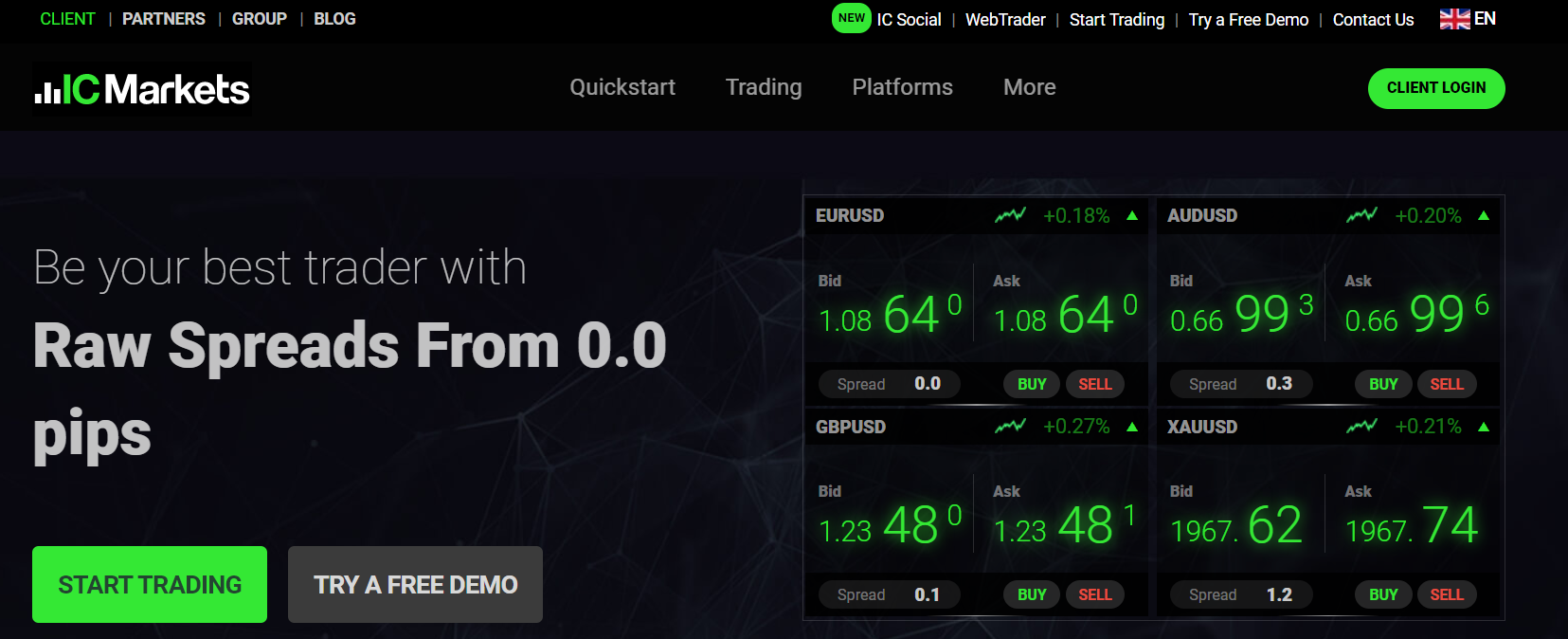 The platform also offers low spreads and fast execution times, making it well suited for both beginner and experienced traders alike. With an intuitive user interface and advanced charting tools, the platform allows users to quickly execute trades with ease. Additionally, the company has a dedicated customer service team that is available 24/7 for any queries or questions customers may have. All in all, IC Markets is a great choice for anyone looking to trade Forex and CFDs in 2023. With its competitive pricing structure and robust features, it's sure to become one of the top brokers in the industry.
You May Also Like: Honest and In-Depth Analysis of FXCM | Is FXCM a Good Broker?
Pros & Cons of IC Markets
Pros
Low trading fees: IC Markets offers competitive spreads on various trading instruments, including forex, commodities, indices, and cryptocurrencies. This makes it a cost-effective option for traders who want to minimize their trading costs.
Wide range of trading instruments: IC Markets provides access to a wide range of trading instruments, including over 60 currency pairs, commodities, indices, shares, and cryptocurrencies, which provides traders with a diverse set of trading opportunities.
Fast and reliable execution: IC Markets claims to have some of the fastest execution speeds in the industry, with orders executed in less than 1 millisecond. This means that traders can enter and exit trades quickly, without having to worry about slippage or order delays.
Flexible trading platforms: IC Markets offers multiple trading platforms, including MetaTrader 4, MetaTrader 5, and cTrader. Each platform has its unique features, enabling traders to choose the one that best suits their trading needs.
Regulated broker: IC Markets is regulated by the Australian Securities and Investments Commission (ASIC), which ensures that the broker adheres to strict financial and regulatory requirements, providing traders with a high level of security.
Cons
No US clients: IC Markets does not accept clients from the United States due to regulatory restrictions. This may be a significant disadvantage for US-based traders who are looking for a reliable broker.
Limited educational resources: IC Markets' educational resources are limited, with only a few articles and videos available on their website. This may not be sufficient for traders who require comprehensive educational materials to learn about trading.
Limited customer support: IC Markets' customer support is limited to email, phone, and live chat, which may not be enough for traders who need more personalized support.
Inactivity fees: IC Markets charges an inactivity fee of $15 per month if a trader does not make any trades for a period of six months. This fee can add up and become a significant cost for traders who are not active.
High minimum deposit: IC Markets requires a minimum deposit of $200, which may be a high barrier to entry for traders who are just starting and do not want to risk a large amount of capital.
Types Of Accounts Available at IC Markets
IC Markets has a wide variety of accounts for traders to choose from, tailored to suit their individual needs. These include the Raw Spread Account, Standard Account, and the cTrader Account. Each account type offers different spreads and commissions, as well as access to different levels of service.
Raw Spread Account: This account is designed for experienced traders who want tight spreads and fast execution with no commission fees.
Standard Account: This account is suitable for both novice and experienced traders looking for a simple trading environment with fixed spreads and low commission fees.
cTrader Account: This account is perfect for sophisticated traders who are looking for an advanced trading platform with premium features such as automated trading systems and copy trading.
Islamic Accounts: IC Markets also offers Islamic accounts designed specifically to meet the requirements of Muslim traders who follow Sharia laws.
These accounts come with various benefits such as leverage up to 1:500, access to more than 230 financial instruments including currencies, indices, commodities and stocks, 24-hour customer support in multiple languages and much more. All these features make IC Markets one of the most popular Forex brokers in the world today.
Further Reading: Pepperstone Review 2023 | Is Pepperstone a Reliable Broker
IC Markets' Regulatory Standards
At IC Markets, they take regulation very seriously. The company is regulated by two leading authorities: the Australian Securities and Investments Commission (ASIC) and the Cyprus Securities and Exchange Commission (CySEC). They also abide by strict capital requirements to ensure that their clients' funds are secure and segregated from their own. All of this means that your investments are safe with IC Markets.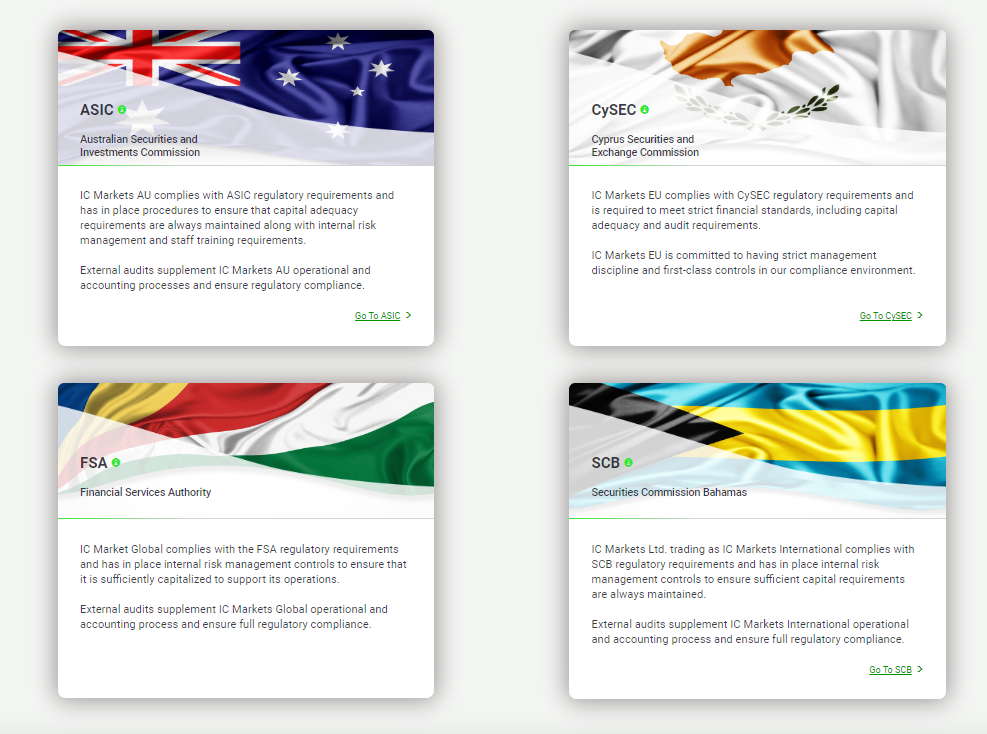 In addition, IC Markets complies with international standards for client money protection, such as MiFID II, the EU's Markets in Financial Instruments Directive. They also ensure that all client funds are deposited with tier one banks, providing added security for traders. Furthermore, IC Markets is a member of the Financial Ombudsman Service (FOS), ensuring swift resolution of disputes should something go wrong.
Explore More: Honest and In-Depth Analysis of Octafx | Is Octafx a Good Broker?
Security And Safety Features of IC Markets
When venturing into online trading, prioritizing security and safety is of paramount importance. IC Markets places a strong emphasis on these concerns and has implemented a robust set of features to ensure the safeguarding of customer funds. Here's how IC Markets ensures your peace of mind:
Regulation and Investor Compensation: IC Markets operates under the regulatory oversight of the Australian Securities and Investment Commission (ASIC). Additionally, it is a member of the Investor Compensation Fund (ICF). This dual-layered regulatory framework guarantees that traders have recourse to financial compensation in the unlikely event that unforeseen circumstances lead to the broker's insolvency.
Advanced Encryption: IC Markets employs state-of-the-art 128-bit SSL encryption technology to shield all data transmissions between its servers and customers' devices. This rigorous encryption protocol provides an impenetrable barrier, protecting personal information from any malicious third-party interference.
Segregated Accounts: As an added layer of protection, IC Markets offers segregated accounts, effectively segregating client funds from the company's operational capital. This safeguard ensures that customers' funds remain ring-fenced and are never co-mingled with corporate assets, further fortifying the security of your investments.
Discover: Exness Review 2023 | Is Exness a Safe Broker?
IC Markets' Trading Platforms & Technology
At IC Markets, traders have access to a range of trading platforms and technology. They offer the popular MetaTrader 4 and 5 platforms as well as their proprietary cTrader platform. The MetaTrader 4 platform is easy to use and has a range of features including charting capabilities and automated trading strategies. The cTrader platform is more suitable for experienced traders with advanced charting tools and over 100 technical indicators. Both platforms are available on desktop, mobile, and web-based versions for maximum flexibility.

The IC Markets platform is turbocharged by Equinix servers, guaranteeing lightning-speed trade executions. This means traders can seize opportunities with millisecond precision and minimal slippage. Beyond this, IC Markets extends a wealth of additional tools and resources, including VPS hosting, algorithmic trading aids, Autochartist market analysis software, and more.
To stay at the cutting edge of trading innovation, IC Markets offers forward-thinking solutions like copy trading and social trading. These groundbreaking features empower traders to replicate the strategies of successful traders or follow real-time signals from their peers. With this comprehensive suite of offerings, IC Markets emerges as the optimal choice for traders, whether they're newcomers or seasoned professionals. It provides an intuitive yet potent platform for navigating the global financial markets with confidence and agility.
Check out: Honest and In-Depth Analysis of FBS | Is FBS a Good Broker?
Range Of Instruments Offered at IC Markets
IC Markets offers a wide range of instruments for trading, including Forex, Commodities, CFDs, Indices and Cryptocurrencies. They have over 60 major, minor and exotic currency pairs to choose from. With CFDs, traders can take advantage of the movements in the underlying markets without actually owning the asset. They even offer options on commodities like gold and silver.

IC Markets boasts a diverse range of trading opportunities, including access to some of the world's most sought-after indices like the FTSE 100, Nasdaq 100, and Dow Jones Industrial Average. For those looking to explore emerging markets, IC Markets offers indices from Russia, India, and China.
Crypto enthusiasts will find IC Markets particularly enticing as it supports prominent cryptocurrencies like Bitcoin (BTC/USD), Ethereum (ETH/USD), and Litecoin (LTC/USD). These three assets are available for both spot trading and derivative trading, including futures contracts. Moreover, IC Markets offers access to a variety of other cryptocurrencies, including Ripple (XRP/USD), through its selection of cryptocurrency exchanges.
More Resources: Alpari Review 2023 | Is Alpari a Reliable Broker?
IC Markets' Fees, Commissions & Spreads
IC Markets offers some of the lowest fees, commissions, and spreads available. They offer a commission rate of 0.0 pips on all major currency pairs and no commission on exotic pairs. This makes them one of the best brokers when it comes to trading costs for currency traders.

In addition to their low fees, IC Markets also offers competitive spreads across all the major currency pairs. Spreads start from as low as 0.0 pips on EUR/USD, GBP/USD and USD/JPY, making them some of the most competitive in the industry. They also offer an ECN account which allows traders to trade with even lower spreads starting from 0.1 pips on EUR/USD, GBP/USD and USD/JPY pairs.
Overall, IC Markets is an excellent choice for traders looking for competitive fees and spreads while trading Forex or CFDs. Their customer service is also very helpful if you have any questions or concerns about your account or trading strategies.
Learn More: IG Review 2023 | Is IG a Top Broker for Investment Needs?
Customer Support Services of IC Markets Broker
Customer Support Services from IC Markets are highly reliable and efficient. They provide 24/7 customer support via Live Chat, email, and telephone. The customer service representatives are knowledgeable and friendly; they respond quickly to inquiries and offer helpful advice.
The Live Chat feature is particularly convenient, allowing customers to chat with a representative in real-time. This makes it easy to get quick answers to any questions or concerns. Furthermore, there is an extensive FAQ section on the website which provides answers to many common queries.
Overall, IC Markets offers a high standard of customer support services that can be relied upon for assistance with any trading related issue. They take great pride in providing their clients with the best possible support experience, ensuring that all problems are resolved quickly and effectively.
Find Out: HFM Review 2023: Honest and In-Depth Analysis of HF Markets
IC Markets: Education & Research Resources
IC Markets provides its traders with a comprehensive range of educational and research resources to help them make informed trading decisions. The broker offers both introductory and advanced materials, such as multimedia tutorials, webinars, and trading strategies. In addition, there is an extensive library of ebooks that provide in-depth knowledge about Forex and CFD trading.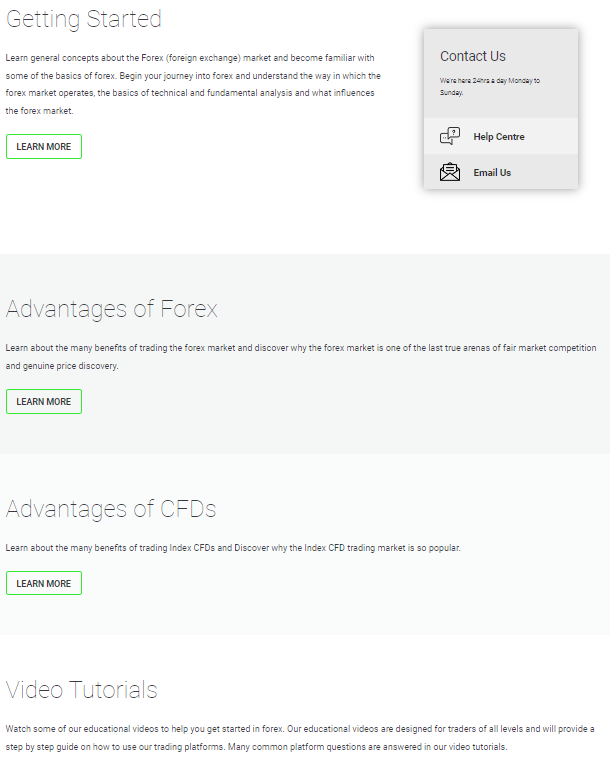 The broker also provides its traders with access to third-party research tools from top providers such as Autochartist and Trading Central. Users can take advantage of market analysis reports, technical indicators, automated chart pattern recognition tools and more.
Moreover, IC Markets has partnered with several renowned universities to offer courses on financial markets for beginner traders. These courses include various topics such as:
Introduction to Trading:
How markets work
Different types of orders
Risk management principles
Advanced Topics:
Technical analysis fundamentals
Price action trading strategies
Fundamental analysis principles
These courses are designed to provide a comprehensive understanding of the Forex market so that users can make informed investment decisions. With all these features available at their fingertips, IC Markets customers are well-equipped to capitalize on opportunities in the global financial markets.
Dig Deeper: FXCC Review 2023 | Is FXCC a Safe Broker?
Final Thoughts About IC Markets
In summary, IC Markets stands out as a versatile choice for CFD and Forex trading enthusiasts. Their extensive array of account types caters to the diverse needs of traders, all while offering competitive fees and spreads. With round-the-clock customer support and a user-friendly website, they ensure a seamless trading experience.
IC Markets further distinguishes itself by providing traders with an arsenal of tools and platforms, including the likes of Autochartist, facilitating trend identification and market analysis. In essence, IC Markets embodies reliability and can deliver exceptional trading experiences for novices and seasoned traders alike.
It's worth noting that IC Markets may not be the optimal choice for active daily traders, as their strengths lie in serving long-term investors, thanks to their low commission rates and tight spreads. However, for those seeking a dependable broker that excels in customer service and offers advanced features, IC Markets undoubtedly merits consideration from the SEO-friendly perspective.
Continue Reading: easyMarkets Review 2023: Can You Trust This Forex Broker?
Frequently Asked Questions
What is IC Markets?
IC Markets is a renowned Forex broker offering a wide range of trading services, including CFD trading, on various financial instruments.
What sets IC Markets apart from other brokers?
IC Markets stands out for its competitive spreads, advanced trading tools, and a reputation for reliability in the industry.
What trading platforms does IC Markets offer?
IC Markets provides access to MetaTrader 4 (MT4) and MetaTrader 5 (MT5), two of the most popular and versatile trading platforms in the world.
What is ECN trading with IC Markets?
ECN (Electronic Communication Network) trading with IC Markets allows for direct access to liquidity providers, resulting in tight spreads and fast execution speeds.
Can I open multiple types of trading accounts with IC Markets?
Yes, IC Markets offers various account types to suit different trading styles and preferences, such as Standard, Raw Spread, and cTrader.
Does IC Markets offer educational resources for traders?
Yes, IC Markets provides a range of educational materials, including webinars, tutorials, and market analysis to help traders enhance their skills.
How can I contact IC Markets' customer support?
IC Markets offers 24/7 customer support through email, live chat, and phone, ensuring assistance is available whenever you need it.
What are the available payment methods for funding my IC Markets account?
IC Markets supports multiple deposit and withdrawal methods, including bank transfers, credit cards, and various e-wallets.
Can I trade cryptocurrencies with IC Markets?
Yes, IC Markets offers cryptocurrency trading, including Bitcoin (BTC/USD), Ethereum (ETH/USD), and Litecoin (LTC/USD).
What is Autochartist, and how can it benefit my trading?
Autochartist is a powerful tool provided by IC Markets that helps traders identify market trends and potential trading opportunities.
Are there any account funding or withdrawal fees with IC Markets?
IC Markets does not charge any deposit or withdrawal fees, making it convenient for traders to manage their accounts.
Can I engage in social trading with IC Markets?
Yes, IC Markets offers social trading features that enable you to follow and replicate the strategies of successful traders in real time.
Is IC Markets suitable for beginners in Forex trading?
IC Markets caters to both beginners and experienced traders, offering a user-friendly platform and educational resources.
What is the minimum deposit required to open an account with IC Markets?
The minimum deposit requirement varies depending on the type of account you choose, with options suitable for traders of all levels.
Does IC Markets offer a demo account for practice trading?
Yes, IC Markets provides a demo account that allows traders to practice their strategies and familiarize themselves with the platform without risking real funds.
Review Heading
Summary Text