Are you looking for an online CFD trading platform? If so, then Pepperstone could be the perfect fit for you. With a range of features and tools available to traders, this Forex broker offers a comprehensive trading experience. In this Pepperstone review 2023, we'll take a look at the key features that make this broker stand out from the crowd.
The first thing to note about Pepperstone is its dedication to providing traders with the best possible service. They provide access to cutting-edge technology, as well as low fees and fast execution speeds. Their customer service staff are always on hand to answer any questions and help guide new traders through the process. All of these features ensure that traders get the most out of their trading experience with Pepperstone.
Finally, Pepperstone has a wide selection of account types available for both beginner and experienced traders alike. These accounts offer competitive spreads and leverage levels meaning that users can tailor their trading experience to suit their individual needs. Whether you're interested in day trading or long-term investing, Pepperstone has something to offer everyone. Keep reading to find out more about this Forex broker in our full review below!
Recommended: Honest and In-Depth Analysis of Octafx | Is Octafx a Good Broker?
Overview Of The Pepperstone
Pepperstone is a leading Forex broker and CFD trading platform. Established in 2010, it has quickly grown to become one of the most trusted and respected brokers in the industry. With its wide range of user-friendly tools, competitive spreads, and reliable customer service, Pepperstone has become a favorite among traders worldwide.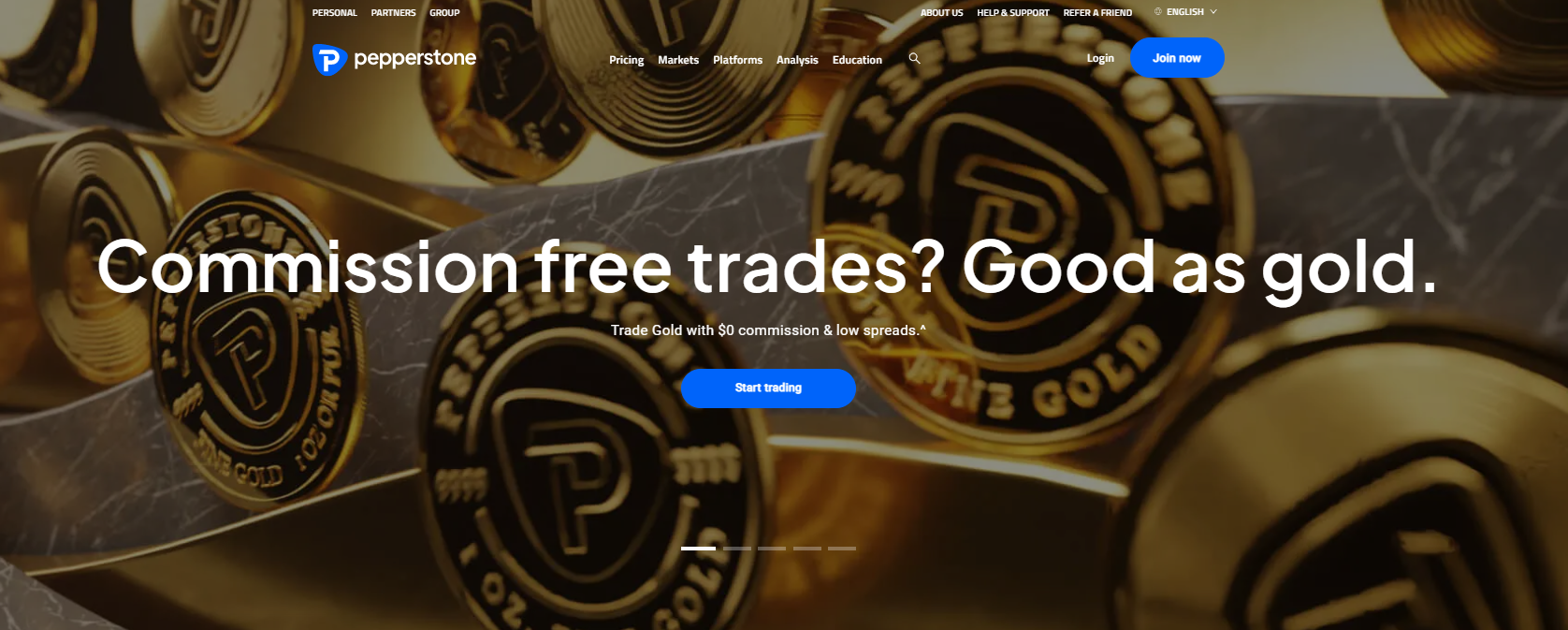 The company offers a wide range of products including major currency pairs, indices, commodities and cryptocurrencies. It also provides more than 80 trading instruments for margin trading which includes advanced charting capabilities with multiple timeframes and overlays. The platform also offers access to automated trading strategies with Expert Advisors (EAs).
Pepperstone is regulated by several financial bodies including the Australian Securities & Investments Commission (ASIC) and Financial Conduct Authority (FCA). These organizations ensure that clients are protected from fraud or other financial misdeeds. Furthermore, the company utilizes sophisticated security protocols to protect customers' data and funds. All these factors make Pepperstone an ideal choice for online CFD trading in 2023.
Read Next: Exness Review 2023 | Is Exness a Safe Broker?
Pros & Cons of Pepperstone
Pepperstone is a popular online forex and CFD broker, providing trading services to clients worldwide. Here are five pros and cons of using Pepperstone:
Pros
Low trading fees: Pepperstone offers competitive spreads on various trading instruments, including forex, commodities, indices, and cryptocurrencies. This makes it a cost-effective option for traders who want to minimize their trading costs.
Multiple trading platforms: Pepperstone offers multiple trading platforms, including MetaTrader 4, MetaTrader 5, and cTrader. Each platform has its unique features, enabling traders to choose the one that best suits their trading needs.
Fast and reliable execution: Pepperstone claims to have some of the fastest execution speeds in the industry, with orders executed in less than 30 milliseconds. This means that traders can enter and exit trades quickly, without having to worry about slippage or order delays.
Regulated broker: Pepperstone is regulated by multiple financial regulators, including the Australian Securities and Investments Commission (ASIC), the Financial Conduct Authority (FCA) in the UK, and the Dubai Financial Services Authority (DFSA). This ensures that the broker adheres to strict financial and regulatory requirements, providing traders with a high level of security.
Excellent customer support: Pepperstone offers excellent customer support, with 24/5 live chat and email support. Their customer support team is knowledgeable and responsive, providing traders with timely and effective assistance.
Cons
Limited product offerings: Pepperstone offers a limited range of trading instruments, which may not be sufficient for traders who want to trade a diverse range of assets.
Limited educational resources: Pepperstone's educational resources are limited, with only a few articles and videos available on their website. This may not be sufficient for traders who require comprehensive educational materials to learn about trading.
Inactivity fees: Pepperstone charges an inactivity fee of AUD 15 per month if a trader does not make any trades for a period of six months. This fee can add up and become a significant cost for traders who are not active.
Limited payment options: Pepperstone offers limited payment options, which may not be convenient for traders who prefer to use alternative payment methods.
High financing rates: Pepperstone charges high financing rates on overnight positions, which can increase the cost of holding positions for an extended period.
Pepperstone: Financial Instruments
Pepperstone offers a wide range of markets and financial instruments, giving traders access to the competitive global markets. Traders can access major and minor forex pairs, as well as various commodities, indices and cryptocurrencies. They also have access to other financial instruments such as CFDs, which offer leveraged trading of commodities, indices, stocks and cryptos. With Pepperstone's award-winning execution speed and low spreads, traders are able to execute trades quickly and efficiently.

The advanced trading platform offered by Pepperstone allows for automated trading with industry-leading tools such as Expert Advisors (EAs) and algorithmic trading strategies. The platform also includes a suite of charting tools that enables traders to analyse their trades in real-time. This helps them identify potential opportunities in the market more easily. Additionally, Pepperstone provides a variety of educational materials that can help new traders develop their skills and strategic insights into the markets.
Pepperstone is an excellent choice for both beginner and experienced traders who are looking for an online CFD trading platform with a wide range of markets and instruments. It provides a secure environment for its users with cutting-edge technology, allowing them to take advantage of advanced trading features while enjoying fast execution speeds and low spreads.
Take a Look: Honest and In-Depth Analysis of FBS | Is FBS a Good Broker?
Pepperstone: Account Types And Trading Platforms
Pepperstone offers a range of account types and trading platforms to meet the diverse needs of its customers. The broker's accounts are tailored to offer different levels of leverage, low spreads and commissions, fast execution, scalability options and more. Additionally, Pepperstone provides a variety of trading platforms including MetaTrader 4 (MT4), MetaTrader 5 (MT5), cTrader and Web Trader.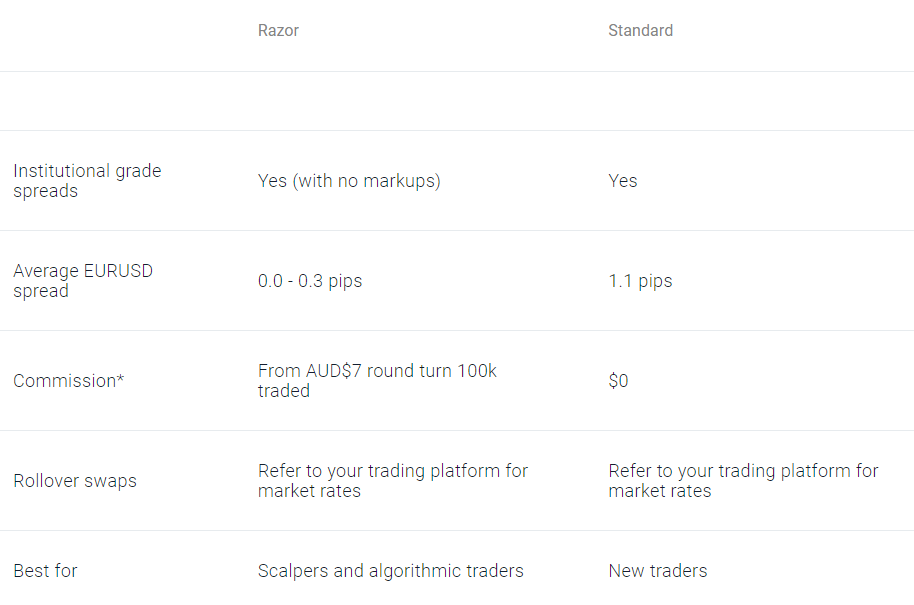 The most popular platform is MT4 which is renowned for its user-friendly interface, customisable features and advanced analytical tools. It also supports automated trading with Expert Advisors (EAs) and comes with a wide selection of indicators, charting tools and scripts. MT5 is an advanced version that includes all the features found in MT4 as well as additional features such as hedging capabilities and depth of market (DOM).
For those looking for an alternative to MT4/5, cTrader is a fully functional platform that offers multiple features such as advanced charting tools, extensive backtesting capabilities, automated trading strategies and more. There's also the Pepperstone Web Trader platform which allows traders to access their accounts from any web browser without having to download or install anything.
Continue Reading: Alpari Review 2023 | Is Alpari a Reliable Broker?
Pepperstone Forex Broker: Leverage And Margin Requirements
Pepperstone offers leverage from 1:50 to 1:500, depending on the instrument. This means that traders can take larger positions with smaller amounts of capital. However, it is important to remember that higher leverage comes with higher risk and traders should exercise caution when using large amounts of leverage. The broker also offers tight spreads and low commissions, making it easier for traders to make profits.
Margin requirements vary depending on the instrument, with most margin requirements starting at 0.20%. Traders are required to maintain a certain amount of capital in their accounts at all times in order to keep their positions open. This helps minimize the risk of losses due to sudden market movements or other events that may affect the price of an asset.
Overall, Pepperstone provides competitive leverage and low margin requirements which make it an attractive option for forex traders who want to maximize their profits while minimizing their risks. The broker's tight spreads and low commissions further add to its appeal as a top-notch trading platform.
Dig Deeper: IG Review 2023 | Is IG a Top Broker for Investment Needs?
Commissions And Fees Structure of Pepperstone Broker
When it comes to trading, Pepperstone is known for its competitive commission and fees structure. They offer some of the lowest spreads in the market, making them a great choice for traders who want to maximize their potential profits. For Forex trading, Pepperstone charges no commissions on most trades, making it an attractive option for those who are looking to minimize their costs.
The fees that Pepperstone does charge are very fair and reasonable. They apply a $3.50 flat fee per lot traded, as well as a small commission on certain trades. This commission can range from 0.01% – 0.06%, depending on the currency pair being traded and the volume of the trade. For example, AUD/USD trades have a 0.06% commission while major pairs like EUR/USD have just a 0.01% commission rate applied. There's also an inactivity fee of $15 per month if you don't make any trades in that period of time.
| | |
| --- | --- |
| Minimum Deposit | $200 |
| Average Spread EUR/USD – Standard | 0.77 |
| All-in Cost EUR/USD – Active | 0.87 |
| Active Trader or VIP Discounts | Yes |
| ACH or SEPA Transfers | Yes |
| PayPal (Deposit/Withdraw) | Yes |
| Skrill (Deposit/Withdraw) | Yes |
| Visa/Mastercard (Credit/Debit) | Yes |
| Bank Wire (Deposit/Withdraw) | Yes |
For CFD trading, there is an additional spread which varies depending on the asset being traded and the amount of leverage being used. The spreads range from 0-0.02%, however they can increase when markets become volatile or liquidity is low due to news events or holidays around the world. In addition to this spread, Pepperstone also applies a round-trip fee which starts at $6 per lot traded but can go up to $20 per lot depending on your account type and leverage used during your trade execution process.
Overall, Pepperstone's fees structure is competitive and transparent with no hidden surprises or complicated calculations involved – making it ideal for all types of traders who want to keep their costs low while still getting great value from their trading platform and services provided by this broker.
Find Out: HFM Review 2023: Honest and In-Depth Analysis of HF Markets
Education And Research Resources By Pepperstone
Pepperstone offers a wealth of education and research resources to help traders stay informed and make the best trading decisions. Included are:
A library of educational materials, including webinars, seminars, tutorials, articles, videos and more
Comprehensive market analysis reports from experts in the field
Access to specialized tools such as an Economic Calendar, Risk Calculator, Price Alerts and more
The education materials are designed to give traders an in-depth understanding of the markets they're trading in. Pepperstone offers both beginner and advanced courses that cover topics ranging from basic technical analysis to advanced risk management strategies. The market analysis reports provide up-to-date insights into current trends as well as forecasts for future movements. These reports can be used by traders to inform their investment decisions.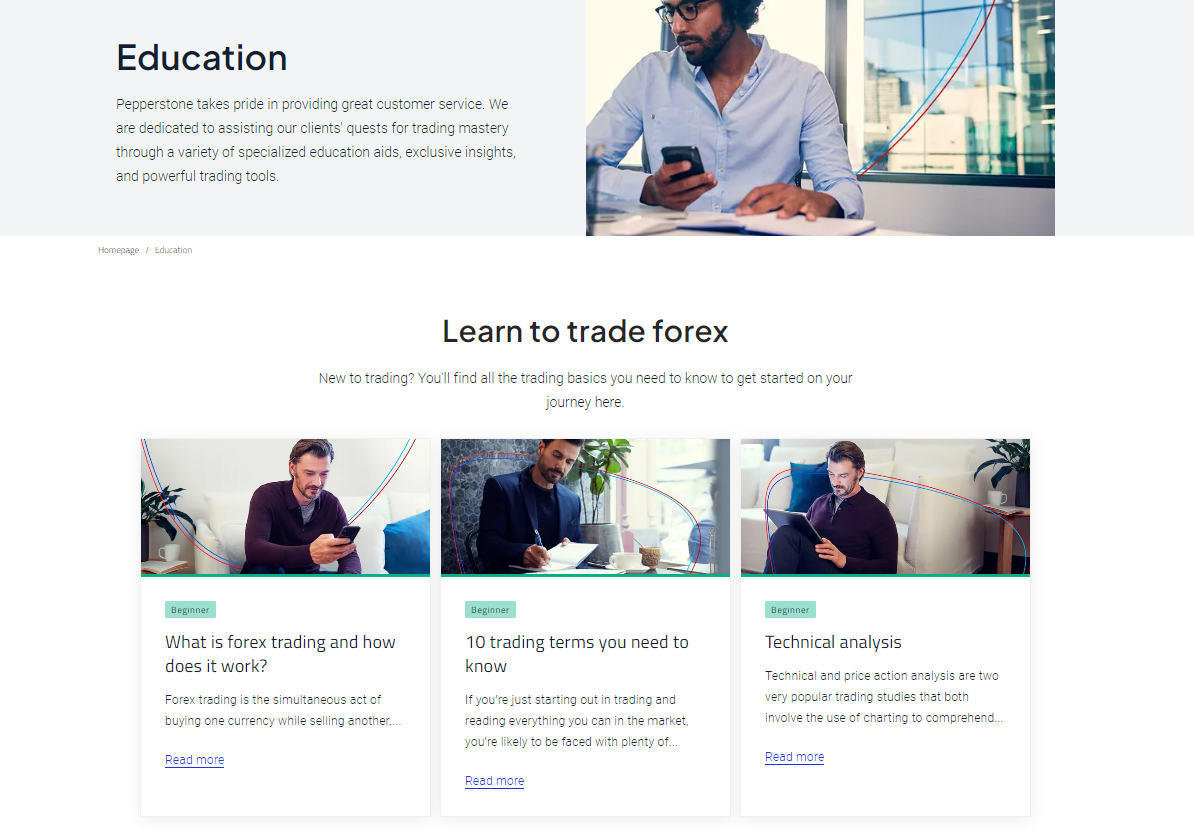 Finally, Pepperstone's specialised tools provide traders with detailed information on prices, economic events and more. The Economic Calendar helps traders stay abreast of upcoming events that could impact their trades. The Risk Calculator allows them to determine the potential risks associated with a given position size or trade. And the Price Alerts feature sends notifications whenever certain price thresholds have been reached or exceeded.
Learn More: FXCC Review 2023 | Is FXCC a Safe Broker?
Customer Service Quality of Pepperstone
When it comes to customer service quality, Pepperstone is second-to-none. Their knowledgeable and friendly team of professionals are always available to answer any questions or provide assistance with your trading experience. The team is available through phone, email, and live chat which ensures that you can get help anytime of the day or night.

The company also offers a comprehensive online knowledge base which contains helpful tutorials and webinars on topics ranging from basic forex trading concepts to more advanced topics like risk management. This makes it easy for traders at all levels of experience to quickly find what they need. Additionally, the Pepperstone support staff is always willing to provide one-on-one guidance whenever needed.
Pepperstone stands behind its customers with top-notch customer service quality and an impressive array of trading resources that make trading easier and more profitable for everyone involved. From start to finish, their team strives to ensure a smooth and rewarding experience for all clients.
More Resources: easyMarkets Review 2023: Can You Trust This Forex Broker?
Pepperstone: Deposit/Withdrawal Methods
Pepperstone offers a variety of deposit and withdrawal methods, making it easy for traders to fund their accounts and take out profits quickly. All deposits are free of charge, with most being processed instantly. Deposit methods include major credit cards and debit cards, bank wire transfers, Skrill, Neteller, POLi Payments, BPay and more.
Withdrawal requests are generally processed within one business day. Withdrawal fees vary depending on the method used but the majority have no fee. Common methods of withdrawal include Visa/Mastercard, bank transfers, Skrill, Neteller and POLi Payments.
Overall Pepperstone provides an easy-to-use interface with various payment options that make it simple to fund your account and withdraw profits in a timely manner. They provide a secure environment for trading and have proven to be reliable with fast processing times.
Check out: HYCM Review 2023: Pros, Cons, Fees, Accounts & Features
Security Features of Pepperstone Broker
When it comes to trading safely, Pepperstone knows that security is of utmost importance. That's why they offer a wide range of features to keep their clients safe and secure while trading. Clients have the option to set up two-factor authentication, which requires them to enter a code sent directly to the user's email or phone number before accessing their account. They also offer encryption technology, ensuring all data is protected and secure.
Pepperstone also has strict anti-fraud measures in place for deposits and withdrawals. These include identity verification as well as anti-money laundering regulations that comply with international standards. Additionally, Pepperstone offers negative balance protection which safeguards clients from any financial losses if their account balance goes below zero due to market conditions.
With these security protocols in place, traders can confidently engage in online CFD trading without worry that their funds or personal information will be compromised. All of this makes Pepperstone an ideal choice for anyone looking for a reliable and secure online forex broker.
Discover: FxOpen Review 2023: Reliable Forex Trading Platform or a Scam?
Conclusion
In conclusion, Pepperstone is a well-rounded forex broker that can cater to the needs of most traders. With an extensive range of financial instruments, account types, and trading platforms, it has something for everyone. The leverage and margin requirements are also quite reasonable, making it attractive for both beginner and experienced traders. On top of this, the educational resources and customer service quality are excellent. Plus, the security features ensure that your funds are safe with them. All in all, Pepperstone is a trusted broker that I would highly recommend for anyone looking to get started in online CFD trading.