Are you looking for a trading platform that fits your needs? ActivTrades Review 2023 is here to help! Offering one of the most comprehensive and reliable services on the market, it has become increasingly popular among traders who are seeking an efficient and cost-effective way to trade. With its wide range of features and user-friendly interface, this online broker promises to make trading simpler and more rewarding than ever before.
The review will provide an in-depth look into what makes ActivTrades stand out from other brokers. We'll explore their fees structure, customer support options, account types, educational resources, as well as their overall security measures. All these aspects will be explored in order to give readers a thorough understanding of what they can expect when choosing this service provider.
By the end of this review, readers should have a good idea whether or not ActivTrades meets their requirements when it comes to selecting the right trading platform. So let's dive straight in and take a closer look at what ActivTrades has to offer!
Recommended: Vantage Review 2023: Is Vantage a Safe Broker?
Overview
ActivTrades is an online broker that provides traders with access to a robust trading platform and comprehensive suite of services. It offers a variety of account types, allowing investors to customize their trades according to their individual needs. The platform features tools and resources tailored for both beginners and experienced traders alike. Its user-friendly interface makes it easy to navigate the wide range of markets available through ActivTrades' services.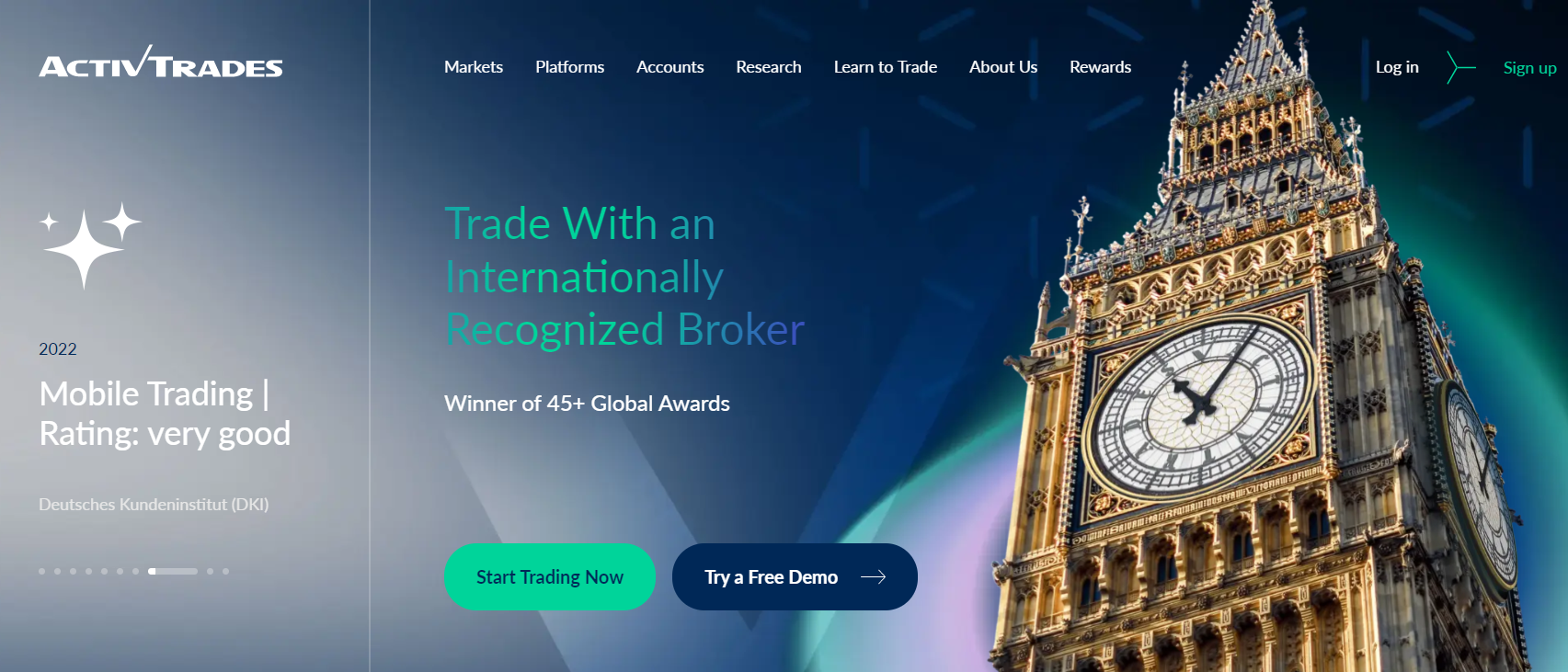 The company supports multiple asset classes, including stocks, indices, commodities, currencies, ETFs and more. Traders have access to over 100 different instruments across all major exchanges worldwide. In addition, they can take advantage of low spreads on currency pairs as well as competitive commissions on other assets. There are also various research materials such as market analysis reports and educational videos provided by the company's experts in order to help clients make informed decisions about their investments.
ActivTrades has a strong reputation among its customers due to its high level of customer service and support team who are always ready to assist users when needed. Overall, ActivTrades offers an extensive array of products and services suitable for any type of trader looking for an advanced trading experience.
Read Next: XM Review 2023: Is XM a Good Broker for Beginners?
Pros And Cons
Pros
Their fees are competitive, and they provide access to global markets with low spreads, meaning that traders can benefit from lower transaction costs.
They also offer comprehensive trading tools such as charting software and technical analysis indicators, allowing users to make informed decisions quickly and easily.
Additionally, their customer service team is always available 24/7 in case any questions arise while trading.
Cons
The platform does not support automated trading or scalping strategies, meaning the trader will have to manually enter orders when needed.
There is no demo account option which could be useful for novice investors who want to practice before investing real money in the market.
The range of assets offered by Activtrade is quite limited compared to other brokers in the industry.
Overall, Activtrades provides good value for money considering the features it offers but one should take into consideration all its pros and cons before deciding if this broker is right for you.
Trading Platforms
Moving on to trading platforms, ActivTrades offers a wide variety of options for every type of trader. Whether you are looking for an easy-to-use platform or more complex tools and features, there is something for everyone. Here's what they have to offer:
Platform Features
Market Access – Offers access to over 3,000 financial instruments including Forex, CFDs, commodities and indices with low spreads and no commissions.
Trading Tools – Provides advanced charting capabilities with 50+ drawing tools and indicators as well as automated trading strategies such as Expert Advisors (EAs).
Platform Usability
Easy To Use – Intuitive design makes it simple to start trading quickly without needing any technical knowledge.
Mobile Access – Available on both iOS and Android devices so you can stay connected while on the go.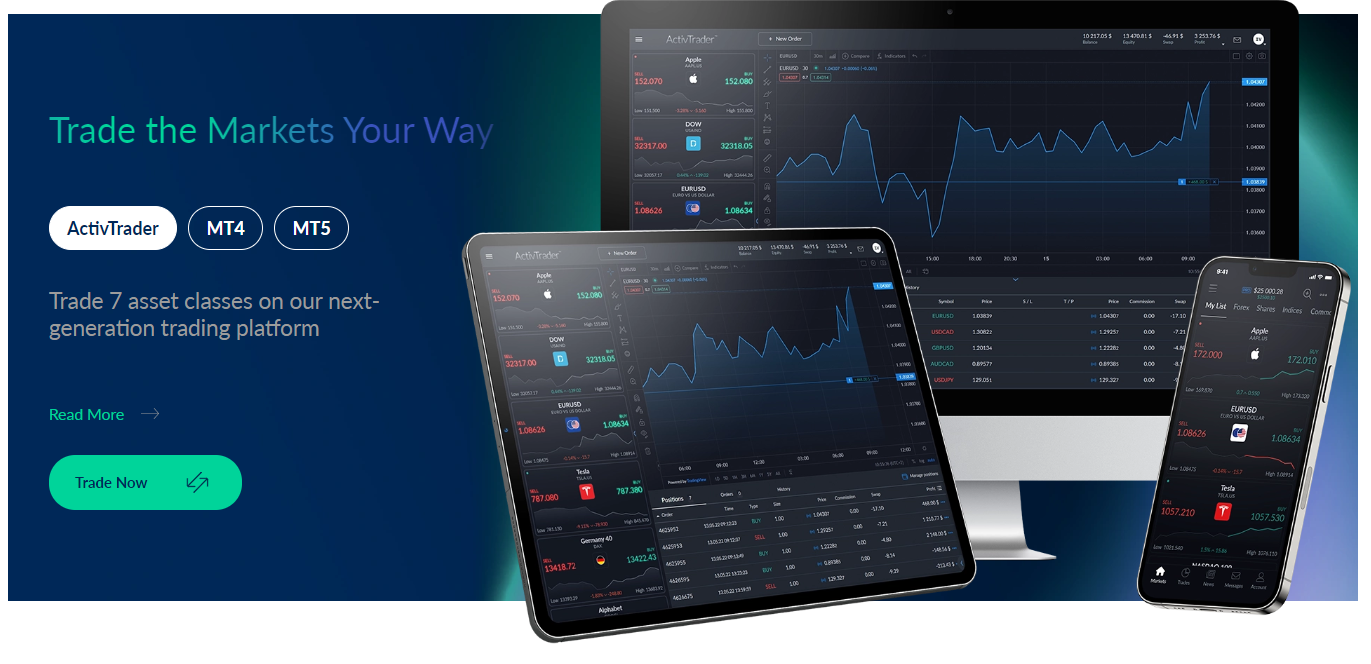 ActivTrades provides an excellent selection of trading platforms that cater to traders at all levels of experience. The comprehensive range of market access, trading tools and usability make them an ideal choice for anyone looking to trade the markets in 2023.
Take a Look: In-Depth Analysis of IC Markets | Is IC Markets a Good Broker?
Account Types
ActivTrades offers a variety of trading accounts, each with its own unique features. The Standard Account is the most popular and has no minimum deposit requirement. It also includes access to an advanced online platform with real-time pricing data and tight spreads on major currency pairs and other instruments from around the world.
Features

Mini and Micro Lots, State-of-the-Art Trading Platforms, MT4 and MT5, Fully Automated Order Routing, Fast Execution

Account Currencies
EUR/USD/GBP/CHF
Available Leverage
4:20
Minimum Deposit
$0
Starting Spreads
0.5 pips
Commission Per Trade

EUROPE (excl. London): 0.05% of the transaction value,
(€1 minimum commission)*
OR
0.01% of the transaction value,
(€5 minimum commission)*
London: 0.10% of the transaction value
(£1 minimum commission)
New York (Incl. International ADRs and ETFs): US$0.02 per share
(US$1 minimum commission)

Decimal Pricing
Up to 5
Trading Instruments

Foreign Exchange (FX), Commodities, Indices, Shares/Stocks, CFDs, Cryptocurrency

Min. Lot Size Per Trade
0.01
Max Lot Size Per Trade
500-1,000
Demo Account
Yes
Swap/Rollover Free
Islamic Option Available
Copy Trading Support
No
The Professional Account requires a larger minimum deposit than the Standard account but provides additional features such as low transaction costs, exclusive webinars, and market analysis tools. This account type is suitable for experienced traders looking for more control over their portfolios. Finally, there's also the VIP Account which gives investors full access to ActivTrades' entire suite of services along with dedicated customer support.
Opening up any of these accounts is quick and easy; customers just need to provide some basic personal information along with proof of address and identity documents before they can begin trading. There are no fees associated with opening or maintaining any of the accounts at ActivTrades.
Continue Reading: Tickmill Review 2023 | Is Tickmill a Safe Broker?
Security & Regulation
When it comes to security and regulation, ActivTrades is highly trustworthy. They are committed to safeguarding their clients' funds by always being compliant with the different international regulations around the world. As such, they have obtained licenses from multiple regulators including FCA in the UK, CySEC in Cyprus and MAS in Singapore.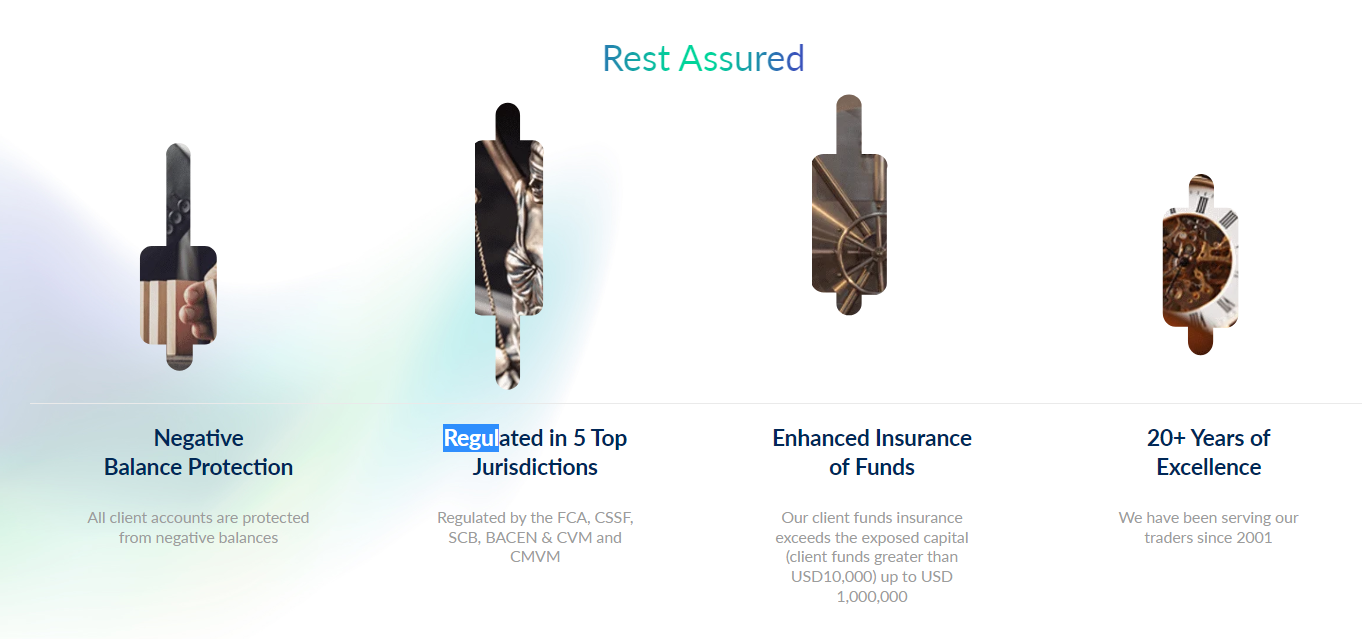 ActivTrades also implements robust technology to protect customer data at all times while conducting trades on their platform. All of these measures ensure that user accounts remain secure and encrypted against any potential cyber threats or malicious attacks. Furthermore, ActivTrades provides a compensation scheme for its clients which guarantees up to £85,000 per person in case of insolvency or bankruptcy.
In short, ActivTrades takes extensive steps to guarantee its customers' safety and security when trading online. Their commitment to compliance and protection ensures traders can confidently invest knowing their money is well-protected at all times.
Dig Deeper: Honest and In-Depth Analysis of FXCM | Is FXCM a Good Broker?
Fees & Commission
Moving on from Security & Regulation, we turn now to Fees & Commission. When trading with ActivTrades, you can expect competitive rates as they offer very low spreads and minimal slippage. This is beneficial for traders wanting to maximize their potential profits while minimizing costs.
ActivTrades' fees are quite straightforward: no commission charges when dealing in forex trades but a small fee applies when trading CFDs or spread betting. The trading cost of CFDs depends on the asset being traded and the size of your chosen position, so it's worth double-checking before entering any trade.
| | |
| --- | --- |
|  Bank Transfer – Citibank/MoneyCorp | 9 GBP |
| Credit/Debit Cards – UK and EEA | 1.5% |
| Credit/Debit Cards – Non-EEA | 1.50% |
Spreads at ActivTrades are some of the most competitive available – typically only 0 pips on major currency pairs such as EUR/USD and GBP/USD during market hours – allowing traders to have more control over their trading costs and profitability. All this makes ActivTrades an attractive choice for savvy day traders who don't want hidden commissions eating into their profits.
Here are 4 key takeaways regarding Fees & Commission at ActivTrades:
No commission charged on Forex trades
Small fees apply when trading CFD's or spread betting
Competitive spreads (0 pips) across major currency pairs
More control over trading costs and higher chances for profitable trades
Find Out: Pepperstone Review 2023 | Is Pepperstone a Reliable Broker
Education & Research
ActivTrades offers an extensive selection of educational resources and trading tools to help investors improve their knowledge and skills. The broker's website provides a range of investment lessons, including basic trading strategies, market analysis basics, risk management, chart reading fundamentals, and more. There are also instructional videos available on the site that cover different aspects of trading.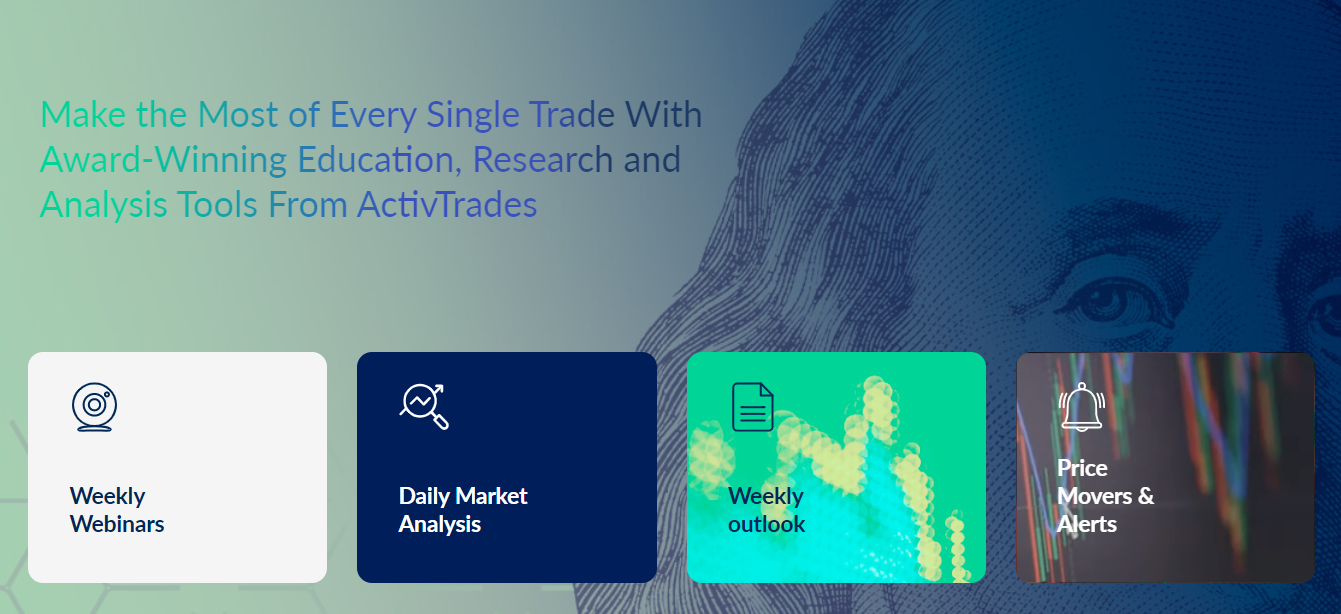 In addition to these learning materials, ActivTrades has developed several proprietary tools for traders to access in-depth market insights and make informed decisions. These include automated technical indicators, advanced charting tools with over eighty drawing objects and thirty studies, as well as an economic calendar providing real-time macroeconomic data from around the world. All these features are designed to give clients better control over their trades while helping them stay ahead of the markets.
The education center at ActivTrades helps new traders get off to a strong start by offering comprehensive training courses tailored to each individual's needs. These courses focus on topics such as fundamental analysis, momentum trading techniques, money management principles, and more. They also provide live webinars covering various topics related to online investing so that customers can learn from experts in real time. With all these resources available at ActivTrades' disposal, clients have everything they need to become successful traders in 2023.
Learn More: Honest and In-Depth Analysis of Octafx | Is Octafx a Good Broker?
Customer Service
Moving on to the customer service of Activtrades, it is important to note that this broker provides a thorough selection of resources. These include an online chat feature and email support for any inquiries or issues customers may have. Additionally, there are several phone numbers dedicated to different countries, which allows traders from all over the world access to excellent customer assistance regardless of their location.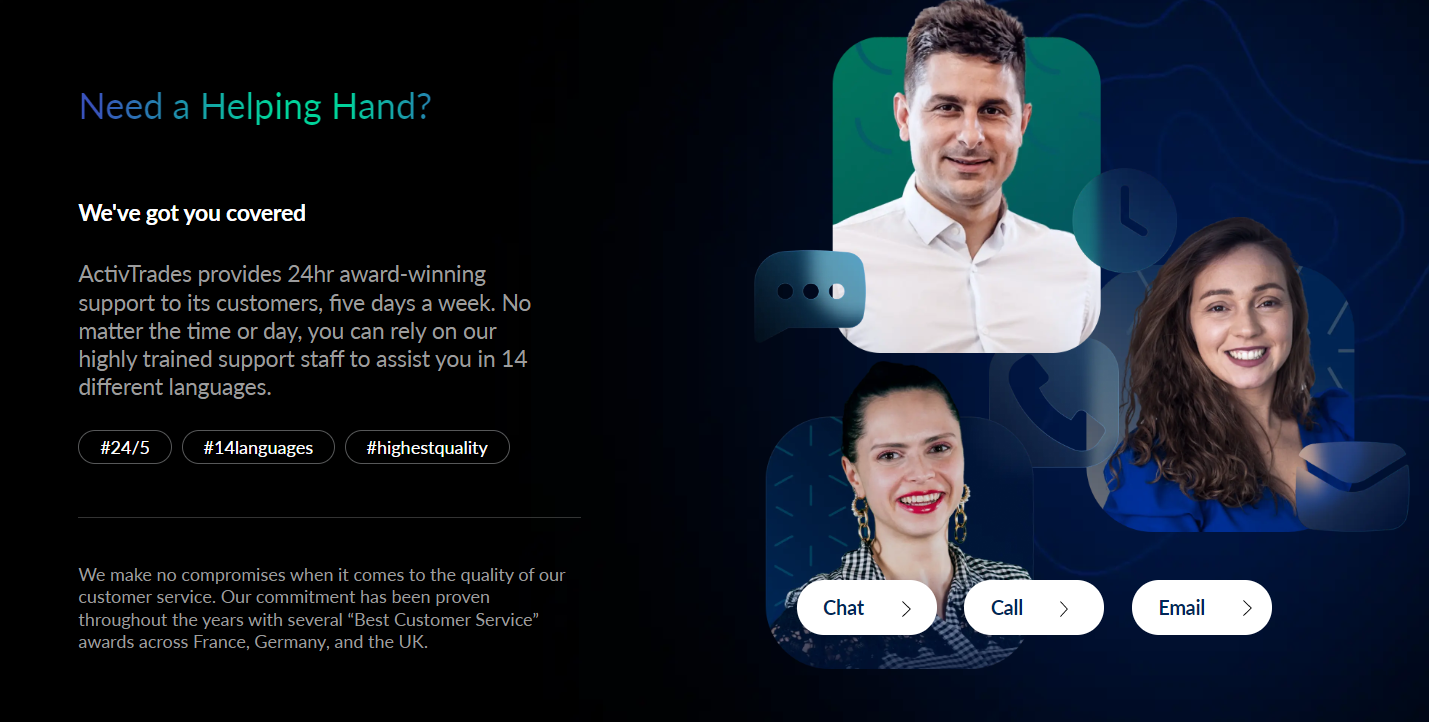 The overall quality of customer service at Activtrades is highly rated by many users; they find the staff helpful and knowledgeable in addressing any queries swiftly. Furthermore, most people report having positive experiences when dealing with this broker's customer support team. They appreciate how friendly and professional the response time tends to be when speaking with representatives about technical issues or trading-related questions.
Overall, Activtrades' customer experience has been consistently outstanding across its entire network. From providing robust educational materials to offering top-notch customer service and support, this broker goes above and beyond in ensuring that every trader has what they need to succeed in the markets – an unbeatable combination of convenience and reliability!
More Resources: Exness Review 2023 | Is Exness a Safe Broker?
Deposits & Withdrawals
Activtrades offers a variety of deposit and withdrawal methods to meet the needs of its customers. There are several funding options available, including debit/credit cards, bank transfers, e-wallets, and more. The deposit process is straightforward; deposits can be made in real-time with no waiting times or fees incurred.
The same range of payment methods applies for withdrawals too. Withdrawal requests are submitted online and usually processed within one business day. All withdrawals are free from charges unless otherwise stated on the site. Customers may also choose to withdraw their funds in different currencies if required.
Overall, Activtrades provides reliable services when it comes to depositing and withdrawing money from an account. Their secure systems ensure that all transactions are safe and efficient while providing multiple payment options depending on individual preferences.
Check out: Honest and In-Depth Analysis of FBS | Is FBS a Good Broker?
Summary
Overall, the reviews of ActivTrades in 2023 have been generally positive. Traders praise its user-friendly platform, low trading fees and wide range of tradable products. Its customer service has also been highly praised for being knowledgeable and helpful. The broker offers a variety of great tools to help traders with their analysis and research which can be useful for investors at all levels. However, some areas still need improvement such as the lack of options for mobile trading and limited educational resources.
The overall summary is that ActivTrades remains an excellent choice for both novice and experienced traders looking to trade in a secure environment with competitive fees and reliable customer service. It's easy to use interface makes it suitable for beginners while its up-to-date technology allows more advanced traders to take advantage of sophisticated strategies. The fact that they offer access to multiple asset classes further enhances their appeal among active traders who want to diversify their portfolio across different markets around the world.
In short, ActivTrades provides all the necessary features needed by any trader, whether beginner or pro, making it a well rounded option when it comes to online trading platforms in 2023. They are committed to providing traders with quality services so they can easily manage their investments without worrying about security issues or hidden costs. With this review as reference material, anyone interested in investing through ActivTrades should feel confident knowing they are supported by one of the best brokers on the market today.
Discover: Alpari Review 2023 | Is Alpari a Reliable Broker?
Conclusion
Overall, ActivTrades is a great choice for traders of all levels. Their trading platforms offer a wide range of features and tools to help you maximize your profits. They have several account types with competitive fees and commissions that make them an attractive option. In addition, they are highly regulated and secure, ensuring the safety of their customers' funds. Finally, their customer service team is always available to assist you in any way possible when needed.

All in all, I'm very impressed by what ActivTrades has to offer. It's clear that they put a lot of effort into providing excellent services for their clients. From the security measures taken to ensure funds remain safe to the helpful customer support team – it's obvious why so many people choose to trade with this broker.

If you're looking for a reliable broker who offers great value for money then consider giving ActivTrades a try. With everything they provide, there's no doubt that you'll be happy with the outcome!