Looking to trade securities and commodities online? Consider GBE Brokers Review 2023 as your go-to resource. GBE Brokers, a cutting-edge platform, offers a wide range of trading services suitable for traders of all levels. In this comprehensive review, we delve into GBE Brokers' offerings and compare them to other market options.
Diving into the world of financial instruments for wealth growth entails certain risks. Therefore, selecting a dependable platform with access to your desired markets is crucial. GBE Brokers stands out as a provider of exceptionally comprehensive trading solutions. With its state-of-the-art technology and user-friendly interface, this broker empowers investors to make well-informed decisions effortlessly.
Our review thoroughly examines how GBE Brokers stacks up against its competitors by analyzing its features and services in detail. We also highlight the broker's commitment to creating a secure trading environment that ensures traders' peace of mind while executing their trades. By the end of this review, you'll gain insight into why GBE Brokers is a top choice for an online brokerage service. Make an informed decision and consider GBE Brokers for your trading needs.
Recommended: TopFX Review 2023: A Detailed Look at Features and More
Company Background: GBE Brokers
GBE Brokers is a renowned online trading provider based in Cyprus. Established in 2009, the company has gone on to become one of the leading global brokers in the Forex and CFD markets. It provides a range of trading services and features, allowing traders to access the financial markets with ease. GBE Brokers is regulated by CySEC and MiFID, providing a safe and secure environment for traders to invest in.

Discover a diverse array of trading instruments with GBE Brokers, spanning currencies, commodities, indices, cryptocurrencies, stocks, and ETFs. Unlock the potential of these assets through the user-friendly and cutting-edge MetaTrader 4 platform, which offers advanced charting tools, automated strategies, and more. For added flexibility, GBE Brokers grants access to alternative platforms like cTrader and Webtrader Pro. Moreover, they boast their proprietary trading platform, enabling lightning-fast one-click order execution.
GBE Brokers leads the charge in technological innovation and top-tier customer service. Their dedicated support team is accessible round the clock via email or live chat, ready to assist traders with any questions or concerns. With a commitment to competitive spreads and minimal commissions, GBE Brokers caters to both newcomers and seasoned traders, providing an optimal avenue to maximize returns in the dynamic financial markets. Make the most of your investments with GBE Brokers – the smart choice for traders of all levels.
Read Next: Moneta Markets Review 2023: Is This the Right Broker for You?
Pros & Cons of GBE Brokers
Pros
Wide range of financial instruments
Regulated by reputable authorities
Low spreads and fees
Access to MetaTrader 4 (MT4) platform
Multiple account types to choose from
Cons
Limited educational resources
Limited deposit and withdrawal options
No negative balance protection
High minimum deposit for some account types
Limited customer support options.
GBE Brokers: Platforms And Software
GBE Brokers offers a range of trading software and platforms to suit both novice and experienced traders. Their flagship platform, GBE Prime, is suitable for all traders and includes advanced charting tools and integrated indicators. It also offers the ability to trade multiple asset classes, including Forex, metals, stocks and cryptocurrencies. For experienced traders, GBE brokers offer MT4 Supreme Edition – an enhanced version of the popular MT4 platform that adds extra features such as market news feed, mini-charting tools and more.

In addition to the desktop versions of their platforms, GBE Brokers provides mobile versions of their products for Android and iOS devices. The interface on these apps has been designed specifically for mobile use with intuitive navigation menus that allow users to access their accounts quickly. All the features available on the desktop versions are also available on these apps.
GBE Brokers' suite of trading software is comprehensive and easy-to-use. With its range of platforms available on desktop computers as well as mobile devices, users can take advantage of all its features wherever they go. Whether you're a beginner or a seasoned trader, GBE Brokers has a solution for you.
Take a Look: LegacyFX Review 2023: Uncovering the Pros and Cons of Trading
Commissions And Fees Charged By GBE Brokers
GBE brokers offer competitive commissions and fees for traders of all levels. They have a tiered system that allows traders to get the most out of their trades. For small-volume traders, GBE's commission is lower than many competitors, offering a low cost per executed trade. For high-volume traders, GBE has one of the lowest rates in the industry with no minimum deposit required. In addition, they provide commission-free trading on certain products and services.

GBE also offers a range of other fees associated with account opening and maintaining an account, such as inactivity fees or withdrawal fees. However, these are usually quite low compared to other brokers and can vary depending on the type of account opened. Finally, GBE also provides free access to market data and news feeds, giving traders an accurate picture of market conditions before they open or close a position. This helps them make more informed decisions when trading and reduces their risk exposure.
Continue Reading: DooPrime Review 2023: A Detailed Analysis of Trading Experience
Account Types Available At GBE Brokers
Moving on from commission and fees, let's look at the different account types offered by GBE Brokers. The broker offers a range of accounts, which are tailored to suit the needs of traders of all levels – from beginners to experienced professionals.
The first type of account is the Standard Account. This is designed for new traders who may not have much experience with trading and need an easy way to get started. The minimum deposit requirement for this account is €500, and fees are very reasonable compared to other brokers. The maximum leverage is 1:30 and spreads start as low as 0.5 pips on major currency pairs.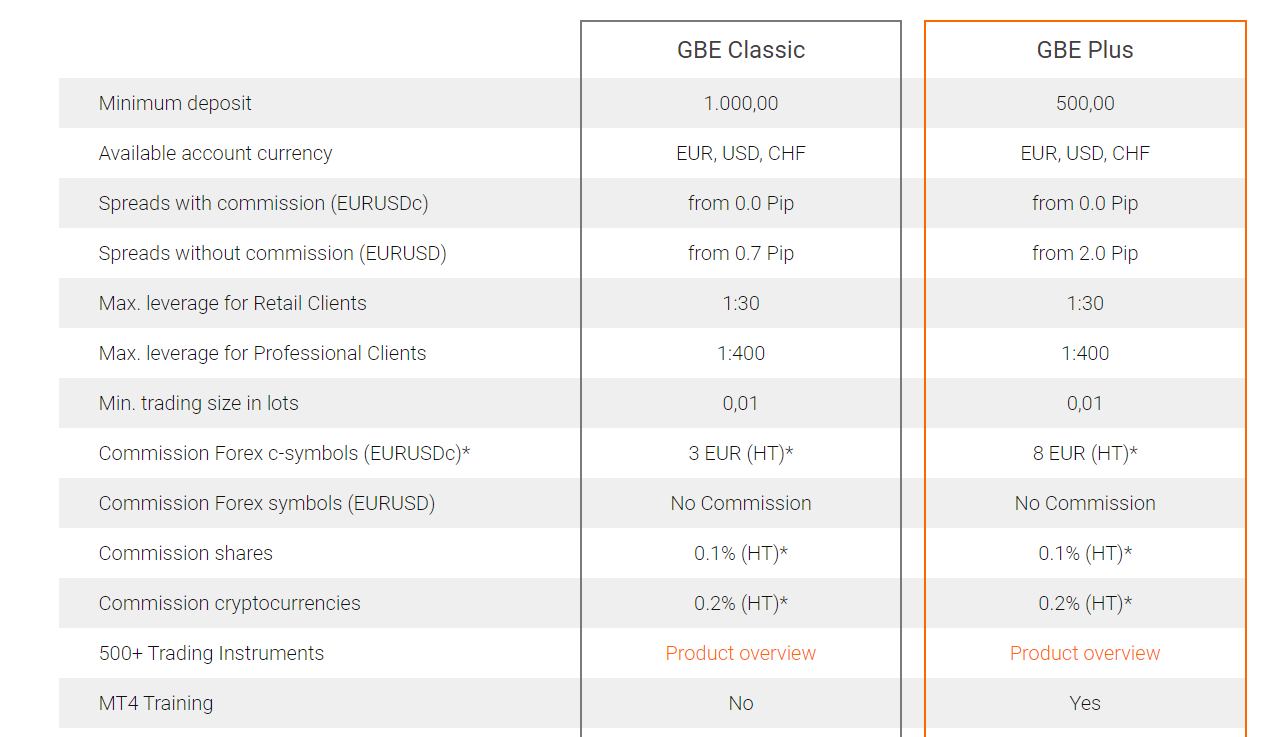 The second type of account at GBE Brokers is the ECN Pro Account. This is designed for more experienced traders who want access to more advanced features such as Direct Market Access (DMA). It has a minimum deposit requirement of €2,000 and spreads start as low as 0 pips on major currency pairs. Leverage can be up to 1:400 depending on the instrument being traded and there are no commissions on trades placed through this account type.
For those who require even more flexibility in their trading strategies, GBE Brokers also offer a Professional Account with higher leverage options up to 1:500, lower spreads starting from 0 pips, and access to extra features such as Negative Balance Protection (NBP) and Expert Advisors (EAs). The deposit requirement for this account is €10,000 but it offers some significant advantages over the standard or ECN Pro Accounts when it comes to advanced trading strategies or scalping techniques.
Dig Deeper: ACY Securities Review 2023: A Detailed Look at Trading Services
GBE Brokers: Banking Options
GBE brokers offer a wide range of banking options to meet the needs of their customers. Clients can choose from credit/debit cards, e-wallets, and bank wire transfers to fund or withdraw from their accounts. Credit/debit cards are the fastest way to move funds in and out of an account; withdrawals are usually processed in less than 24 hours. E-wallets provide a secure and convenient way for clients to transfer funds with low processing fees. Bank wire transfers are also available for larger transactions and take longer to process, but they do offer an added layer of security.

Experience tight spreads on all major currency pairs and cost-effective commission fees when executing trades through the broker's ECN account. With leverage options reaching up to an impressive 1:500, GBE Brokers caters to traders seeking enhanced exposure in their trading activities.
Safety is paramount at GBE Brokers, as they operate under the oversight of multiple reputable financial authorities. This ensures the utmost security for your funds.
Choose GBE Brokers for your trading needs and gain access to a reliable platform with a host of attractive features. Enjoy flexible banking solutions for deposits and withdrawals, along with competitive spreads and commissions, particularly on their ECN accounts. Rest assured that your investments are shielded by the industry's highest regulatory standards.
Find Out: Formax Prime Review: A Comprehensive Look at a Forex Broker
Research Tools And Resources
Gbe Brokers offers an array of research tools and resources to help traders make informed decisions. The resources include a comprehensive library of market analysis and commentary, technical indicators, live charting, financial news feeds, and more. All the research materials are easily accessible via the desktop platform or mobile app.

Unlock real-time market insights and seize trading opportunities instantly with GBE Brokers' cutting-edge streaming technology. Monitor live price movements and spot potential trades in the blink of an eye. What's more, traders can harness the power of automated strategies like algorithmic trading and expert advisors to optimize their investment returns.
At GBE Brokers, we empower traders with a rich array of educational resources, all designed with SEO in mind:
Explore a wealth of knowledge through our webinars, video tutorials, and personalized mentorship programs.
Learn from seasoned professionals who will guide you in risk management, technical analysis, and other key aspects of successful trading.
With these invaluable resources at your fingertips, you can sharpen your trading skills and boost your profitability in the financial markets. Trust GBE Brokers to be your partner in trading success.
Learn More: Interactive Brokers Review 2023: Features, Fees & User Feedback
Educational Materials Available At GBE Brokers
GBE Brokers offers a comprehensive range of educational materials to support traders in their journey. This includes educational videos, webinars, e-books, trading manuals and more. The material is designed to help traders understand the basics of trading as well as sharpen their skills and learn more advanced strategies.
Here are some of the key features of GBE Brokers' educational materials:
Comprehensive range of educational videos, webinars and e-books covering a wide range of topics
Trading manuals that provide detailed information on different kinds of trading strategies
Customized courses tailored to individual traders' needs
The material provided by GBE Brokers is regularly updated to ensure that traders have access to the latest information and developments in the industry. All educational materials provided by GBE Brokers are completely free for all account holders and can be accessed at any time, making it easy for traders to access up-to-date knowledge whenever they need it.
More Resources: Plus500 Review 2023: Still a Top Broker for Investment?
GBE Brokers: Mobile Trading Platforms
Moving on from the educational materials, we now turn our attention to mobile trading platforms. With the advent of smartphones and tablets, many brokers have responded by creating mobile apps that offer traders the same features as their desktop counterparts. These apps typically include real-time charting, trade execution, and order management tools. There are also customized options available for some platforms to give users a more personalised experience.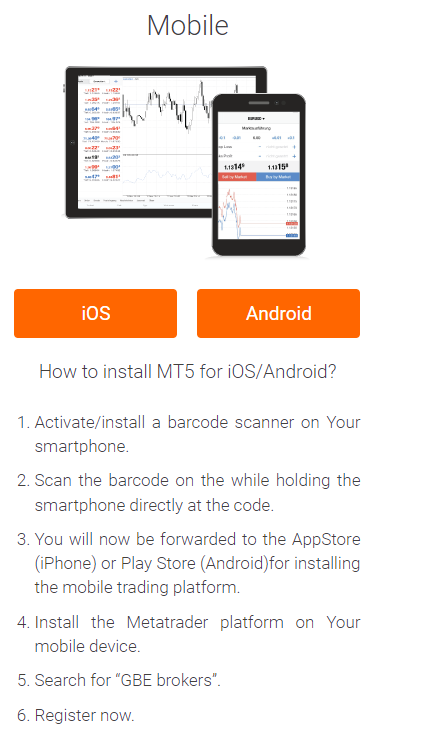 The best mobile trading platform should provide a secure and intuitive user interface that makes it easy to place trades and track positions in real time. It should also offer comprehensive market data with streaming quotes, news feeds and technical analysis tools like indicators and charting packages. Finally, the platform must be reliable and responsive when placing orders so that traders can feel confident in its performance.
Importantly, the mobile trading platform should be regularly updated with new features and bug fixes to ensure its continued performance. In addition, it should include features such as customisable alerts to keep traders informed about important events in the markets. By offering these features, brokers can ensure their clients have all the resources they need for successful trading on the go.
Check out: TD Ameritrade Review: Is It the Right Brokerage for You?
Customer Support of GBE Forex Brokers
GBE Brokers offers top-notch customer support to its clients. They prioritize customer satisfaction and provide a wide range of services to ensure that traders are supported in their trading endeavors. Clients can access the broker's 24/7 customer service team through call, email, or live chat. All requests are answered quickly and promptly by an experienced team of specialists who are well-versed in trading knowledge and can provide guidance on any queries related to the platform.

Moreover, GBE Brokers also provides an extensive FAQ section which contains answers to the most commonly asked questions. This is a great resource for traders who want to find out more about how the platform works and what features it offers. Furthermore, there is also an online forum available where traders can ask questions and read up on other people's experiences with GBE Brokers.
Overall, GBE Brokers provides a comprehensive suite of customer support services which show their dedication to providing a high-quality trading experience for their customers. Their commitment to helping traders succeed has made them one of the most trusted brokers in the industry today.
Discover: Unbiased Oanda Review 2023: Pros/Cons, Fees & Features
Security And Regulation Followed By GBE Brokers
Moving forward, traders can feel secure and confident when using GBE Brokers services, as safety and security are a top priority. The company is regulated by the Cyprus Securities Exchange Commission (CySEC) and has implemented a strict system of risk management to ensure the protection of clients' funds. Furthermore, all deposits are held in segregated bank accounts and protected from any potential losses. All transactions are also encrypted and stored in secure databases.

The trading platform provided by GBE Brokers is also subject to frequent security audits, ensuring that the data and funds are kept safe from any unauthorized access or manipulation. Additionally, all personal information collected from customers is safeguarded with advanced encryption technology.
GBE Brokers takes pride in providing a safe trading environment for its customers. In order to maintain utmost security standards, the broker continuously reviews its policies and procedures to protect its users from fraud or theft. With trusted regulation from CySEC, robust security measures in place, and dedicated customer support services available 24/7 – traders can trade with confidence at GBE Brokers.
Conclusion
In summary, GBE Brokers stands out as a compelling choice for traders in 2023, with an array of trading services and features that cater to various needs. The entry-level account balance requirement is reasonable, and frequent promotions and bonuses sweeten the deal for GBE Brokers' traders. Furthermore, the seasoned customer service team is readily available to assist with any inquiries or concerns, ensuring a smooth trading experience.
Transitioning from another broker to GBE Brokers is a hassle-free process, adding to its appeal as a reliable trading partner this year. Personally, I have been impressed by the quality of services they offer and wholeheartedly recommend them to anyone in search of a trustworthy online broker in 2023. Don't miss the opportunity to explore what GBE Brokers can offer for your trading journey.
Explore More: Roboforex Review 2023: Is it the Best Trading Platform Out There?
Frequently Asked Questions
What is GBE Brokers Forex?
GBE Brokers Forex is a leading online brokerage platform that allows traders to buy and sell foreign currencies in the global foreign exchange market (Forex). It offers a range of currency pairs and trading tools to help you navigate the Forex markets effectively.
How can I open an account with GBE Brokers?
To open an account with GBE Brokers, visit their website and follow the simple registration process. You'll need to provide some personal information and complete the necessary verification steps to get started.
What trading platforms does GBE Brokers offer?
GBE Brokers provides access to MetaTrader 4, a powerful and user-friendly trading platform known for its advanced charting tools. It also offers cTrader and Webtrader Pro, catering to a wide range of trader preferences.
What are the minimum balance requirements for GBE Brokers Forex accounts?
GBE Brokers maintains reasonable minimum balance requirements for its accounts, making it accessible to traders of varying experience levels. The exact minimum balance may vary, so it's best to check their website for the latest information.
Does GBE Brokers offer leverage options?
Yes, GBE Brokers offers leverage options of up to 1:500, providing traders with the opportunity to amplify their positions and potential returns. However, it's important to use leverage with caution, as it also magnifies potential losses.
Are there any bonuses or promotions for GBE Brokers traders?
GBE Brokers frequently offers special promotions and bonuses to its traders. These promotions may include cashback offers, deposit bonuses, or other incentives to enhance your trading experience.
What educational resources are available at GBE Brokers?
GBE Brokers provides a wealth of educational resources, including webinars, video tutorials, and one-on-one mentorship programs. These resources cover topics such as risk management and technical analysis, helping traders improve their skills.
Is GBE Brokers regulated?
Yes, GBE Brokers is regulated by multiple financial authorities, ensuring that the broker adheres to high industry standards and providing a secure trading environment for your funds.
How can I contact GBE Brokers' customer support?
GBE Brokers offers 24/7 customer support through email and live chat. Their experienced support team is available to assist you with any inquiries or issues you may encounter during your trading journey.
Can I switch from another broker to GBE Brokers easily?
Yes, transitioning from another broker to GBE Brokers is a straightforward process. Their dedicated team can guide you through the account transfer process, making it hassle-free and ensuring a smooth transition to their platform.