Are you looking for a trustworthy Forex broker to invest your money? easyMarkets is one of the top brokers in the industry, but how can you trust them with your hard-earned cash? This easyMarkets Review 2023 dives deep into what makes them one of the best brokers out there.
We'll look at the pros and cons of using this broker, so you can make an informed decision before investing any of your money. We'll also uncover their fees and customer service ratings, so you can get a better idea of how they operate. Finally, we'll discuss some recent changes that have been made to their platform and whether they could affect your investments.
So if you're ready to learn more about easyMarkets and decide if it's right for you, keep reading!
Recommended: HYCM Review 2023: Pros, Cons, Fees, Accounts & Features
Overview Of easyMarkets
easyMarkets is an online Forex broker that offers services to traders around the world. Founded in 2003, they offer a wide range of trading platforms and instruments, allowing traders to take advantage of both long-term and short-term investments. They are regulated by multiple financial authorities and have customer service available 24/7. With such a wide range of features, easyMarkets remains one of the most popular brokers in the Forex trading industry today.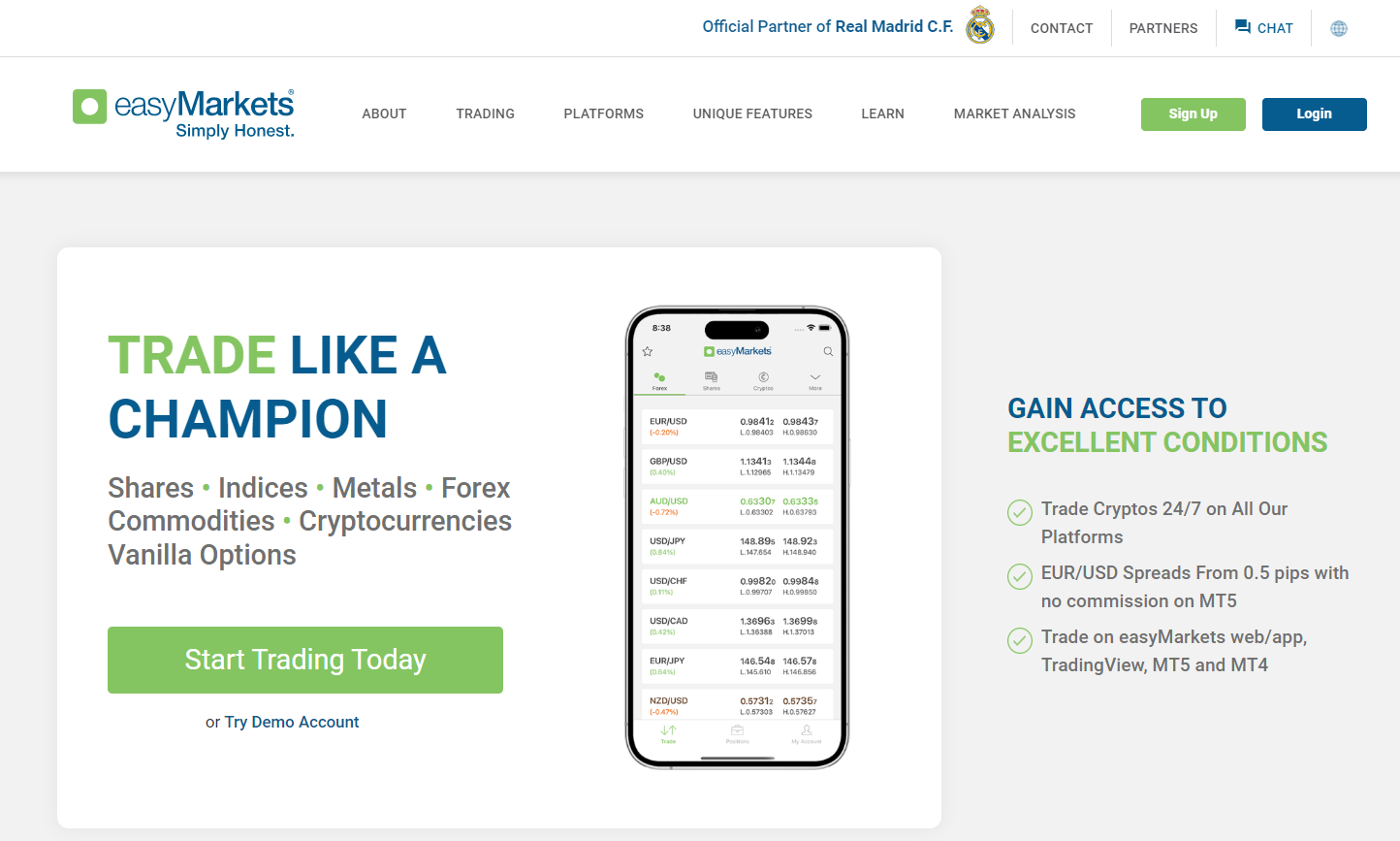 The company has built up a solid reputation over the years with their reliable customer service, low spreads, and fast execution times. They also offer a variety of account types, from basic accounts to VIP accounts for experienced traders. Their website is user-friendly and provides extensive educational resources to help traders get started on their journey. Additionally, they offer free demo accounts for those who want to practice their trading strategies before committing real money.
Overall, easyMarkets is a reliable broker that provides users with high-quality service and competitive trading conditions. With its wide range of products and services, it can be trusted as a reliable partner for your trading needs.
Read Next: FxOpen Review 2023: Reliable Forex Trading Platform or a Scam?
Pros & Cons Of easyMarkets
Pros
User-friendly platform with a simple interface.
Offers fixed spreads, which can be beneficial for traders who prefer predictability.
Provides negative balance protection to prevent traders from losing more than their account balance.
Supports a wide range of payment methods for deposits and withdrawals.
Offers a variety of educational resources and tools for traders.
Cons
Limited product offering compared to other brokers.
High trading fees, including higher spreads and commissions.
Limited research tools and market analysis.
Minimum deposit requirements are higher than some other brokers.
No cryptocurrency trading options.
Trading Platforms And Tools
Moving on from the overview of easyMarkets, this section will focus on the trading platforms and tools available for traders. As a trader, it is important to have access to reliable and user-friendly platforms that provide excellent trading opportunities. easyMarkets offers two powerful trading platforms – MetaTrader 4 (MT4) and WebTrader – so traders can easily access their favorite markets. Both of these platforms offer features such as advanced charting tools, automated trading, multiple order types, and more.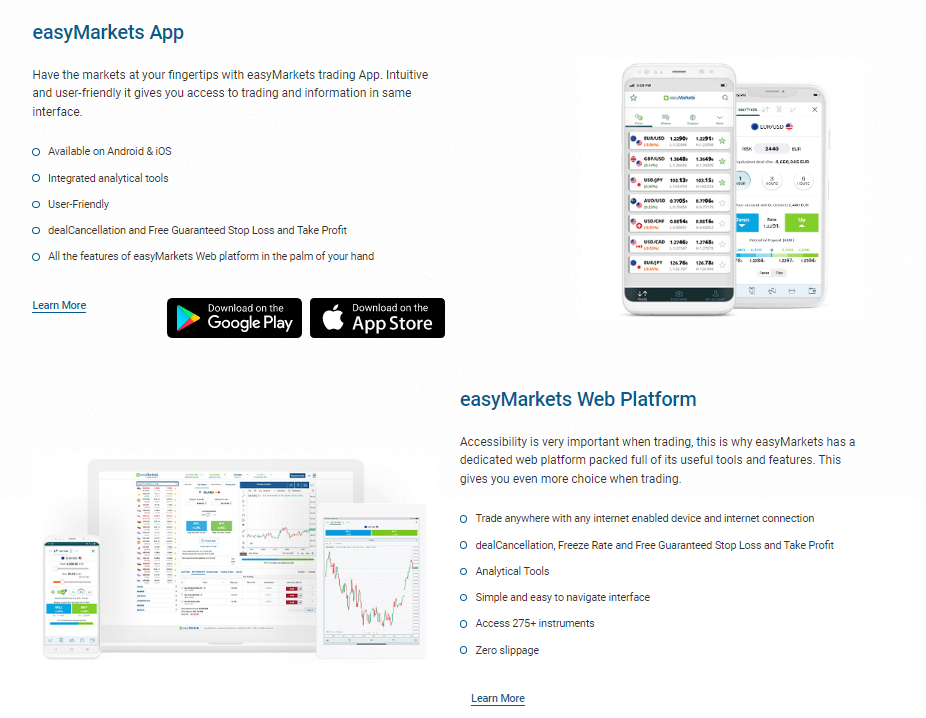 In addition to these two platforms, easyMarkets also provides its own proprietary platform called DealBook360. This platform has a wide range of features designed to make your trading experience easier and more efficient. It includes advanced charting tools which allow you to analyze prices quickly and accurately, as well as automated risk management capabilities which help you control your risk exposure while trading.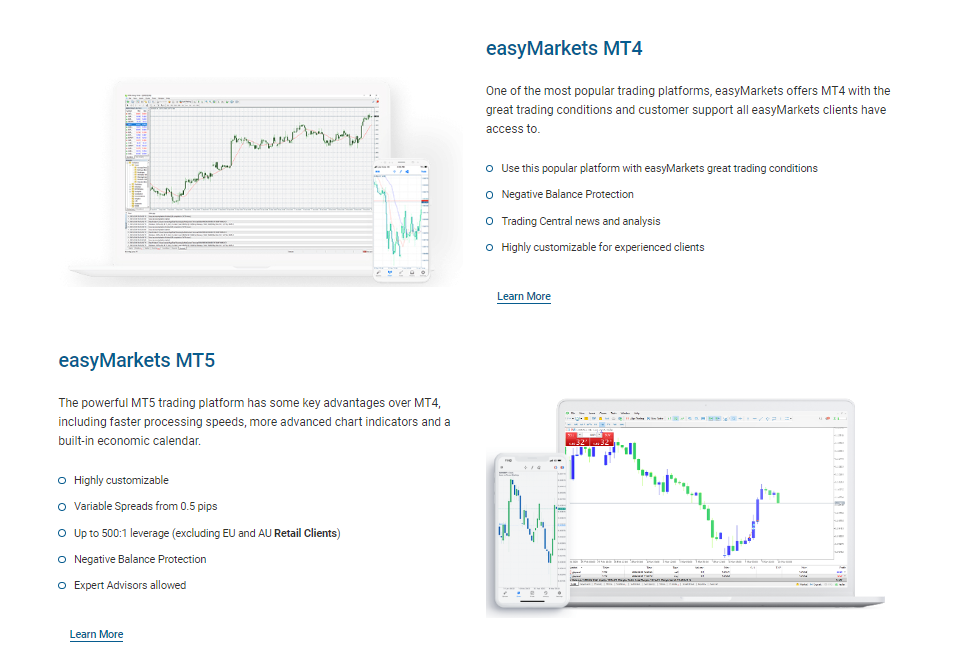 easyMarkets also offers comprehensive educational resources for both beginner and experienced traders. This includes videos, tutorials, eBooks, webinars, articles, news analysis and more. All of these resources are designed to help you become a better trader by giving you an understanding of the markets and how they work. With all these resources at hand, easyMarkets is an ideal choice for those looking for a reliable forex broker for their investments.
Take a Look: ATFX Review 2023: Is This Forex Broker a Good Fit for You?
Account Types And Fees
EasyMarkets offers customers a variety of account types and fees. These include a standard account, premium, and VIP accounts. The standard account is the most basic option and has no minimum deposit requirement. It also allows for trading in any major currency pair with no commission or minimum transaction amounts. Premium and VIP accounts require larger deposits but offer more features such as advanced charting tools, margin trading, and additional leverage options.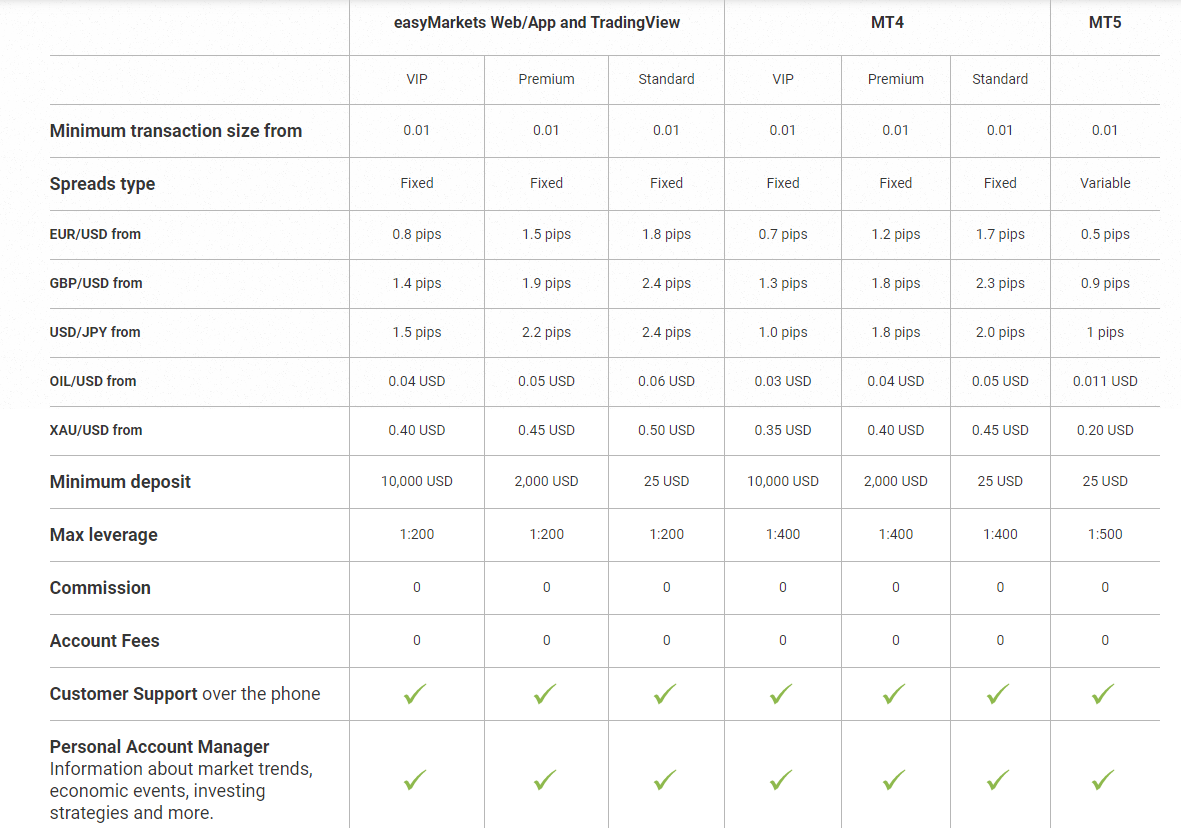 In terms of fees, EasyMarkets charges a spread on each currency pair you trade. This is usually between one to four pips, depending on the currency pair traded. Additionally, overnight rollover fees may apply when leaving positions open overnight. However, EasyMarkets does not charge any additional commissions or withdrawal fees which makes them an attractive choice for traders who are looking to keep costs down while trading forex.
Overall, EasyMarkets provides competitive pricing and various account types to suit different needs and budgets. Their range of features also make them an ideal choice for beginner traders who want to get started with forex trading quickly and efficiently.
Continue Reading: XTrade Review 2023: In-Depth Look at Its Features & Performance
Regulation And Safety
EasyMarkets is regulated by the Cyprus Securities Exchange Commission (CySEC) and regulated in the UK by the Financial Conduct Authority (FCA). Their services are also recognized and approved in several other countries. This ensures that your investments and personal information are secure with EasyMarkets.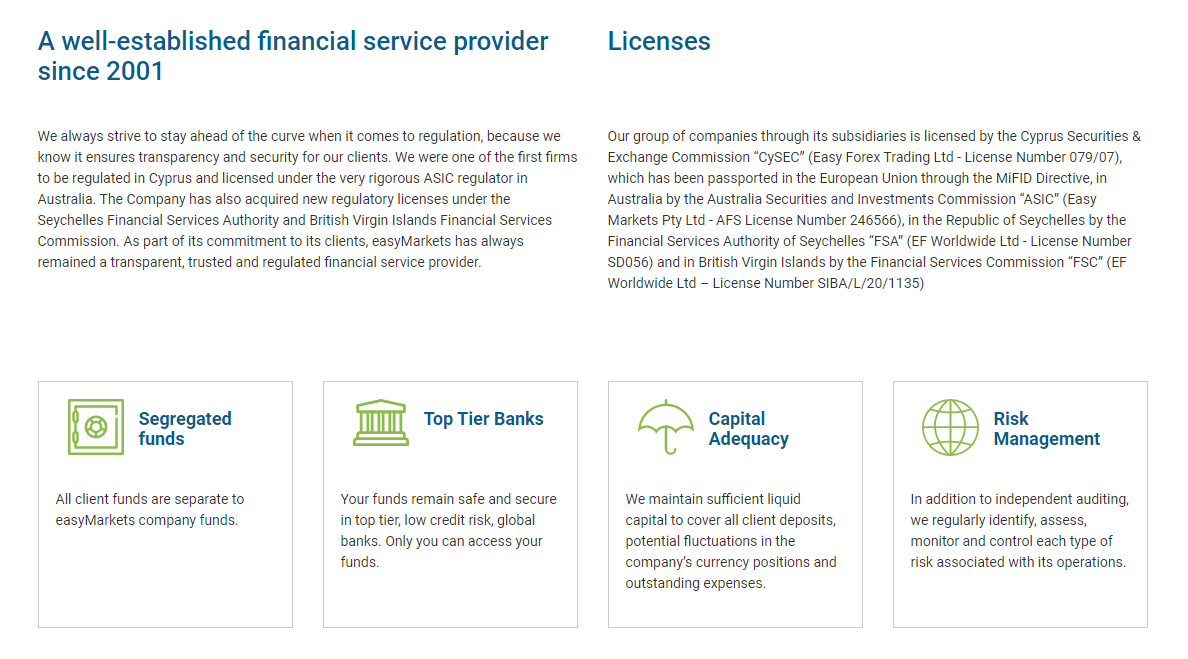 The broker also provides a range of financial products to its clients, including forex, CFDs, indices, commodities and options. They have also implemented a number of measures to ensure the safety of their customers' funds, such as negative balance protection and segregated accounts for client funds.
In addition, EasyMarkets is committed to providing traders with a secure trading environment through its transparent policies, practices, and high levels of customer service. It has invested heavily in technology to protect its clients' data and money from any potential cyber threats. All in all, EasyMarkets can be trusted for your investments as it is well regulated and offers a secure trading environment.
Dig Deeper: BlackBull Markets Review 2023: Honest Feedback from Traders
Customer Support Services
Moving on, customer support services are essential for a forex broker. EasyMarkets offers 24/7 customer service in multiple languages, including English and Russian. Here are some of the advantages of using EasyMarkets customer support services:
Live chat: This feature allows customers to get quick answers to their questions and concerns.
Email Support: Customers can send an email with their queries or complaints and receive a response within 24 hours.
Telephone Support: EasyMarkets also provides phone support where customers can call for help with any issue they might have.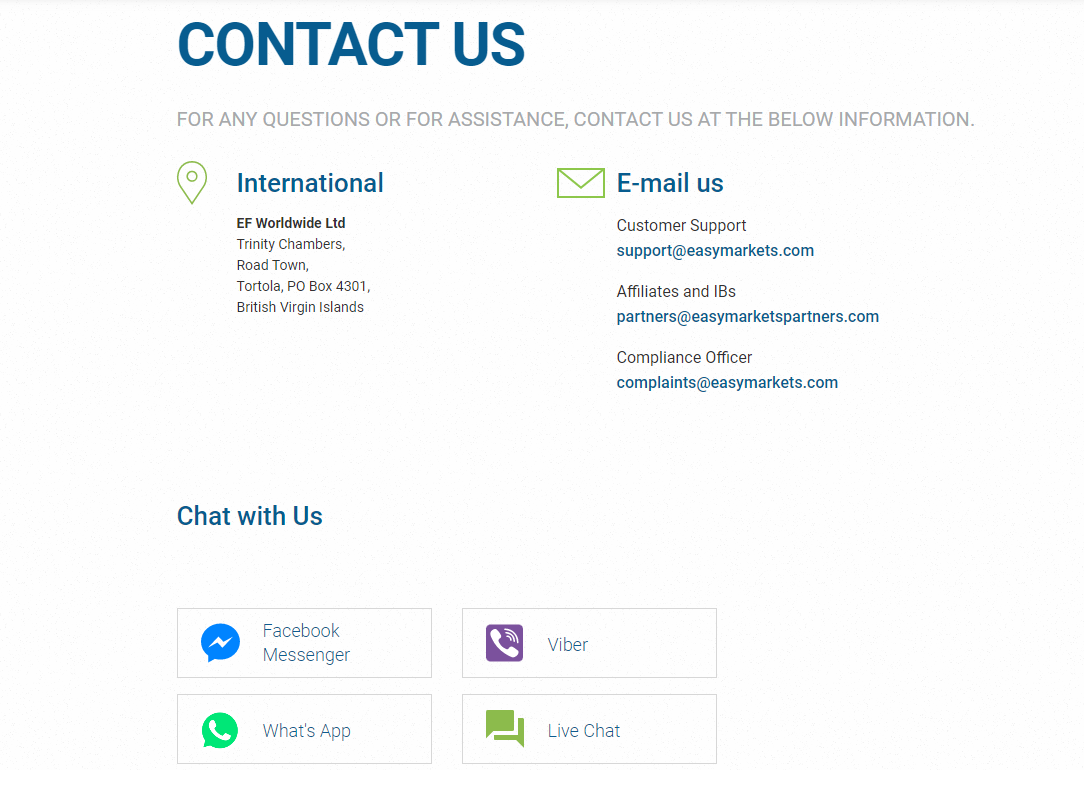 EasyMarkets also has a comprehensive FAQ section that provides answers to common questions about trading and other related topics. Additionally, the broker offers educational materials such as webinars, videos, and eBooks for traders who want to learn more about trading with them. All in all, EasyMarkets provides all the necessary resources needed to make informed decisions when it comes to investing in the forex market.
Find Out: TMGM Review 2023: Is This Platform Suitable for Your Investment?
Education Resources
Easymarkets offers a variety of educational resources to help traders understand the forex market and how to trade it. The website's Education Center is packed with resources such as webinars, videos, trading courses and tutorials. This makes it easy for new traders to learn the basics of forex trading and get started in the market. Additionally, experienced traders can benefit from Easymarkets' extensive library of advanced analysis and technical indicators.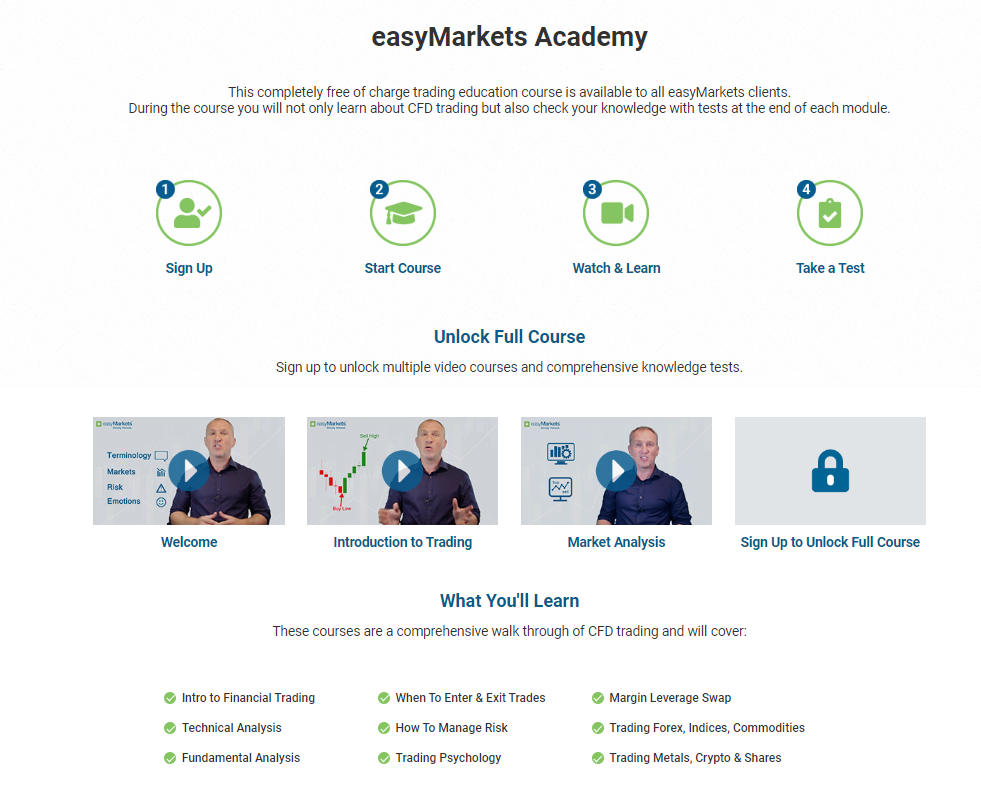 The broker also provides a trading simulator that allows traders to practice their strategies without risking any real money. This is a great way for new traders to gain experience and develop their skills before entering the live markets. Furthermore, there are also several tools that allow traders to backtest their strategies with historical data. This can help them fine-tune their strategies and gain insight into what works best for them when trading in the forex market.
Overall, Easymarkets provides a comprehensive set of educational resources for novice and seasoned traders alike. Whether it's webinars, videos or the trading simulator – there's something for everyone on this platform. With so much knowledge at one's fingertips, anyone can become an informed trader in no time at all.
Learn More: ThinkMarkets Review 2023: Everything You Need to Know
Payment Methods Accepted
When it comes to making financial investments, one of the most important factors is trust. Fortunately, easymarkets is a well-established and trusted Forex broker that has been in operation since 2001. They offer a wide range of payment methods that make it easy for traders to deposit funds and begin trading.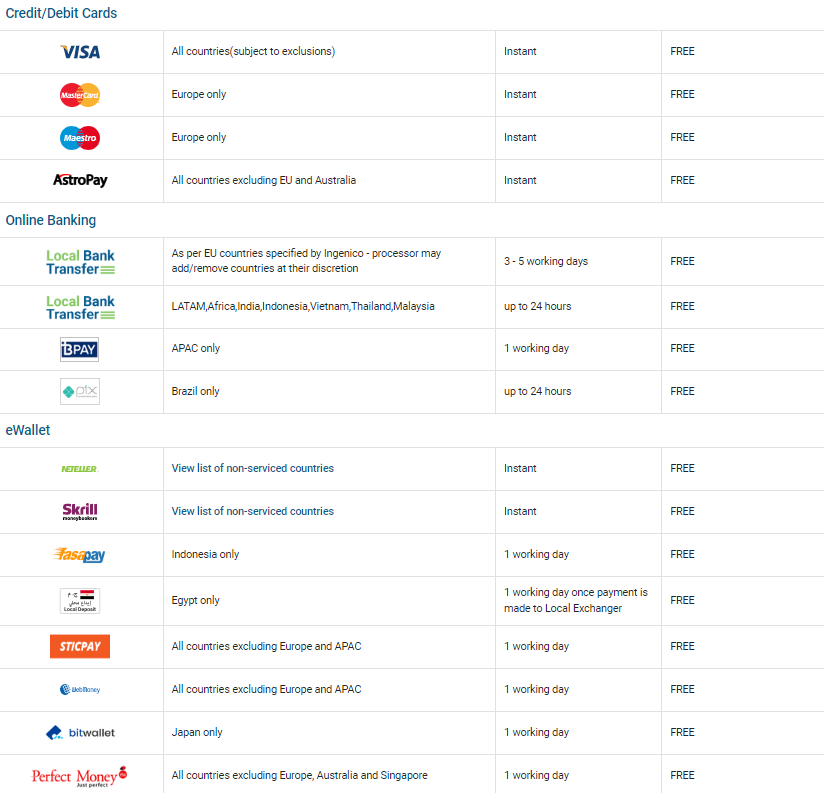 First, easymarkets offers bank wire transfers as an accepted method of payment. This option is perfect for those who prefer to use traditional banking methods to fund their accounts. In addition, they accept major credit cards such as Visa, MasterCard, and American Express. This makes it easy for traders to quickly transfer money into their accounts when needed.
Finally, easymarkets also offers alternative payment solutions such as Skrill and Neteller for customers who want more flexibility with their payments. These options are secure and allow traders to easily withdraw funds from their account whenever they need to do so. All payment methods are safe and secure with easymarkets, so you can trust them with your investments without any worries.
More Resources: Spreadex Review 2023: An Honest Guide For Investment
Recent User Reviews
Moving on from the Pros & Cons of easyMarkets, it's important to consider what people actually think of the broker. Recent user reviews have been a mixed bag, with some citing great customer service and others encountering problems with withdrawing funds.
One of the most common complaints is that withdrawals take too long and require a lot of paperwork. Some users also reported that they had difficulty getting their money back when they needed it. This could be due to the fact that easyMarkets may not be as reliable as other brokers when it comes to handling withdrawals.

On the flip side, there are some positive reports about easyMarkets, such as its range of trading instruments and platforms, and its helpful customer support team. People have also expressed satisfaction with their overall trading experience with this broker. These positive reviews show that easyMarkets can be a good choice for traders who want access to a variety of markets and features.
Check out: Fineco Bank Review 2023: Pros & Cons, Features, App & Accounts
Conclusion
Overall, easymarkets is a trusted forex broker for those looking to make investments in the market. They offer low spreads, a range of trading instruments, and a secure trading platform. Their customer service is reliable and they also have educational materials available to help traders improve their skills.
In summary:
Low spreads
Range of trading instruments
Secure trading platform
Reliable customer service
The educational materials offered by easymarkets are also useful for new traders who need guidance in understanding the markets and making successful trades. All in all, easymarkets is an excellent choice for those who want to invest in the Forex market with confidence. With their commitment to providing quality services, it is clear that you can trust easymarkets with your investments and expect good returns on them.
In conclusion, easyMarkets is a forex broker that has been around for quite some time now. The range of services they provide and the tools and platforms available for traders make them an attractive choice for those looking to invest in the forex market. The range of account types and fees are competitive, with regulation and safety measures in place to protect customers' investments. Customer support services are also available 24/7, as well as various payment methods accepted by the broker.
Discover: Multibank Group Review 2023:A Detailed Look at This Forex Broker
Overall, there are both pros and cons to choosing easyMarkets as your preferred forex broker. Recent user reviews have been mostly positive, indicating that this platform is reliable and trustworthy enough to consider investing in it. If you're looking for a secure platform with a wide variety of features and options available then easyMarkets may be the right choice for you.
At the end of the day, it's important to do your own research before deciding which broker you want to use. Weigh up all the pros and cons carefully before making a final decision on which one suits your individual needs best. That way you can ensure your investments are safe and secure with a trusted provider who will give you peace of mind when trading in the forex market.