Are you in search of a reliable Forex broker for your investment needs? Discover why easyMarkets stands out as a top choice in the industry. Our 2023 easyMarkets review delves deep into their exceptional offerings, helping you gain confidence in entrusting your hard-earned money.
Explore the advantages and disadvantages of utilizing this broker, enabling you to make an informed investment decision. We will also dissect their fee structure and customer service performance, providing valuable insights into their operational excellence. Additionally, we'll discuss recent platform enhancements and their potential impact on your investment strategies.
If you're eager to uncover more about easyMarkets and determine if it aligns with your financial goals, continue reading!
Recommended: HYCM Review 2023: Pros, Cons, Fees, Accounts & Features
Overview Of easyMarkets
easyMarkets is an online Forex broker that offers services to traders around the world. Founded in 2003, they offer a wide range of trading platforms and instruments, allowing traders to take advantage of both long-term and short-term investments. They are regulated by multiple financial authorities and have customer service available 24/7. With such a wide range of features, easyMarkets remains one of the most popular brokers in the Forex trading industry today.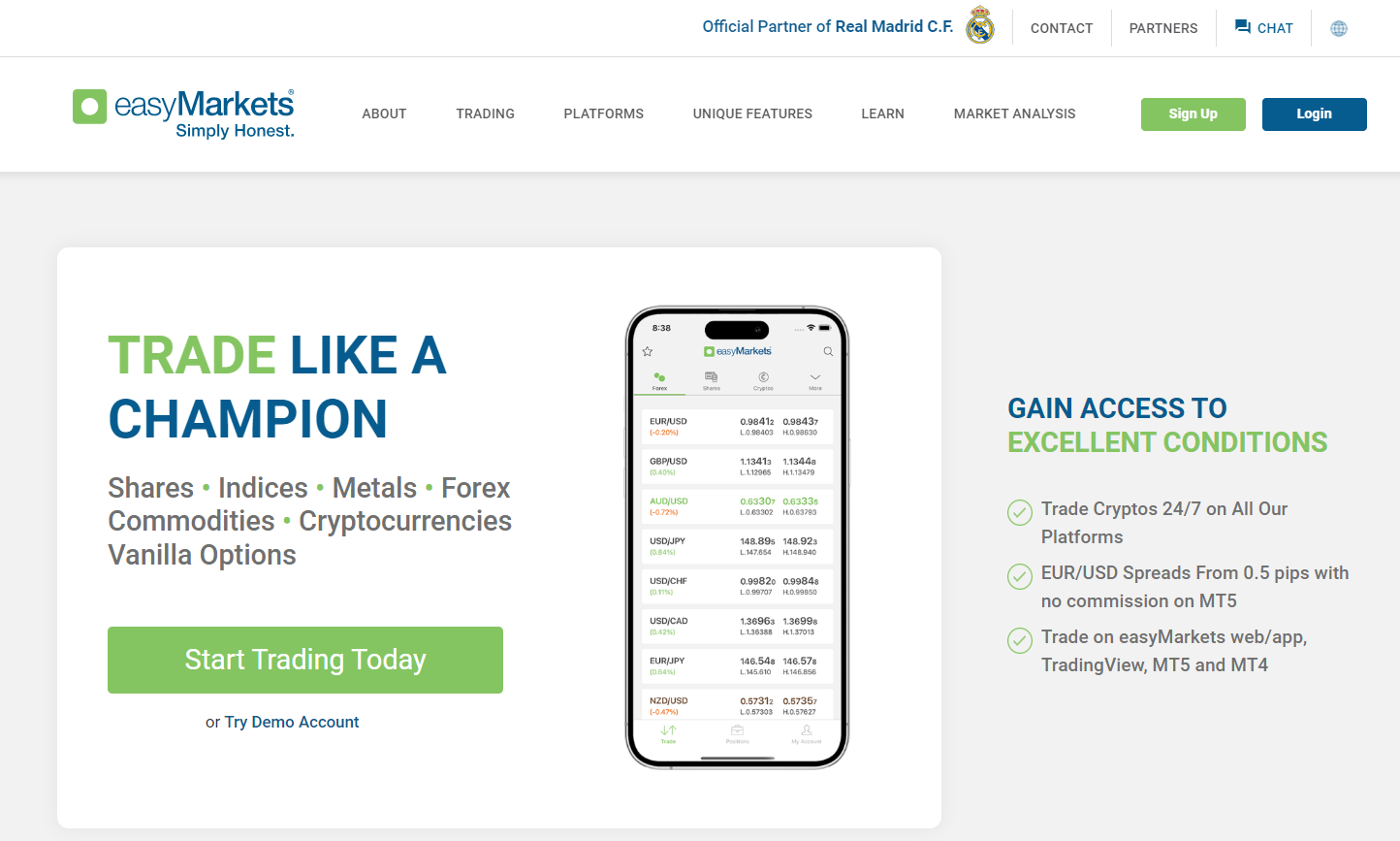 This company has earned a robust reputation over time, thanks to its dependable customer service, competitive spreads, and swift execution times. They cater to a diverse range of traders, offering various account options, from entry-level accounts to exclusive VIP accounts designed for seasoned traders. Their website boasts user-friendly navigation and an abundance of educational resources, making it an excellent starting point for traders embarking on their journey. Furthermore, they extend a valuable opportunity with free demo accounts for individuals looking to hone their trading strategies before venturing with real capital.
Read Next: FxOpen Review 2023: Reliable Forex Trading Platform or a Scam?
Pros & Cons Of easyMarkets
Pros
User-friendly platform with a simple interface.
Offers fixed spreads, which can be beneficial for traders who prefer predictability.
Provides negative balance protection to prevent traders from losing more than their account balance.
Supports a wide range of payment methods for deposits and withdrawals.
Offers a variety of educational resources and tools for traders.
Cons
Limited product offering compared to other brokers.
High trading fees, including higher spreads and commissions.
Limited research tools and market analysis.
Minimum deposit requirements are higher than some other brokers.
No cryptocurrency trading options.
easyMarkets: Trading Platforms And Tools
Transitioning from our introduction to easyMarkets, let's dive into the essential details of their trading platforms and tools, a crucial aspect for traders seeking effective and user-friendly solutions to enhance their trading experiences. easyMarkets presents two robust trading platforms: MetaTrader 4 (MT4) and WebTrader, ensuring convenient access to a wide array of markets. These platforms are equipped with a wealth of features, including advanced charting tools, automated trading capabilities, diverse order types, and much more, empowering traders with comprehensive resources to make informed decisions and maximize their trading potential.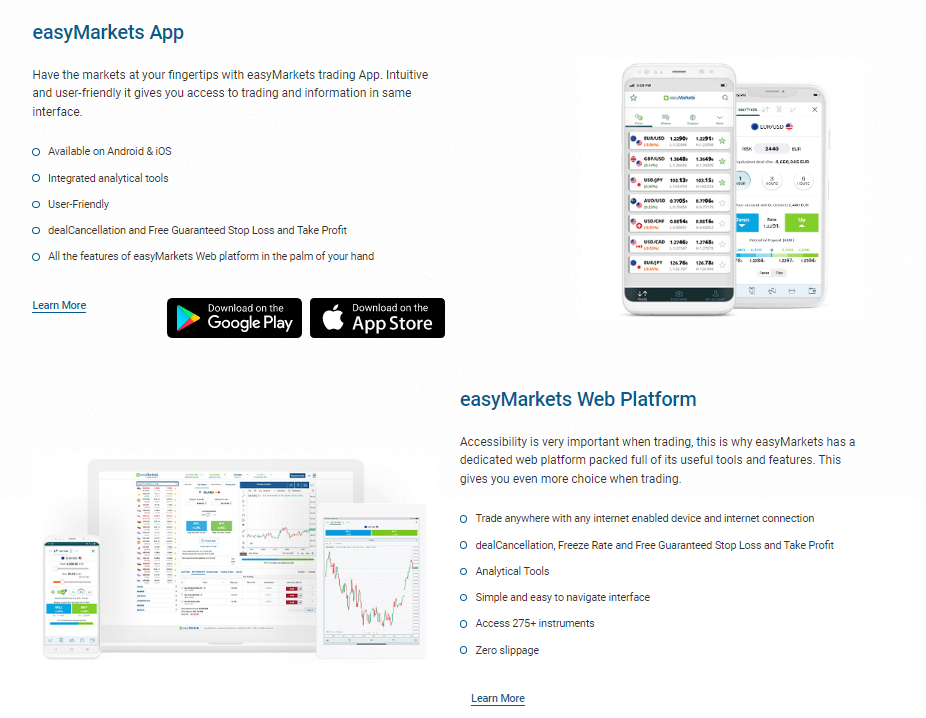 In addition to these two platforms, easyMarkets also provides its own proprietary platform called DealBook360. This platform has a wide range of features designed to make your trading experience easier and more efficient. It includes advanced charting tools which allow you to analyze prices quickly and accurately, as well as automated risk management capabilities which help you control your risk exposure while trading.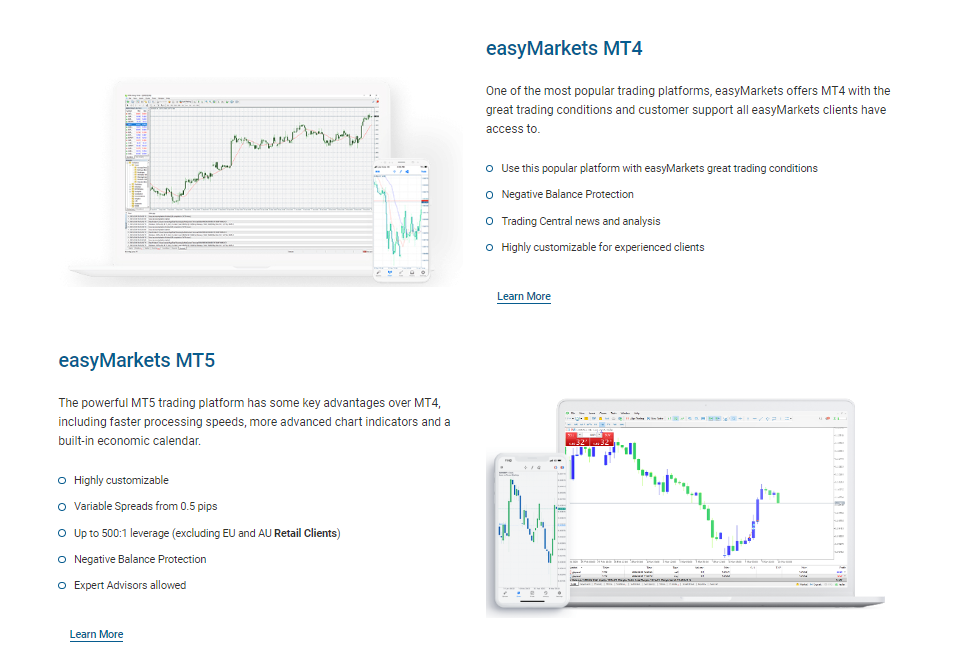 easyMarkets also offers comprehensive educational resources for both beginner and experienced traders. This includes videos, tutorials, eBooks, webinars, articles, news analysis and more. All of these resources are designed to help you become a better trader by giving you an understanding of the markets and how they work. With all these resources at hand, easyMarkets is an ideal choice for those looking for a reliable forex broker for their investments.
Take a Look: ATFX Review 2023: Is This Forex Broker a Good Fit for You?
easyMarkets: Account Types And Fees
EasyMarkets offers customers a variety of account types and fees. These include a standard account, premium, and VIP accounts. The standard account is the most basic option and has no minimum deposit requirement. It also allows for trading in any major currency pair with no commission or minimum transaction amounts. Premium and VIP accounts require larger deposits but offer more features such as advanced charting tools, margin trading, and additional leverage options.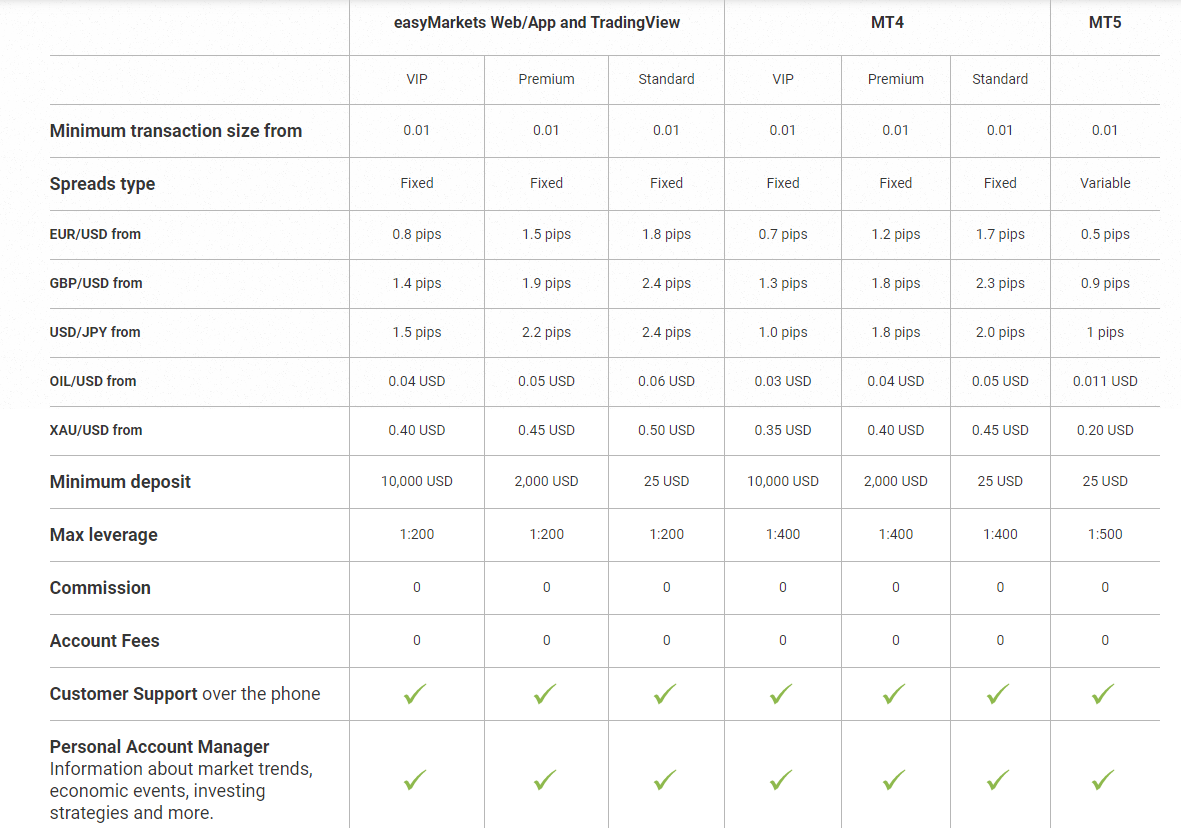 When it comes to fees, EasyMarkets employs a spread-based pricing model for each currency pair you engage in. Typically, these spreads range from one to four pips, contingent upon the specific currency pair being traded. Moreover, there may be overnight rollover fees applicable when positions are held overnight. Remarkably, EasyMarkets refrains from imposing extra charges like commissions or withdrawal fees, rendering them an appealing option for traders aiming to minimize expenses while participating in forex trading.
Continue Reading: XTrade Review 2023: In-Depth Look at Its Features & Performance
easyMarkets: Regulation And Safety
EasyMarkets is regulated by the Cyprus Securities Exchange Commission (CySEC) and regulated in the UK by the Financial Conduct Authority (FCA). Their services are also recognized and approved in several other countries. This ensures that your investments and personal information are secure with EasyMarkets.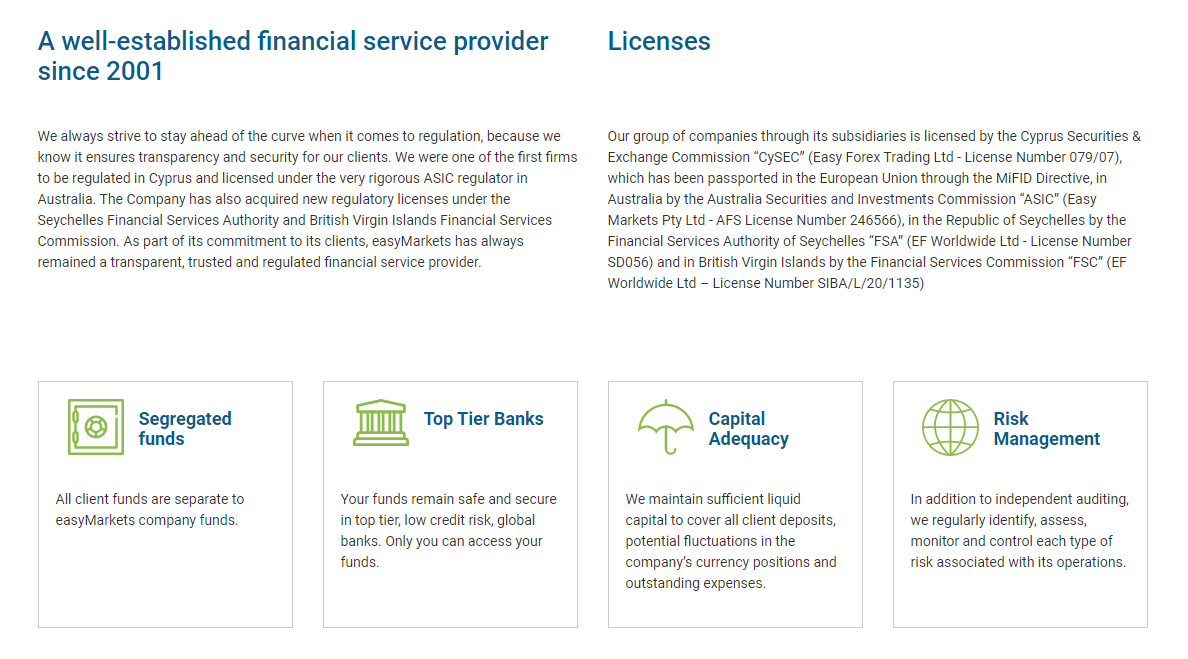 This brokerage firm extends a diverse portfolio of financial products to its clientele, encompassing forex, CFDs, indices, commodities, and options. Demonstrating a steadfast commitment to safeguarding customer funds, EasyMarkets has implemented several protective measures, including negative balance protection and the establishment of segregated accounts to ensure the security of client funds.
Furthermore, EasyMarkets places a strong emphasis on delivering a secure trading environment, characterized by transparent policies, ethical practices, and exceptional customer service standards. With substantial investments in cutting-edge technology to fortify the defense of client data and finances against potential cyber threats, EasyMarkets emerges as a reliable choice for your investment needs. Its stringent regulatory compliance further reinforces the assurance of a secure trading experience.
Dig Deeper: BlackBull Markets Review 2023: Honest Feedback from Traders
Customer Support Services By easyMarkets
Moving on, customer support services are essential for a forex broker. EasyMarkets offers 24/7 customer service in multiple languages, including English and Russian. Here are some of the advantages of using EasyMarkets customer support services:
Live chat: This feature allows customers to get quick answers to their questions and concerns.
Email Support: Customers can send an email with their queries or complaints and receive a response within 24 hours.
Telephone Support: EasyMarkets also provides phone support where customers can call for help with any issue they might have.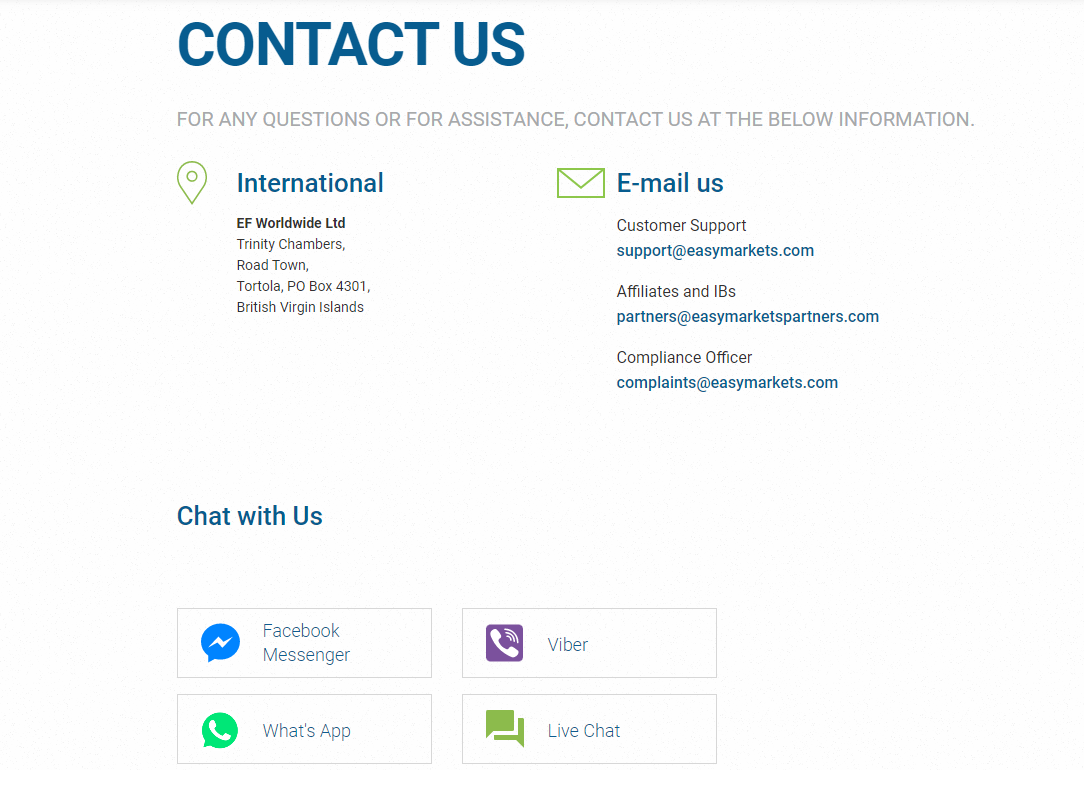 EasyMarkets also has a comprehensive FAQ section that provides answers to common questions about trading and other related topics. Additionally, the broker offers educational materials such as webinars, videos, and eBooks for traders who want to learn more about trading with them. All in all, EasyMarkets provides all the necessary resources needed to make informed decisions when it comes to investing in the forex market.
Find Out: TMGM Review 2023: Is This Platform Suitable for Your Investment?
easyMarkets' Education Resources
Easymarkets offers a variety of educational resources to help traders understand the forex market and how to trade it. The website's Education Center is packed with resources such as webinars, videos, trading courses and tutorials. This makes it easy for new traders to learn the basics of forex trading and get started in the market. Additionally, experienced traders can benefit from Easymarkets' extensive library of advanced analysis and technical indicators.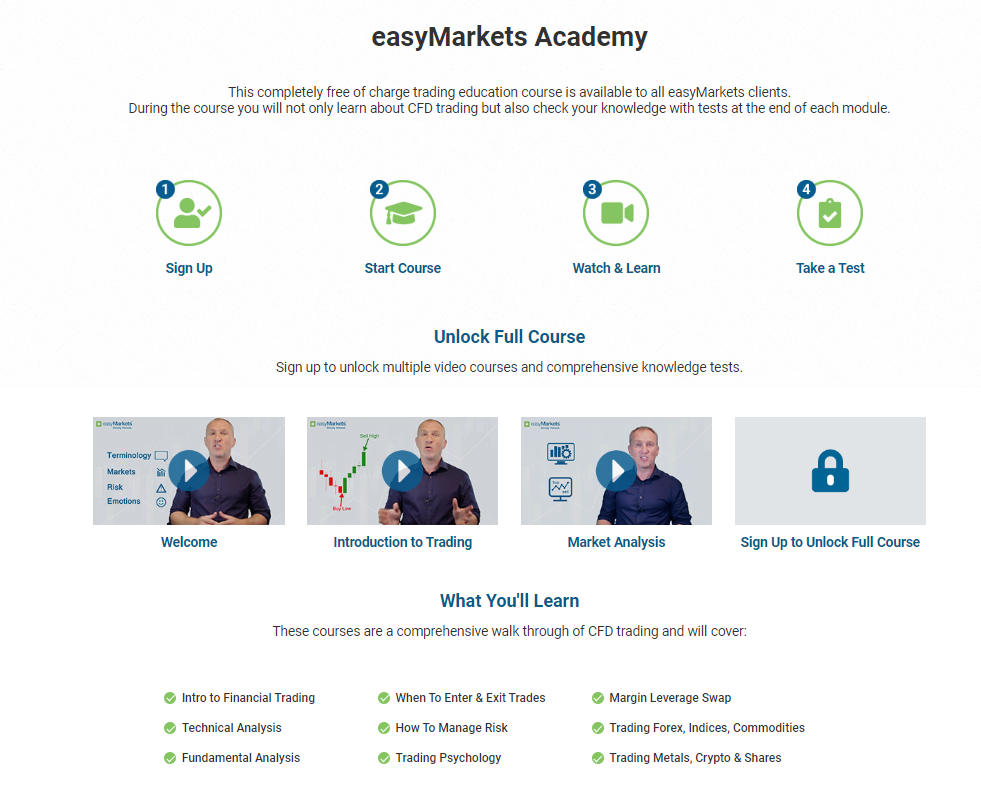 The broker also offers a valuable trading simulator, allowing traders to hone their strategies without the risk of real-money exposure. This feature proves invaluable, especially for new traders, as it provides a risk-free environment to accumulate experience and refine their skills prior to venturing into live markets. Additionally, traders can access several tools that facilitate the backtesting of strategies using historical data. This empowers them to fine-tune their approaches and gain valuable insights into optimal practices when navigating the forex market.
In essence, EasyMarkets presents a comprehensive array of educational resources catering to both novice and experienced traders. From webinars to videos and the immersive trading simulator, this platform offers something for every trader. With this wealth of knowledge readily accessible, anyone can swiftly transform into a well-informed trader, primed for success in no time at all.
Learn More: ThinkMarkets Review 2023: Everything You Need to Know
Payment Methods Accepted By easyMarkets
When it comes to making financial investments, one of the most important factors is trust. Fortunately, easymarkets is a well-established and trusted Forex broker that has been in operation since 2001. They offer a wide range of payment methods that make it easy for traders to deposit funds and begin trading.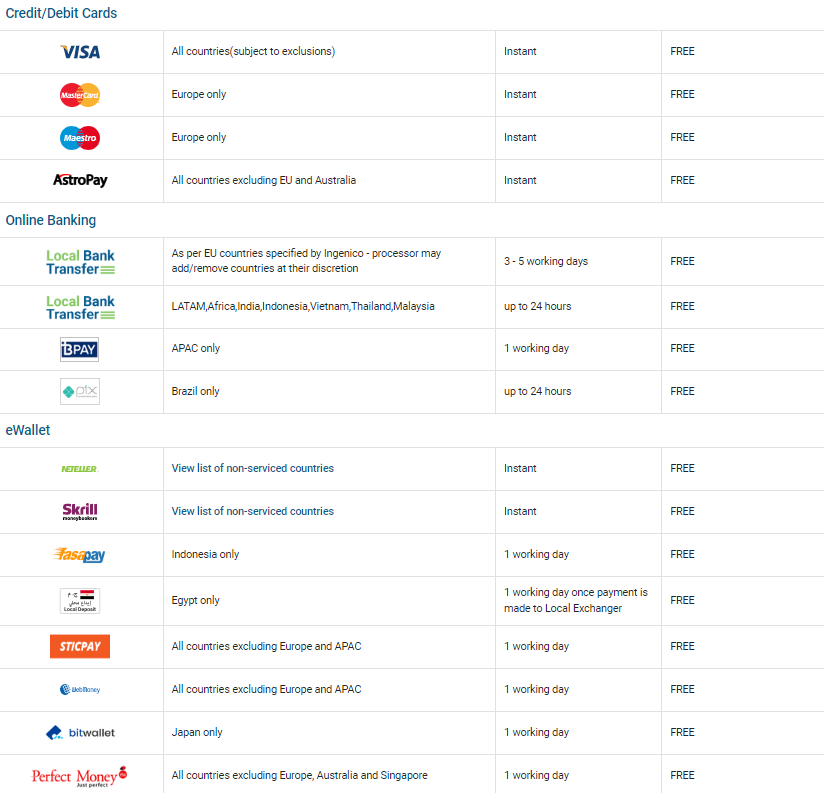 EasyMarkets provides various convenient payment methods to cater to the diverse preferences of its users. You have the option of utilizing traditional bank wire transfers, which are ideal for those who prefer established banking channels to fund their accounts. Moreover, EasyMarkets readily accepts major credit cards, including Visa, MasterCard, and American Express, simplifying the process of swiftly depositing funds into your trading account when necessary.
For added flexibility in payment solutions, EasyMarkets also offers alternative options like Skrill and Neteller. These secure alternatives enable traders to effortlessly withdraw funds from their accounts whenever the need arises. Rest assured, all payment methods provided by EasyMarkets adhere to stringent safety and security standards, ensuring the safety of your investments without any concerns.
More Resources: Spreadex Review 2023: An Honest Guide For Investment
Recent User Reviews of easyMarkets
Transitioning from our exploration of the Pros & Cons of easyMarkets, it's crucial to delve into user sentiments about the broker. Recent user reviews present a diverse spectrum of opinions, with some highlighting exceptional customer service, while others have faced challenges related to fund withdrawals.
Among the prevalent concerns expressed, one of the recurring issues is the perceived delay and extensive paperwork involved in the withdrawal process. Certain users have reported difficulties in accessing their funds when needed, potentially indicating that easyMarkets may not match the reliability of other brokers in the context of withdrawal handling.
These insights from user reviews shed light on important considerations when evaluating easyMarkets as your trading partner.

On the flip side, there are some positive reports about easyMarkets, such as its range of trading instruments and platforms, and its helpful customer support team. People have also expressed satisfaction with their overall trading experience with this broker. These positive reviews show that easyMarkets can be a good choice for traders who want access to a variety of markets and features.
Check out: Fineco Bank Review 2023: Pros & Cons, Features, App & Accounts
Conclusion
In summary, easyMarkets stands as a dependable choice for individuals seeking to venture into the world of Forex investments. With their commitment to offering quality services, here's a quick recap of their key advantages:
Low Spreads: easyMarkets boasts competitive pricing with low spreads, making it cost-effective for traders.

Wide Range of Trading Instruments: The broker provides access to a diverse array of trading instruments, allowing traders to explore various opportunities in the market.

Secure Trading Platform: Their trading platform ensures a secure and reliable environment for executing trades and managing investments.

Reliable Customer Service: easyMarkets' customer service is known for its reliability, offering assistance and support when needed.
Additionally, for those new to trading, easyMarkets offers educational resources to enhance trading skills and understanding of the markets. With their established track record and commitment to delivering top-notch services, easyMarkets is a trusted partner for your Forex investments, offering the potential for favorable returns.
In conclusion, easyMarkets is a well-established forex broker that provides a wide range of services and tools for traders. Their competitive account types and fees, coupled with strong regulation and security measures, ensure the safety of investors' funds. With round-the-clock customer support and diverse payment options, easyMarkets is a comprehensive choice for individuals looking to enter the forex market confidently.
Discover: Multibank Group Review 2023:A Detailed Look at This Forex Broker
Frequently Asked Questions
What is easyMarkets, and how does it differ from other Forex brokers?
easyMarkets is a reputable Forex broker known for its low spreads, secure trading platform, and extensive range of trading instruments. Unlike some other brokers, easyMarkets prioritizes customer safety, offers educational materials, and provides reliable customer service.
How can I open an account with easyMarkets?
Opening an account with easyMarkets is straightforward. You can visit their website, click on the "Open a Live Account" button, and follow the step-by-step registration process. Be prepared to provide some personal information and complete the identity verification process.
What trading instruments are available on easyMarkets?
easyMarkets offers a wide range of trading instruments, including major and minor currency pairs, commodities, indices, and options. This diversity allows traders to explore various market opportunities.
Is easyMarkets suitable for beginners?
Yes, easyMarkets is an excellent choice for beginners. They offer educational materials, a user-friendly trading platform, and a trading simulator, helping new traders build skills and confidence before entering live markets.
What are the fees associated with trading on easyMarkets?
easyMarkets primarily charges spreads on currency pairs. The spread amount varies depending on the specific pair being traded. While there are no additional commissions or withdrawal fees, overnight rollover fees may apply.
Can I access easyMarkets' trading platform on mobile devices?
Yes, easyMarkets provides a mobile-friendly trading platform, allowing you to trade on the go. You can download their mobile app or access the platform through your device's web browser.
Does easyMarkets offer customer support?
Absolutely, easyMarkets offers reliable customer support 24/7. Whether you have questions about your account, need assistance with trading, or encounter any issues, their support team is ready to assist you.
What is the significance of negative balance protection with easyMarkets?
Negative balance protection is a safety feature that prevents your account balance from going below zero, ensuring you won't owe more than your initial investment in case of unexpected market fluctuations.
Are there any withdrawal limitations or delays with easyMarkets?
Some users have reported that withdrawals from easyMarkets can take longer and involve extensive paperwork. It's important to ensure all necessary documentation is submitted to expedite the process and comply with regulatory requirements.
Is easyMarkets regulated and secure?
Yes, easyMarkets is a well-regulated broker, offering a secure trading environment. They prioritize the safety of customer funds by employing measures like segregated accounts and investing in technology to protect against cyber threats.