Investing in Forex trading can be a tricky business. You need to have the right broker to ensure that your investments are safe and secure. FXPrimus 2023 is one of the top brokers in the market, but is it worth your investment? In this article, we will review FXPrimus 2023 and give you an overview of its features, benefits, and drawbacks so that you can make an informed decision.
Forex trading has become increasingly popular over the last decade due to its promises of high returns. With a huge number of brokers available online, it can be difficult to choose the right one for you. FXPrimus 2023 is one of the leading brokers in the industry and provides traders with a comprehensive range of services at competitive rates.
In this article, we will provide you with an in-depth look at FXPrimus 2023's features and performance. We'll examine their features, fees structure, customer support experience, security measures, and more to help you decide whether they're worth investing in or not. Read on to find out if FXPrimus 2023 is right for you!
Related Post: Forex4You 2023 Review: Is This Forex Broker Right For You?
Overview Of FXPrimus
FXPrimus is an online Forex broker that was founded in 2009. It has established itself as a reliable, secure and trusted provider of Forex trading services over the years. The company provides access to over 130 currency pairs, metals, commodities and indexes through its MetaTrader 4 and cTrader platforms. It also offers a range of tools and features, including automated trading and advanced charting capabilities.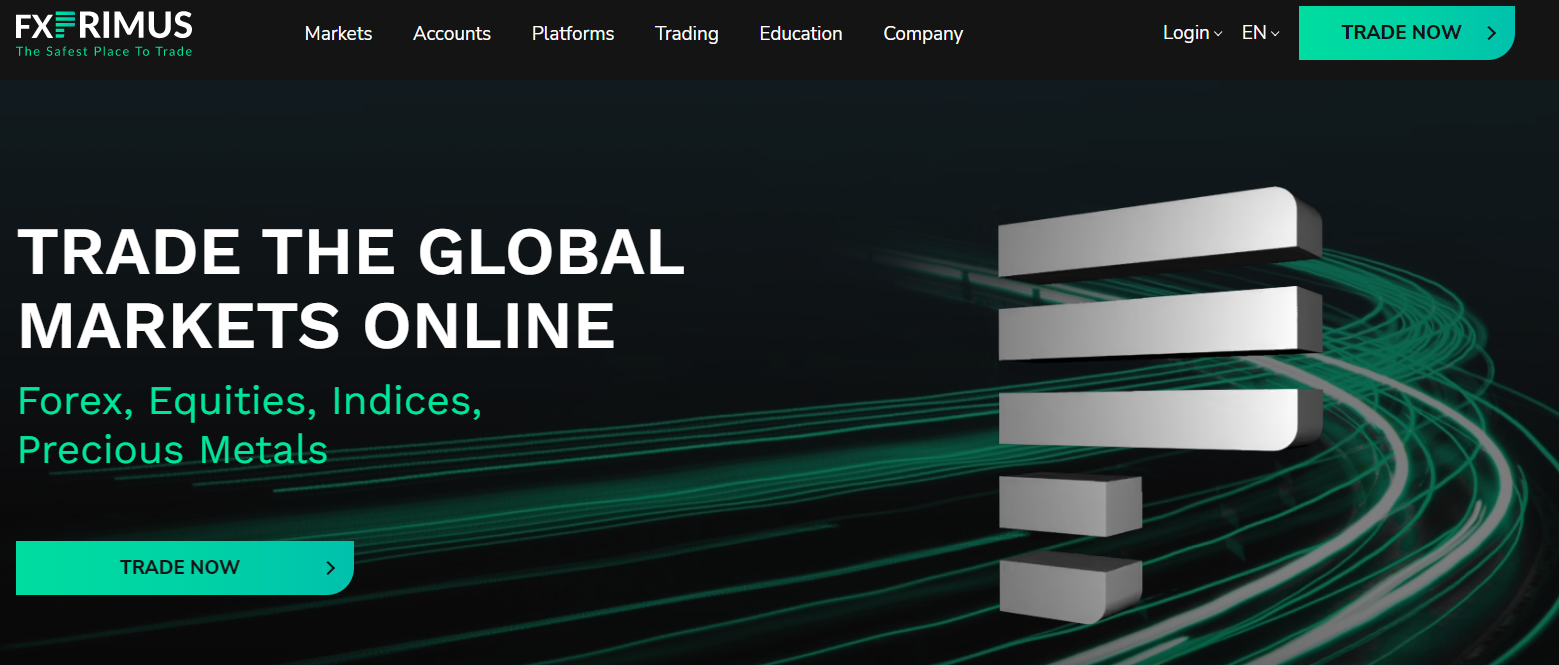 The broker is regulated by the Cyprus Securities Exchange Commission (CySEC) under license number 148/11. This ensures that all clients' funds are held in segregated accounts with top-tier banks. In addition, FXPrimus offers negative balance protection to ensure traders cannot lose more than their initial investment.
FXPrimus also offers a wide range of educational materials to help traders understand the markets better, such as webinars, video tutorials and ebooks. All these features combine to make FXPrimus a great option for beginner and experienced traders alike.
You May Also Like: Capital.com Review 2023: Everything You Need to Know
Pros And Cons Of Investing With FXPrimus
Pros
Regulated broker: FXPrimus is a regulated broker that is licensed by several reputable regulatory authorities, including the Financial Conduct Authority (FCA) and the Cyprus Securities and Exchange Commission (CySEC).
Wide range of trading instruments: The platform offers a wide range of trading instruments, including forex, commodities, indices, and cryptocurrencies.
Negative balance protection: FXPrimus offers negative balance protection, which means that traders cannot lose more than the amount they have in their trading account.
Low spreads and commissions: The platform offers low spreads and commissions, making trading more affordable for traders.
Educational resources: FXPrimus provides a range of educational resources, including webinars, seminars, and trading guides, to help traders improve their skills and knowledge.
Cons
Limited trading platforms: FXPrimus only offers one trading platform, which may not be suitable for traders who prefer to use multiple platforms or have specific trading preferences.
Limited payment options: The platform only supports a limited range of payment options, which may be inconvenient for some traders who prefer to use different payment methods.
High minimum deposit: The minimum deposit required to start trading with FXPrimus is relatively high, which may be a disadvantage for traders with limited budgets.
Limited customer support: Some traders have reported that the platform's customer support can be slow and unresponsive at times.
Limited research tools: The platform's research tools are somewhat limited compared to other trading platforms, which may be a disadvantage for traders who rely heavily on research and analysis.
Trading Platforms Offered
FXPrimus offers a variety of trading platforms to meet the needs of all traders. For those who prefer an online platform, the web-based MetaTrader 4 (MT4) is available. This popular platform allows traders to make use of automated trading software and other technical analysis tools. There's also a mobile version of MT4, enabling users to trade on the go. For more experienced traders, there's cTrader, an advanced platform with faster execution speeds and more sophisticated charting capabilities. It also gives access to more markets than MT4. For those who prefer trading on their own terms, FXPrimus provides its proprietary PROfit platform which includes features such as one-click order execution, advanced charting tools, and real-time news feeds. To make sure that everyone has access to the best possible trading environment, FXPrimus also provides 24/7 customer service in multiple languages.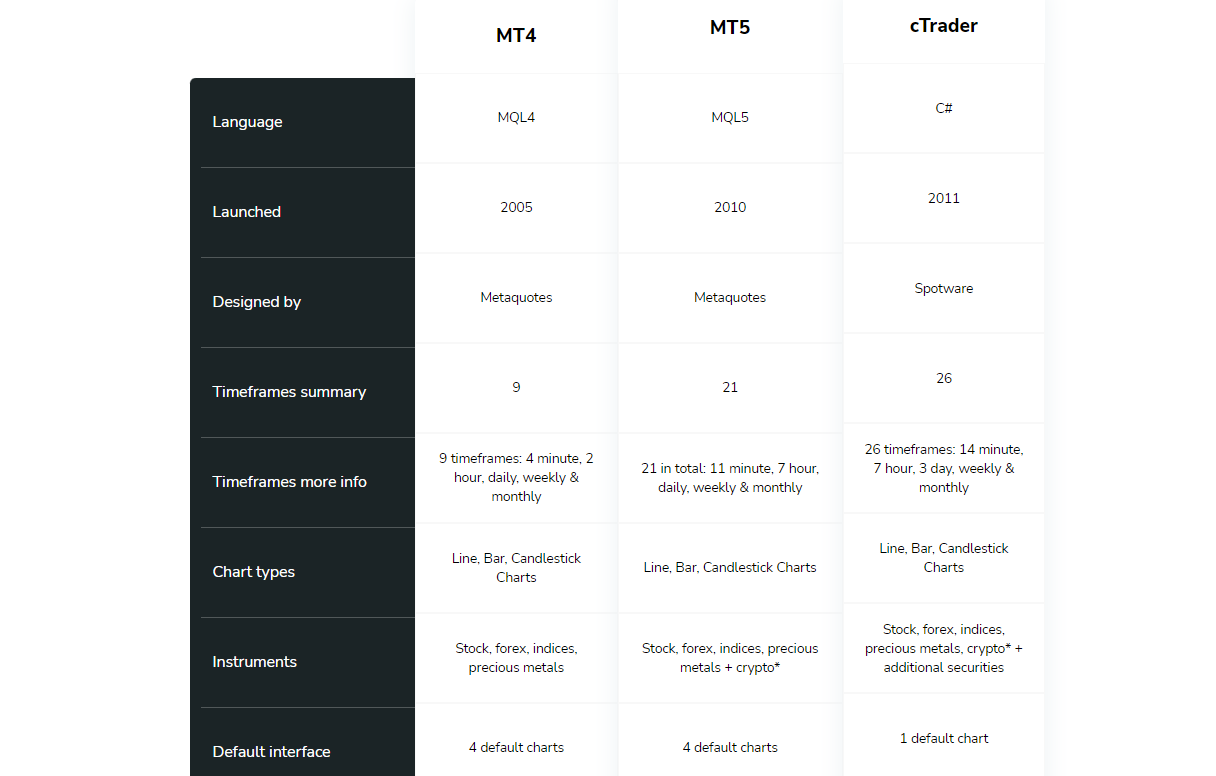 In addition to these offerings, FXPrimus also provides its clients with free VPS hosting services for their automated trading strategies. This ensures that trades are executed quickly and reliably regardless of internet connection speed or computer resources available at any given time. As well as this added security there are options for scalping and hedging which further guarantee that trades will be successful regardless of market conditions or volatility levels. With so many features available it's easy to see why FXPrimus is becoming increasingly popular among traders worldwide.
Further Reading: GBE Brokers Review 2023: An Overview of Trading Features
Leverage And Margin Requirements
Moving on to leverage and margin requirements, FXPrimus offers a wide range of leverage options. Clients can choose between 1:1 up to 1:500, depending on the type of account they have. This offers traders more flexibility in their trading strategies as they can manage their risk more efficiently. Furthermore, FXPrimus also offers a negative balance protection feature which prevents clients from losing more money than they have in their account.
Margin requirements for FXPrimus depend on the currency pair being traded. Generally speaking, the margin requirement is 1% of the total position size, which is fairly standard for most brokers. This means that if you are trading 0.5 lots (50,000 units) of EURUSD with a 1:100 leverage ratio, then you will need 500 USD in order to open your position. In addition to this, FXPrimus also has a dynamic margin calculator which allows traders to easily calculate the margin required for each trade prior to opening it.
FXPrimus provides its clients with both high leverage and low margin requirements which makes it an attractive option for those looking to invest in forex markets. With its competitive offerings and excellent customer service, FXPrimus is certainly worth considering when deciding which broker to trust with your investments.
Explore More: TopFX Review 2023: A Detailed Look at Features and More
Account Types Available
FXPRIMUS offers three account types; Standard, Premium, and VIP. Each of these accounts have their own benefits and drawbacks which should be taken into consideration before making a decision.
First, the Standard Account has a minimum deposit requirement of $100 with spreads starting from 1.2 pips on EUR/USD. This account type is suitable for traders who are just starting out in the Forex market and those who are looking to make small trades with low risk exposure. Additionally, traders can take advantage of daily market analysis, leverage up to 1:500, and 24-hour customer service.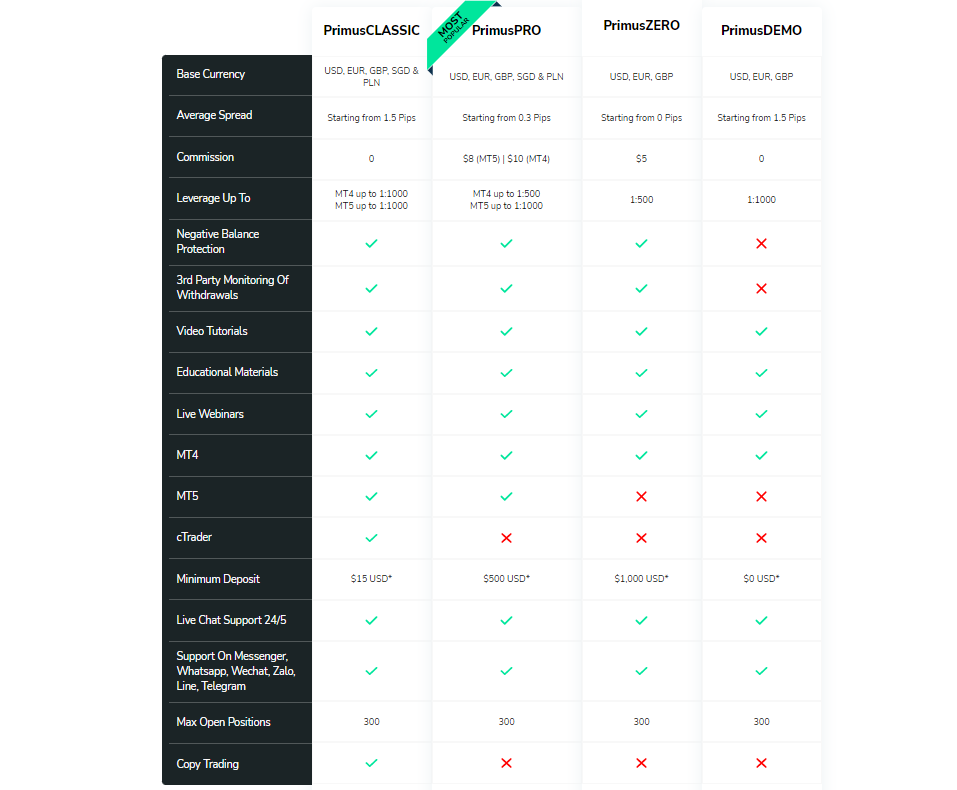 The Premium Account has higher requirements in terms of minimum deposit ($2,000) as well as spreads (starting from 0.8 pips). This account type offers more competitive trading conditions such as lower spreads, wider range of order types available (including OCO orders), and access to exclusive promotions. Furthermore, traders can also benefit from one-on-one consultations with experienced brokers and specialized reports with market insights from the FXPRIMUS research team.
Lastly, the VIP Account requires a minimum deposit of $20,000 but provides superior trading conditions such as ultra-low spreads (starting at 0.6 pips), unlimited leverage up to 1:1000 and advanced order execution options like One Click Trading & Market Depth Viewer. Moreover, VIP clients receive access to personalized training courses designed specifically for their needs as well as daily technical analysis performed by expert analysts within FXPRIMUS' research department.
In short, all three account types offer different levels of benefits depending on the trader's needs and goals in the Forex market so it is important that they carefully consider which one would be most suitable for them before opening an account with FXPRIMUS.
Standard Account:
Minimum Deposit Requirement – $100
Spreads Starting From – 1.2 Pips on EUR/USD
Leverage Up To – 1:500
Premium Account:
Minimum Deposit Requirement – $2,000
Spreads Starting From – 0.8 Pips
Access To Exclusive Promotions
VIP Account:
For traders looking for a reliable broker that provides competitive trading conditions with various account types available to suit their individual needs then FXPRIMUS is worth considering as an option for their investment plans in 2023.
Discover: Moneta Markets Review 2023: Is This the Right Broker for You?
Fees And Commission Structure
Moving on, let's examine the fees and commission structure of FXPrimus. As a broker that offers low spread and zero commissions, FXPrimus is an attractive option for traders looking to reduce trading costs. The spreads are very competitive, with most major currency pairs starting at 0.4 pips. In addition, the broker does not charge any commissions for its services. This makes it an ideal choice for those who want to maximize their returns from forex trading.
| | |
| --- | --- |
| Broker | FXPrimus |
| Min Deposit | $15 USD |
| Spreads from | 0.5 Pips |
| Commission from | $5 USD |
| Leverage up to | 1:1000 |
In terms of other fees, FXPrimus does not charge any inactivity fees or deposit/withdrawal fees. However, there may be some additional charges imposed by third-party payment providers such as PayPal or Skrill if you use them for depositing funds into your account. It's important to make sure that you understand all the associated costs before opening an account with FXPrimus.
Overall, the fee and commission structure offered by FXPrimus is highly competitive and should be a consideration when evaluating this forex broker. Low spreads combined with no commission means more money in your pocket which can help you achieve higher returns over the long term. It's worth noting that while this is certainly a positive aspect of trading with FXPrimus, there may also be additional costs associated with using third-party payment providers so it pays to do your homework first before investing your capital.
Check out: LegacyFX Review 2023: Uncovering the Pros and Cons of Trading
Security And Regulatory Compliance
When it comes to security and regulatory compliance, FXPrimus is a reliable broker. To ensure the safety of their clients' accounts, they have implemented a range of measures:
All data on FXPrimus servers is encrypted using SSL encryption technology.
Regular independent audits are conducted to ensure that all financial services are in compliance with international regulations and standards.
Investor funds are held in segregated accounts in top-tier banks around the world.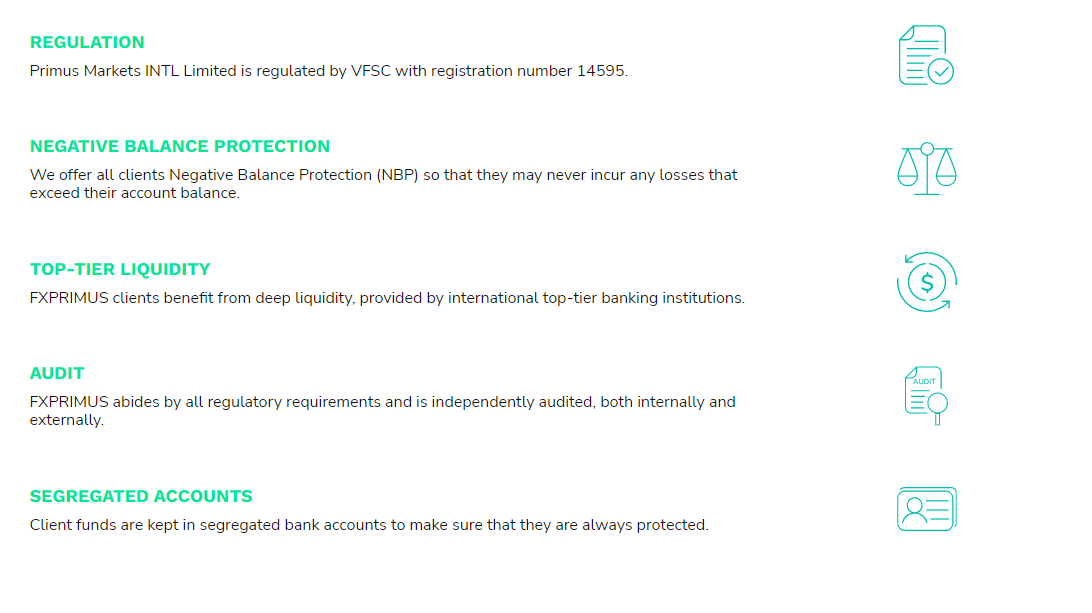 FXPrimus also holds licenses from multiple regulatory bodies, including the Financial Services Commission (FSC) in Mauritius and the Cyprus Securities Exchange Commission (CySEC). This ensures that they adhere to strict guidelines when it comes to client protection, transparency, and integrity. Moreover, they are also compliant with MiFID II and other related European Union directives.
Overall, FXPrimus is committed to providing clients with a secure trading environment by implementing industry-leading security measures and adhering to global regulatory standards. They strive to ensure that their clients' funds remain safe and secure at all times.
More Resources: DooPrime Review 2023: A Detailed Analysis of Trading Experience
Customer Support Services
Moving on from the security and compliance of FXPrimus, let's now look at what kind of customer support services they offer. Their customer service team is available 24/7 via email, telephone and live chat. They also have a comprehensive FAQ section which can be accessed on their website.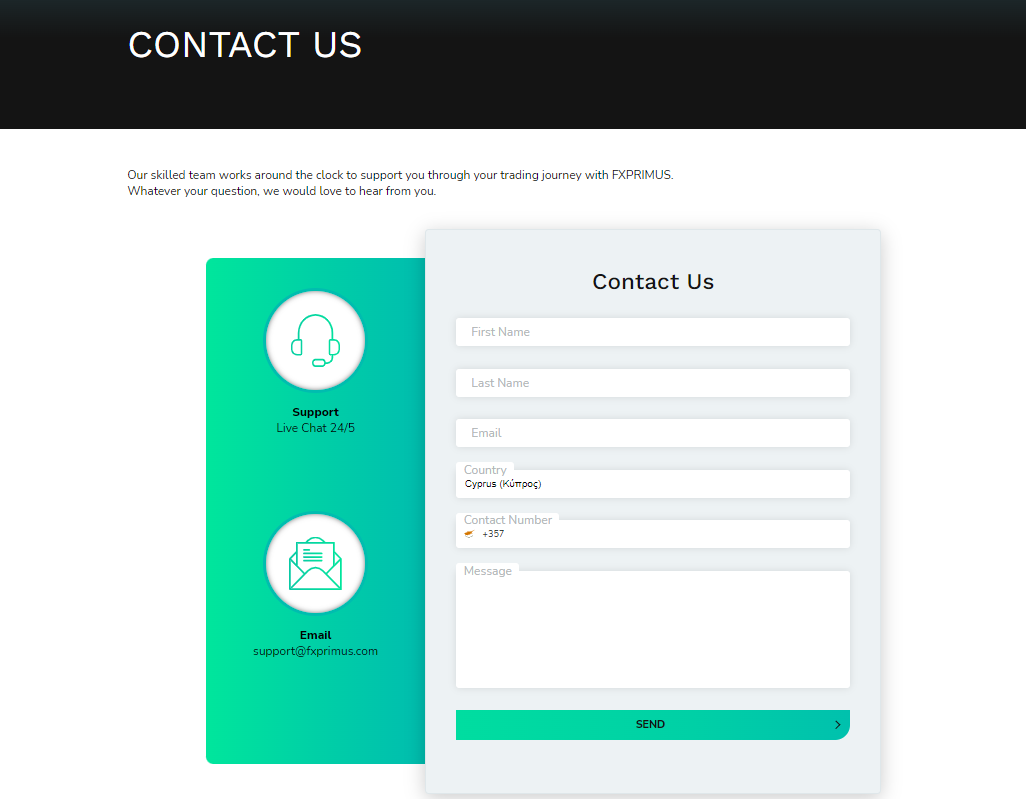 When it comes to customer service, FXPrimus is dedicated to providing a high level of support to all their customers regardless of how much trading activity they are involved in. They provide personalized assistance with any questions or concerns that traders may have as well as offering educational resources, such as webinars and trading tutorials, for those who are looking to gain additional knowledge about the forex market.
Overall, FXPrimus provides a great selection of customer support services that are designed to help traders make informed decisions when trading currencies. From their knowledgeable staff to their educational material, FXPrimus ensures that all their customers have the best chance at success in the forex market.
Learn More: ACY Securities Review 2023: A Detailed Look at Trading Services
Educational Resources Provided
FXPrimus is a forex broker that provides a wide range of educational resources to their clients. They have an expansive library of materials and tools for all levels of traders, from beginners to professionals. These resources include:
Live webinars with professional traders
Video tutorials on trading strategies
An in-depth glossary of trading terms

The live webinars give customers the opportunity to learn from the pros in real time, while the video tutorials are great for those who prefer to learn at their own pace. The glossary is especially helpful for newbies, as it helps them familiarize themselves with all the terminology associated with forex trading. FXPrimus also offers a demo account so that clients can get hands-on experience without risking any of their own money. This allows them to try out different strategies without worrying about losses.
Overall, FXPrimus provides a wealth of educational resources that appeal to both beginners and experienced traders alike. With these tools, customers can easily build up their knowledge base and become successful forex traders.
Find Out: Formax Prime Review: A Comprehensive Look at a Forex Broker
Conclusion
Moving on, it's time to draw a conclusion about FXPrimus. This broker has plenty of pros and cons that should be considered carefully before investing with them. On the plus side, they offer many different trading platforms, competitive spreads and fees, and a wide variety of financial instruments. On the downside, there are some complaints from traders about customer service and platform issues.
Overall, FXPrimus is a reliable broker to consider for your Forex trading needs. They have strong security measures in place and have been in business for more than 15 years so they have proven their worth through longevity. Moreover, with their low fees and tight spreads, they can provide some great value for those looking to get started in Forex trading.
Dig Deeper: Interactive Brokers Review 2023: Features, Fees & User Feedback
However, it's important to note that as with any type of investment there will always be risks involved. It's important to do your due diligence before investing so you understand the market conditions and all associated risks before getting started. With this knowledge in hand you can make an informed decision about whether investing with FXPrimus is right for you.
In conclusion, FXPrimus is a reliable and secure forex broker worth considering for your investment. When compared to other brokers, it has a user-friendly platform and provides access to some of the best trading tools available. The broker also takes security seriously and is properly regulated. Furthermore, there are no hidden fees associated with FXPrimus which makes it an attractive option for traders looking to invest in the forex market.

Overall, I feel that investing with FXPrimus is a safe and profitable decision. They offer competitive spreads and leverage on their products as well as efficient customer service. With their fast order execution time and low minimum deposit requirement, they're definitely worth looking into if you're considering investing in the forex market.

If you're looking for a reliable broker that offers good value for money, then FXPrimus is definitely worth considering. Their platform is easy to use and they offer great customer service too. Plus, with their security measures in place, you can rest assured that your funds will be safe when trading with them.
Continue Reading: Plus500 Review 2023: Still a Top Broker for Investment?
Frequently Asked Questions
How Does Fxprimus Compare To Other Forex Brokers?
Comparing forex brokers can be a tricky process. It's important to understand the different features and benefits each broker offers before making a decision. In this article, we'll look at how FXPrimus stacks up against its competition.
When it comes to customer service, FXPrimus provides 24/7 support through email, online chat, and telephone. They also offer educational resources like webinars and tutorials that help traders of all levels become more comfortable with the trading platform. Additionally, they offer low spreads and competitive leverage rates for many major currency pairs.
FXPrimus also offers several account types to meet traders' needs. Whether you're a beginner or an experienced trader, there is an account type that will best fit your trading strategy. There are also bonuses available for deposits over certain amounts; however, these bonuses come with strings attached so be sure to read the fine print before taking advantage of them.
Overall, FXPrimus is a reliable forex broker that provides great customer service and competitive pricing for many currency pairs. Though there may be some caveats with their bonus system, if you do your research and compare other forex brokers before making a decision, FXPrimus could be worth considering as an option for your trading needs.
Is Fxprimus A Reliable Broker?
When it comes to reliable forex brokers, it's important to make sure you're getting the best service. FXPrimus is a popular broker, but is it reliable? In this article, we'll take a closer look at what FXPrimus has to offer and whether or not they are a good fit for your needs.
FXPrimus offers a wide range of tools and services for its clients, including low commission rates, tight spreads, fast execution times, and access to multiple markets. They also offer extensive customer support with 24-hour live chat and phone support as well as email support. Additionally, FXPrimus provides an in-depth educational center with tutorials and resources on trading strategies and concepts. This makes them a great option for beginners looking to learn more about forex trading.
Security is another important factor when choosing a broker. FXPrimus follows stringent security protocols such as SSL encryption and two-factor authentication for all accounts. They also have an account insurance policy that covers any losses due to cyber fraud or hacking attempts up to $100 million USD. All these measures ensure that your funds are safe from malicious activities while trading on the platform.
Overall, FXPrimus seems like an excellent choice for traders who want access to multiple markets, low commission rates, tight spreads, fast execution times and reliable customer service. Their security protocols provide peace of mind knowing that your funds are secure from malicious activities while trading on their platform. With their comprehensive educational materials available in their learning center, they're also great for beginner traders looking to learn the basics of forex trading.
Is Fxprimus Secure And Regulated?
When it comes to investing, security and regulation are of utmost importance. That's why it's important to know if FXPrimus is secure and regulated.
To start off, FXPrimus is regulated by the Cyprus Securities and Exchange Commission (CySEC). This means that the broker follows strict rules and regulations in order to protect traders' funds. Furthermore, FXPrimus also offers a segregated accounts feature which helps protect clients' funds from being used for other purposes without their permission. Additionally, the broker uses advanced encryption technology to ensure that all client information is kept private and secure.
Here are some key points about FXPrimus:
Regulated by CySEC
Segregated Accounts Feature
Advanced Encryption Technology
In short, FXPrimus provides a secure trading environment with strict regulations and measures in place to ensure traders' funds are well protected. The broker also employs advanced technologies such as encryption to ensure that any sensitive data is kept safe at all times. All of this makes FXPrimus a reliable choice for trading forex online.
Are There Any Hidden Fees Associated With Fxprimus?
When it comes to investing, one of the most important things to consider is whether or not there are any hidden fees associated with a broker. Hidden fees can have an adverse effect on your returns and can be difficult to avoid if you're not aware of them. This is why it's important to ask about any hidden fees when considering FXPrimus as your broker.
The good news is that FXPrimus does not have any hidden fees associated with its services. All of their trading costs are listed on their website and include spreads, commissions, and swap rates for each financial instrument they offer. Furthermore, they provide helpful resources such as an FAQ page and live chat support so you can get answers quickly without having to search through pages of legal documents.
FXPrimus also has a number of features that make them stand out from other forex brokers, such as their automated trading system, negative balance protection policy, and advanced charting tools. These features can help save you time and money while increasing your chances of success in the forex market. All in all, FXPrimus is an excellent choice for traders who want to keep their investment costs low without sacrificing quality or reliability.
How User-Friendly Is The Fxprimus Platform?
Navigating the foreign exchange trading (forex) market can be daunting and overwhelming. Finding an easy-to-use platform is essential in order to maximize profits. This begs the question: How user-friendly is the FXPrimus platform?
The FXPrimus platform has been designed with a user-friendly interface, making it accessible for traders of all levels of experience. All features are clearly labeled and organized in one main window so that users can quickly locate what they need. The intuitive navigation allows novice traders to quickly learn how to use the platform, while experienced traders will appreciate the speed and convenience of being able to access different tools without having to search through multiple windows or tabs.
In addition, FXPrimus provides educational resources such as trading tutorials and webinars. These are designed to help both novice and experienced traders keep up with market trends and sharpen their trading skills. With these educational resources, users can stay up to date on market developments and make informed decisions when trading on the FXPrimus platform.
FXPrimus's user-friendly interface, combined with its educational resources, makes it an ideal choice for those looking for an easy-to-use forex trading platform.