Are you looking for a reliable Forex broker? Forex4You is one of the most popular brokers in the market, but is it the right choice for you? Our 2023 review reveals all.
Forex trading can be both financially rewarding and risky at the same time. Choosing a reliable broker is essential to ensure that your investments are secure and that you have access to the best resources available. In this review, we'll take an in-depth look at Forex4You – what it offers, its advantages and disadvantages, and whether or not it's the right choice for you.
We'll cover all aspects of Forex4You as a broker – from its platform features to customer service and more. So if you're considering using Forex4You as your broker, read on to find out everything you need to know!
Recommended: Capital.com Review 2023: Everything You Need to Know
Forex4You Overview
Forex4You is an online Forex broker that has been in operation since 2007. They provide traders with access to the most popular currency pairs, as well as exciting trading tools and features. Forex4You offers clients a variety of trading platforms, including the MetaTrader 4 (MT4) platform. The MT4 platform is often regarded as one of the best platforms available, and it can be used to trade on both desktop computers and mobile devices.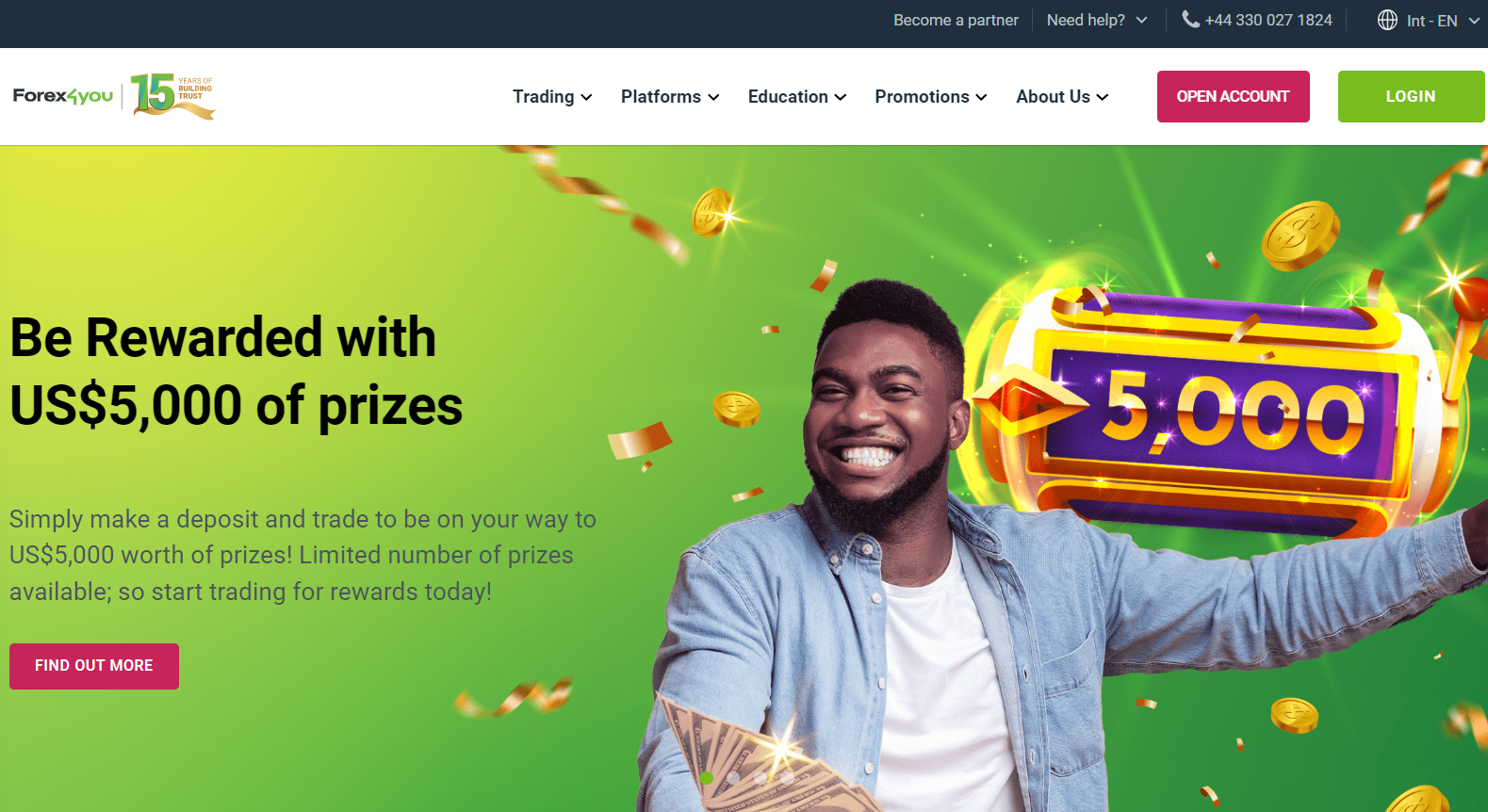 The brokerage also offers a range of account types, including standard accounts, mini accounts, and micro accounts. All account types offer leverage up to 1:1000, so traders can take advantage of high levels of leverage when trading with Forex4You. This allows traders to open larger positions than they would be able to do with their own capital alone.
Forex4You also provides excellent customer service and support 24 hours a day, 7 days a week through email, phone, or live chat. Their customer service team is knowledgeable and helpful and always willing to answer any questions or concerns that may arise during the trading process.
Read Next: GBE Brokers Review 2023: An Overview of Trading Features
Pros & Cons
Pros
User-friendly platform: Forex4You offers a user-friendly trading platform that is easy to use, even for beginners.
Low spreads and commissions: The platform offers low spreads and commissions, making trading more affordable for traders.
Wide range of trading instruments: The platform offers a wide range of trading instruments, including forex, commodities, indices, and cryptocurrencies.
Copy trading: Forex4You offers copy trading, which allows traders to automatically copy the trades of other successful traders.
Educational resources: The platform provides a variety of educational resources, including webinars, tutorials, and market analysis, to help traders improve their skills and knowledge.
Cons
Limited regulation: Forex4You is not regulated by as many regulatory authorities compared to some other brokers, which may be a concern for some traders.
Limited trading platforms: Forex4You only offers one trading platform, which may not be suitable for traders who prefer to use multiple platforms or have specific trading preferences.
Limited payment options: The platform only supports a limited range of payment options, which may be inconvenient for some traders who prefer to use different payment methods.
High minimum deposit: The minimum deposit required to start trading with Forex4You is relatively high, which may be a disadvantage for traders with limited budgets.
Limited customer support: Some traders have reported that the platform's customer support can be slow and unresponsive at times.
Overall, Forex4You provides a reputable trading environment with plenty of features that could appeal to both new and experienced traders alike. Before making your final decision it is important to weigh up the pros and cons of this broker against your own needs and preferences. With a bit of research and consideration you should be able to decide if Forex4You is the right broker for you.
Account Types And Services
Moving on from the definition of Forex4You, let's look at the account types and services they offer. They have three main types of accounts – Standard, Pro and VIP. Each account has its own features, designed to meet different trading needs.
The Standard Account is perfect for those who are just beginning their trading journey. It has a minimum deposit requirement of $50 and offers fixed spreads as low as 2 pips. Additionally, it allows you to trade up to 200 financial instruments, including forex pairs, stocks and indices.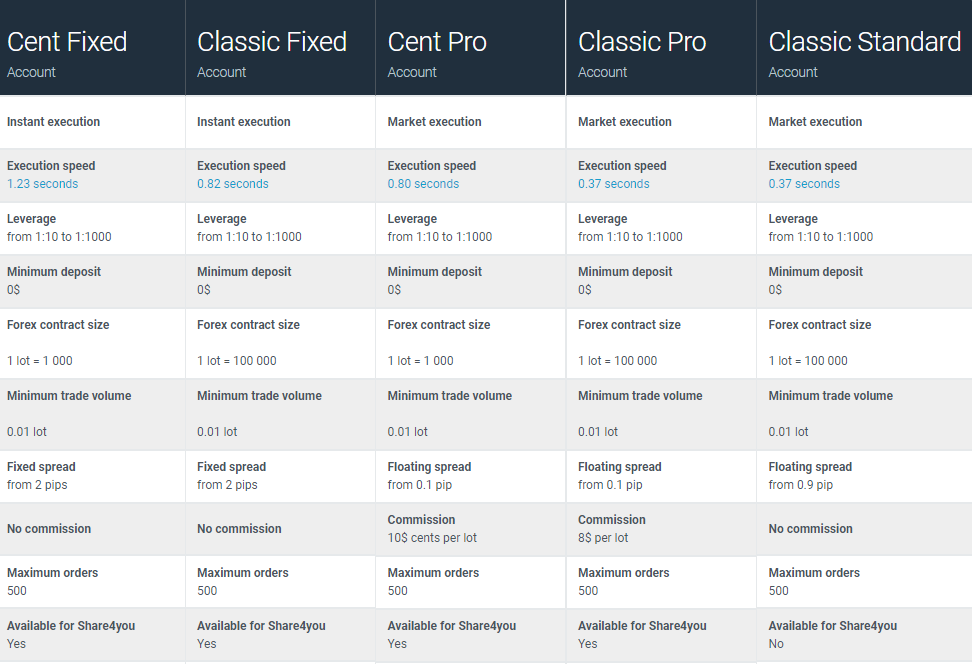 The Pro Account is ideal for experienced traders who want access to more advanced features. It requires a minimum deposit of $500 and offers variable spreads from 0 pips. Furthermore, you can use up to 500 financial instruments with this account type.
Finally, the VIP Account provides all the features of the Pro account plus extra benefits like 24/7 customer support and exclusive bonuses on deposits over $1,000. With this account type, you can also access a personal manager who provides one-on-one assistance in making trades or using the platform's other features.
Overall, Forex4You offers a range of accounts that cater to different levels of experience. Whether you're just starting out or an experienced trader looking for more advanced features, they have an account type that will suit your needs perfectly.
Take a Look: TopFX Review 2023: A Detailed Look at Features and More
Platforms And Tools
Forex4you offers several platforms and tools to help traders with their forex trading. They have a web-trader, mobile platform, MetaTrader 4 and 5, as well as other tools. The web-trader is a great option if you don't want to download any software and it's user-friendly. The mobile platform is also very handy and can be used on both Android and iOS devices. It has all the features of the desktop version but with a smaller screen size.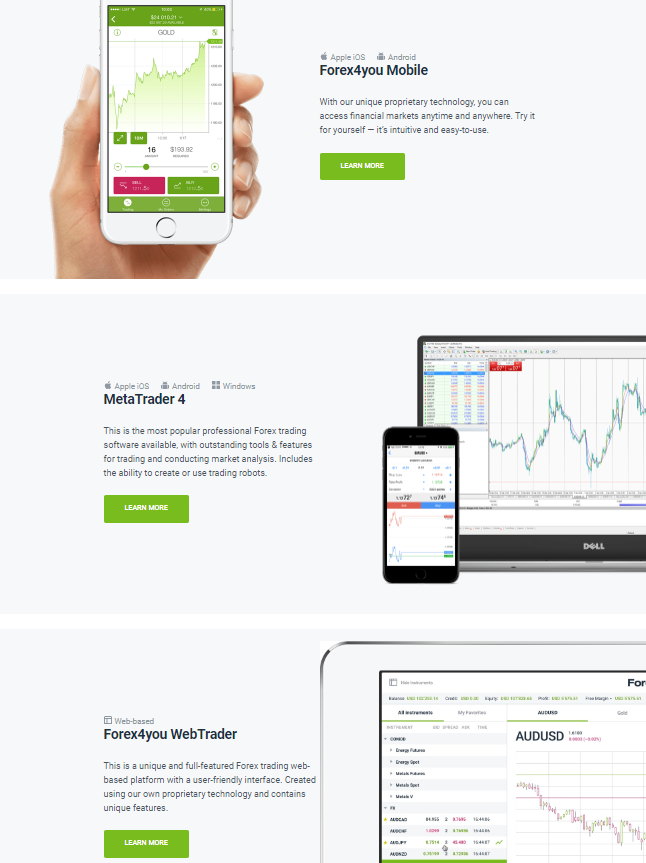 MetaTrader 4 and 5 are also available for those who prefer them over the web-trader or mobile version. Both versions feature advanced analytical tools that allow you to analyze market trends, manage your trades, and monitor your account status in real time. They also offer a range of technical indicators to help you make informed decisions about your trade entries and exits.
Overall, Forex4you provides traders with an array of platforms and tools which can help them succeed in their trading endeavors. They are easy to use, reliable, and provide all the features needed for successful trading. With these platforms and tools at their disposal, traders can feel confident they have the right resources to make profitable trades.
Continue Reading: Moneta Markets Review 2023: Is This the Right Broker for You?
Fees And Commissions
It's important to review the fees and commissions associated with a forex broker before you make any decisions. Fortunately, Forex4you is quite competitive in this regard, offering several different account options that come with low spreads and no hidden fees.
Let's take a closer look at what they offer:
Spreads:
Standard Account: Between 1-3 pips on EUR/USD pairs
Pro Account: Between 0-1 pip on EUR/USD pairs
Commissions: No commission for any of the accounts offered
Leverage Options: Up to 1:1000 leverage for all accounts offered
Other Fees: There are no other hidden fees or charges associated with Forex4you.
Overall, Forex4you provides an impressive set of fee and commission structures that help make trading more affordable for traders of all levels. From low spreads and no commissions to high leverage options, Forex4you has everything you need to get started trading in the foreign exchange market.
Dig Deeper: LegacyFX Review 2023: Uncovering the Pros and Cons of Trading
Security Measures
When it comes to security, Forex4you is a reliable choice. They have implemented some of the most advanced security measures in the industry, including two-factor authentication and encrypted data transfers. They also maintain strict client identification procedures and segregated accounts to ensure that your funds are safe.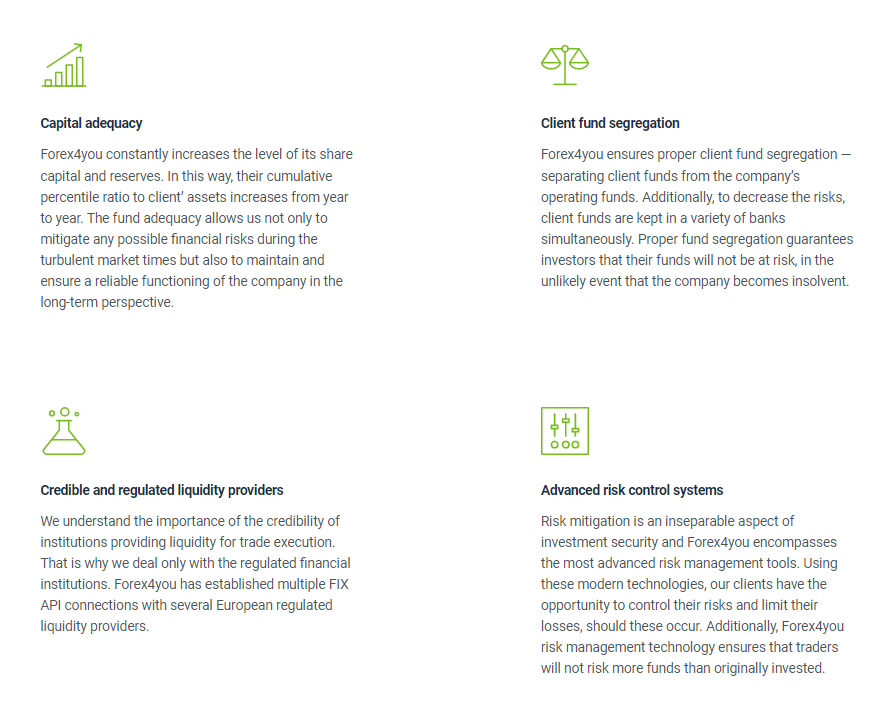 Furthermore, Forex4you is regulated by the Financial Conduct Authority (FCA) in the UK and Cyprus, as well as other respected authorities around the world. This ensures that their operations adhere to global standards for safety and transparency. All of this means that you can rest assured that your funds are secure with Forex4you.
Overall, Forex4you offers an impressive level of security for its clients. With robust measures in place and trusted regulatory bodies overseeing them, they provide a safe environment to trade forex.
Find Out: DooPrime Review 2023: A Detailed Analysis of Trading Experience
Customer Support
When it comes to customer support, Forex4you has a wide range of services available. They offer live chat and email support, as well as a telephone hotline. The customer service team is available 24/7 and can assist with any questions or queries you might have. They also have an extensive FAQ section on their website which can answer most of your questions without needing to contact the customer service team.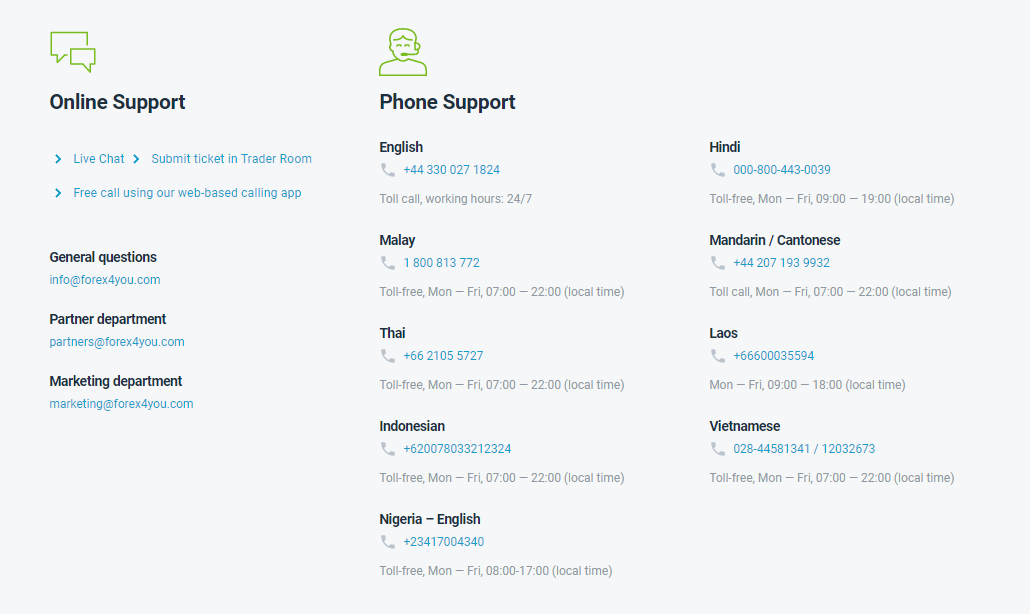 The customer service team at Forex4you is very knowledgeable and helpful. They know their products inside out and are always willing to help with any issue you may have. The response time for emails is usually very quick, within an hour or two depending on the complexity of the query. The telephone hotline is also quick to respond and usually resolves issues quickly and efficiently.
Overall, Forex4you offers excellent customer service that's reliable, efficient and helpful. Their staff are knowledgeable and friendly, making them a great choice for forex traders looking for a reliable broker. It's clear they take customer satisfaction seriously and strive to ensure all customers receive the best possible experience when trading with them.
Learn More: ACY Securities Review 2023: A Detailed Look at Trading Services
Deposit/Withdrawal Methods
Moving on, we take a look at forex4you's deposit and withdrawal methods. As a broker that is regulated by the Financial Services Commission of the British Virgin Islands, they offer a variety of payment options. Deposits can be made via bank transfers, credit and debit cards, as well as various e-wallets such as Skrill, Neteller, and WebMoney. All deposits are processed quickly and without any additional fees.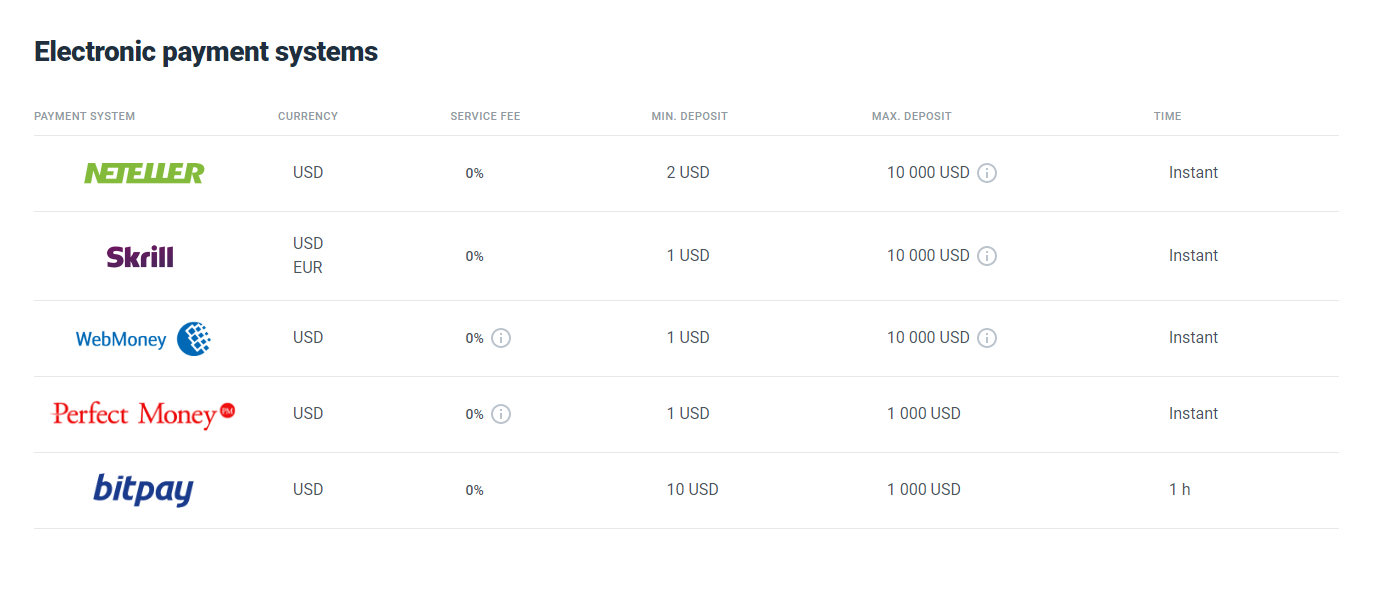 When it comes to withdrawals, the process is just as easy. If you wish to withdraw funds from your account you can use the same methods used for deposits. All withdrawal requests are processed within 24 hours provided that the correct documents have been submitted to verify your identity. Additionally, forex4you does not charge any fees for withdrawals either.
Overall, forex4you provides efficient deposit and withdrawal processes that are hassle-free for clients. With a wide range of payment options available and no additional charges or long processing times, you can rest assured that your money is safe with this broker.
More Resources: Formax Prime Review: A Comprehensive Look at a Forex Broker
Trading Conditions
At Forex4you, traders have access to some of the most competitive trading conditions available. They offer tight spreads on major currency pairs and leverage up to 1:1000. This gives traders the opportunity to maximize their profits and minimize their losses. In addition, there are no commissions or hidden fees associated with trades.
The broker also offers a range of advanced features, including hedging and scalping, as well as automated trading systems such as Expert Advisors (EAs). This makes it a great choice for experienced traders looking to take their trading game to the next level. It's also worth noting that Forex4you is regulated by several international regulators, providing greater security for customers' funds.
Overall, Forex4you provides an excellent platform for both experienced traders and beginners alike. With tight spreads and competitive leverage, as well as advanced tools and features, it's a great choice for those looking to trade in the forex market.
Check out: Interactive Brokers Review 2023: Features, Fees & User Feedback
User Experience
Moving on from trading conditions, let's take a closer look at the user experience that Forex4you offers its customers. What kind of service can traders expect when they open an account?
The first thing to note is that the website is intuitive and easy to use, making it ideal for those just starting out in forex trading. Even inexperienced traders can quickly find their way around the platform and access all the features they need. The broker also provides excellent customer support with helpful staff who are always willing to answer questions or help you resolve any issues you may have.
In addition, Forex4you offers free educational materials and resources to help their clients learn more about trading forex. From webinars to online tutorials, these tools are invaluable for those looking to gain a better understanding of the markets. The broker has also developed mobile apps for both Android and iOS devices, giving users the ability to trade on-the-go from anywhere in the world.
Overall, Forex4you provides a great user experience for both experienced and novice traders alike. With competitive pricing, a wide range of features, and helpful customer support, it's no wonder why this broker has become so popular over the years.
Discover: Plus500 Review 2023: Still a Top Broker for Investment?
Conclusion
In conclusion, I believe that Forex4You is a great option for those looking to start trading in the forex market. With low minimum deposits, an extensive range of trading tools, and robust security measures in place, it's a great choice for both beginners and experienced traders alike. Plus, their customer support team is available 24/7 to help with any questions you may have. The only downside is that they aren't regulated by any financial authorities. Nevertheless, if you're looking for a reliable broker with low fees and excellent customer support, Forex4You is an ideal choice.

Overall, I believe Forex4You offers some great advantages to traders. From easy deposit and withdrawal processes to advanced trading tools and customer support options, it provides all the necessary features for successful online trading. Plus, their secure platform ensures your funds are always safe from potential fraud or cyber-attacks. All in all, if you're looking for a reliable broker with competitive fees and plenty of features to make the most out of your trading activity, then Forex4You could be the right forex broker for you.

In summary, when it comes to finding the right forex broker for you there are many factors to consider. However, after reviewing Forex4You's services and features I can confidently say that they offer one of the best packages out there – perfect for both beginners and experienced traders alike! So why not give them a try today? After all, you have nothing to lose!
Explore More: TD Ameritrade Review: Is It the Right Brokerage for You?
Frequently Asked Questions
What Are The Minimum And Maximum Deposit Amounts For Forex4you?
When looking for a forex broker, one of the most important factors to consider is the minimum and maximum deposit amounts. Forex4You has a range of deposit options that make it an attractive option for investors. Depending on the payment method you choose, the minimum deposit amount can be just $1 or higher. The maximum you can deposit depends on the payment method as well: Visa and Mastercard deposits are capped at $20,000, while e-wallets have no upper limit.
Another factor to take into account when choosing a forex broker is the trading platforms they provide. Forex4You offers its clients access to both MetaTrader 4 and its own proprietary platform. Both platforms offer multiple benefits such as charting tools, market analysis and automated trading functions. With so many features available, traders of all levels can benefit from using these platforms.
Finally, Forex4You offers competitive fees and spreads with no hidden costs. They also have excellent customer service with helpful staff who will be able to answer any questions you may have about their services. All in all, Forex4You looks like a great option for anyone looking for an easy-to-use forex broker with competitive fees and generous deposit limits.
How Does Forex4you Protect My Funds?
When it comes to trading, the protection of funds is a key concern. Forex4You is an online forex and CFD provider that takes this issue seriously. So how does Forex4You protect users' funds?
First of all, Forex4You ensures that all user funds are kept in segregated accounts with reliable banks. This means that clients' money and the broker's capital are kept in different accounts, offering additional security measures. Furthermore, their website is secured with SSL encryption technology, meaning your data will always be safe when making transactions.
Additionally, Forex4You has also implemented various risk management tools to ensure the safety of user funds while they trade. These include guaranteed stop losses and negative balance protection, so you'll never lose more money than you have deposited into your account. All these features make sure your funds remain secure no matter what kind of volatility the market throws your way.
In short, Forex4You offers robust fund protection for its users through a combination of segregated accounts, SSL encryption technology and risk management tools. This ensures that traders can confidently enter the market with peace of mind knowing their funds are safe and secure at all times.
Is Forex4you Regulated By Any Financial Authorities?
When considering a Forex broker, it's important to know whether they are regulated by any financial authorities. Forex4You is regulated by several bodies in different countries, making them a reliable and secure option.
First of all, Forex4You is registered with the Financial Services Commission (FSC) in the British Virgin Islands. This means that the company follows strict rules and regulations related to trading, client funds protection and other important areas of its business operations.
Furthermore, Forex4You is also regulated by CYSEC in Cyprus. This ensures that the broker meets the highest safety standards for clients' funds, as well as providing a secure platform for traders to conduct their trades on.
The following points provide some key information about why Forex4You is a safe and reliable option:
Regulated by Financial Services Commission (FSC) in the British Virgin Islands;
Regulated by CYSEC in Cyprus;
Strict rules and regulations regarding client funds protection;
Secure platform for traders to conduct their trades on.
Forex4You has proven itself to be a trustworthy broker with multiple layers of protection and regulation ensuring clients' funds are kept safe at all times. Not only does this give investors peace of mind when trading with the broker, but it also allows them to focus on their trading strategies without worrying about their money being compromised.
What Type Of Customer Support Does Forex4you Offer?
When it comes to customer support, Forex4You is dedicated to providing an excellent service. It offers professional support in a variety of languages, 24/7. This ensures that customers get the help they need when they need it.
The customer support team at Forex4You has a wealth of knowledge and experience. They can answer any questions you may have about the platform, and provide helpful advice on trading strategies. They also offer guidance on setting up accounts, using the various tools available on their platform, and resolving any issues you may encounter.
Forex4You's customer service team is friendly and knowledgeable, so you can feel confident that you'll get answers to your questions quickly and accurately. With their help, you can make informed decisions about your investments, allowing you to maximize your profits while minimizing risk.
How Do I Withdraw Funds From My Forex4you Account?
Are you interested in withdrawing funds from your Forex4You account? Withdrawing funds from an online broker can be a tricky process, so it's important to understand the options available. In this article, we'll look at how to withdraw funds from your Forex4You account.
When you withdraw funds from Forex4You, there are several different payment methods available. You can use credit or debit cards, bank transfers, e-wallets such as PayPal and Skrill, and even cryptocurrency payments. It's important to note that all these methods come with their own fees and processing times, so it's worth doing some research before deciding which one is best for you.
The withdrawal process itself is straightforward and secure. All you need to do is enter the amount of money you want to withdraw and select your preferred payment method. Once your request is approved by the broker, the money will be sent to your chosen payment method within a few days (depending on the method). You may also need to provide certain documents for security purposes before your withdrawal can be processed.
Withdrawing funds from Forex4You is easy and secure – just make sure you know what kind of fees and processing times apply to each payment method before proceeding with a withdrawal request. Taking these precautions will help ensure that your withdrawal goes smoothly and quickly so you can access your money when needed.