Are you looking for a reliable forex broker? With the increasing popularity of online trading, finding the right broker can be overwhelming. Teletrade has emerged as one of the top names in forex trading and their review for 2023 can help you decide if this is the right choice for your needs. In this article, we'll take an in-depth look at Teletrade's services to determine if they're a safe and reliable choice.
Investing in forex can be daunting, especially when it comes to choosing an online broker. You want a platform that is secure, has great customer service, and offers competitive pricing. Teletrade has been around since 2003 and has quickly become a popular choice among traders looking for these qualities. They have multiple offices located around the world and offer access to over 50 currency pairs with low spreads and no commissions.
At first glance, Teletrade appears to be an ideal option for those interested in trading forex. But does their review for 2023 tell us anything different? We will analyze everything from their security measures to their customer service options to see if they are truly a safe and reliable choice in the world of online trading.
Recommended: FlowBank Review 2023: What Makes This Forex Broker #1?
Overview Of TeleTrade
Teletrade is a popular Forex broker that's been around since 2003. It offers an excellent trading platform for traders and investors, as well as access to a range of assets and markets. The broker also provides its clients with a wide range of educational resources and customer support. Teletrade is regulated by the Cyprus Securities and Exchange Commission (CySEC) and is a member of the Investor Compensation Fund (ICF). This ensures that clients' funds are safe and secure.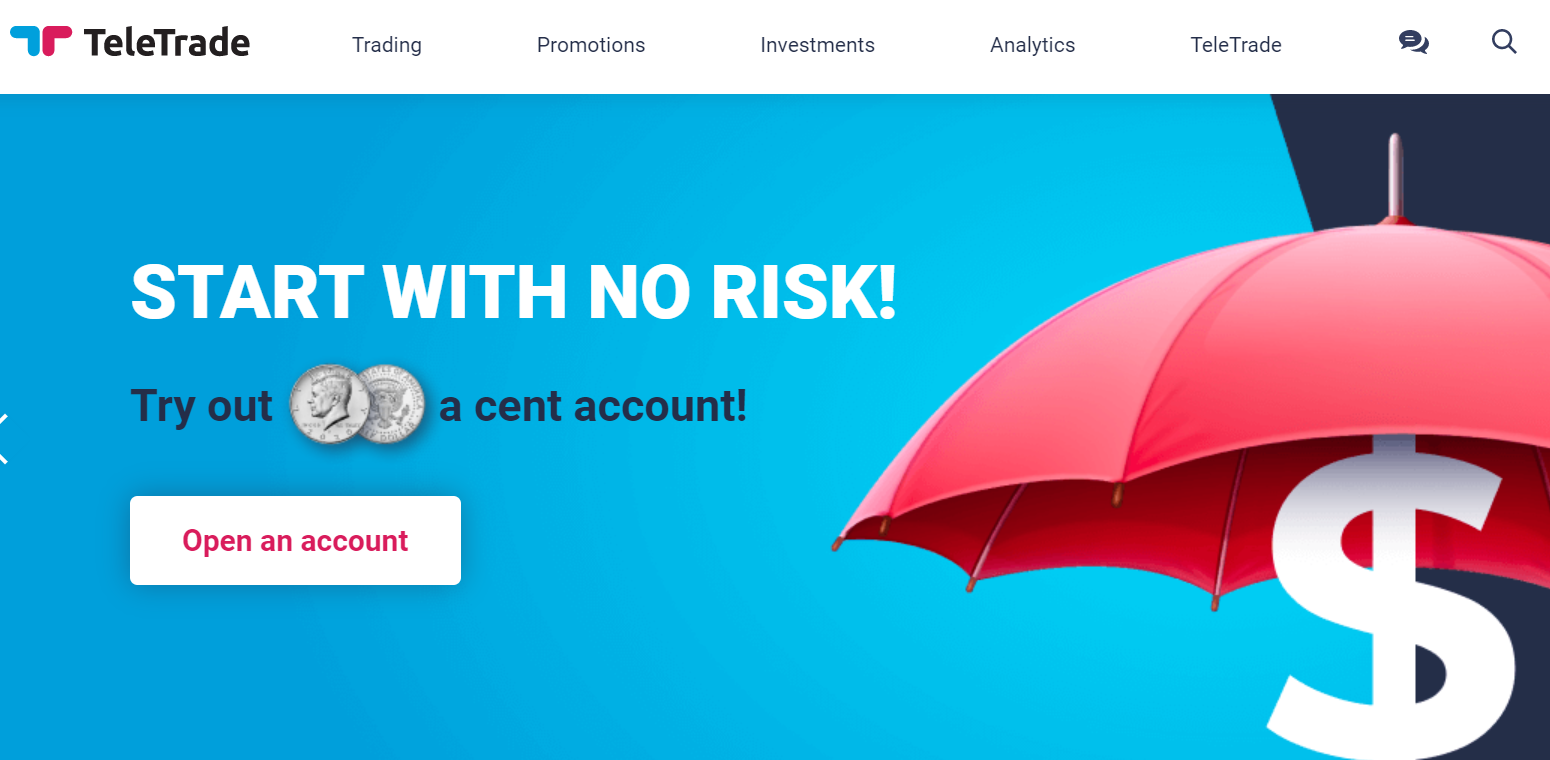 The Teletrade trading platform has numerous features, including advanced charting tools, real-time data, multiple order types, customizable indicators and risk management tools. The platform also supports multiple languages, making it accessible to traders around the world. Teletrade offers competitive spreads on all major currency pairs as well as CFDs on indices, commodities and cryptocurrencies.
Customer service at Teletrade is top-notch – clients can get in touch via email or live chat 24/7 for any queries they may have. All in all, Teletrade appears to be a reliable choice for Forex trading with its wide range of features and services, security protocols and customer support system in place.
Read Next: Trade Nation Review 2023: Everything You Need to Know
TeleTrade Pros & Cons
Pros
Wide range of trading instruments
Advanced trading platforms
Comprehensive educational resources
Regulated by reputable authorities
Low minimum deposit requirements
Cons
Limited research and analysis tools
Limited trading promotions
Limited funding and withdrawal options
High trading costs
Limited customer support
Trading Platforms And Services Offered By Teletrade
Moving along, Teletrade offers various trading platforms and services to its clients. Traders can access their accounts via the WebTrader platform, as well as the MetaTrader 4 and 5 desktop applications. Clients also have access to the mobile app, which allows them to trade on the go.
The broker provides a wide range of instruments for its users, including Forex currency pairs, stocks, indices, commodities, ETFs, and more. Furthermore, they offer several educational resources such as webinars and tutorials.

Here are some of Teletrade's features:
Leverage up to 1:500
Low spreads from 0.4 pips
Fast execution speeds
24/7 customer support in multiple languages
Teletrade provides a reliable trading environment with a comprehensive selection of services and tools suitable for both beginners and experienced traders alike. The broker is committed to helping their customers succeed in the Forex market by offering high-quality tools and user-friendly platforms.
Take a Look: FXPrimus 2023 Review: Is This Forex Broker Right For You?
TeleTrade: Account Types Available
Teletrade offers three main account types for its customers. The Standard Account is the most basic type of account and requires a minimum deposit of $500. It provides clients access to all trading instruments as well as educational materials and customer support. The Silver Account is designed for more experienced traders and requires a minimum deposit of $1000. This account offers all the features of the Standard Account plus additional services such as technical analysis, market research, and access to exclusive webinars. Finally, the Gold Account is tailored towards professional traders looking for maximum flexibility in terms of trading instruments, leverage, and overall service quality. This account requires a minimum deposit of $5000 and provides access to the full suite of Teletrade's services.
No matter which type of account a customer chooses, they can be sure that their funds are secure with Teletrade thanks to its robust security protocols. All deposits are held in segregated accounts with top-tier banks so that customers' money remains safe even in the event of insolvency or bankruptcy proceedings against Teletrade itself. Additionally, customers have access to some of the best trading tools on the market such as MetaTrader 4 platform and numerous charting tools to help them make informed decisions about their investments. In sum, Teletrade gives customers the ideal combination of security, convenience, and value when it comes to trading forex online.
Continue Reading: Forex4You 2023 Review: Is This Forex Broker Right For You?
Teletrade: Leverage And Spreads
At Teletrade, traders have access to leverage up to 1:400, allowing them to increase their buying power. This high leverage ratio is attractive for more experienced traders who want to take advantage of the maximum potential of their capital.
In addition, Teletrade offers competitive spreads on major currency pairs. These include EUR/USD, GBP/USD, and USD/JPY with fixed spreads starting from 0.6 pips and floating spreads as low as 0.1 pips.
The benefits of trading with Teletrade include:
Low minimum deposit requirement of $100
Leverage up to 1:400
Fixed and floating spreads for major currency pairs starting from 0.6 pips
Variety of payment options including credit cards and e-wallets
Segregated client funds in Tier-1 banks for secure trading environment
| | | | |
| --- | --- | --- | --- |
| Account | Min Deposit | Spreads from | Commission |
| Standard Account | $100 USD | 0.1 pips | None |
| NDD Account | $100 USD | 0.1 pips | None |
| Sharp ECN Account | $100 USD | 0.1 pips | None |
Traders can take advantage of these features to increase their chances of success when trading with this broker. The variety of payment options available makes it easy for traders to deposit or withdraw funds quickly and securely at any time. Furthermore, the segregated client funds ensure that all funds are kept safe from any potential losses that may occur due to market volatility or other risks associated with forex trading activity. With these features, Teletrade is an excellent choice for both novice and experienced traders looking for a reliable and trustworthy broker.
Dig Deeper: Capital.com Review 2023: Everything You Need to Know
Security Measures In Place: Teletrade
Teletrade is committed to providing clients with safe and secure trading experiences. To ensure their funds are safeguarded, they have implemented several security measures. The broker employs the latest encryption technology and secure communication protocols to protect client data from unauthorized access. They also employ a strong anti-fraud system that helps to detect any suspicious activities on accounts, enabling them to take swift action before any damage can be done. Additionally, Teletrade provides segregated accounts for client funds, keeping them separate from the broker's operating capital. This prevents clients from being affected if the company were to experience financial difficulties.
Teletrade also has a strict policy when it comes to verifying clients' identities and funding sources. All clients must go through a verification process before they can start trading with real money or withdraw their profits. As part of this process, clients must provide documents such as a passport or national ID card for proof of identity and proof of address such as utility bills or bank statements for verification of address. By doing this, Teletrade ensures that all clients are who they say they are and that all funds are coming from legitimate sources.
Overall, Teletrade has put in place robust security measures that ensure clients' funds remain safe while they trade on their platform. The broker is committed to providing a secure trading environment so that traders can focus on what's important – making profitable trades.
Find Out: GBE Brokers Review 2023: An Overview of Trading Features
Teletrade: Deposit And Withdrawal Options
Moving on to the next important aspect of trading with a broker, deposit and withdrawal options. Teletrade offers several different options when it comes to deposits and withdrawals:
Bank cards such as Visa, Mastercard, Maestro and American Express
Wire transfers
Popular e-wallets like Skrill and Neteller
Crypto wallets like Bitcoin and Ethereum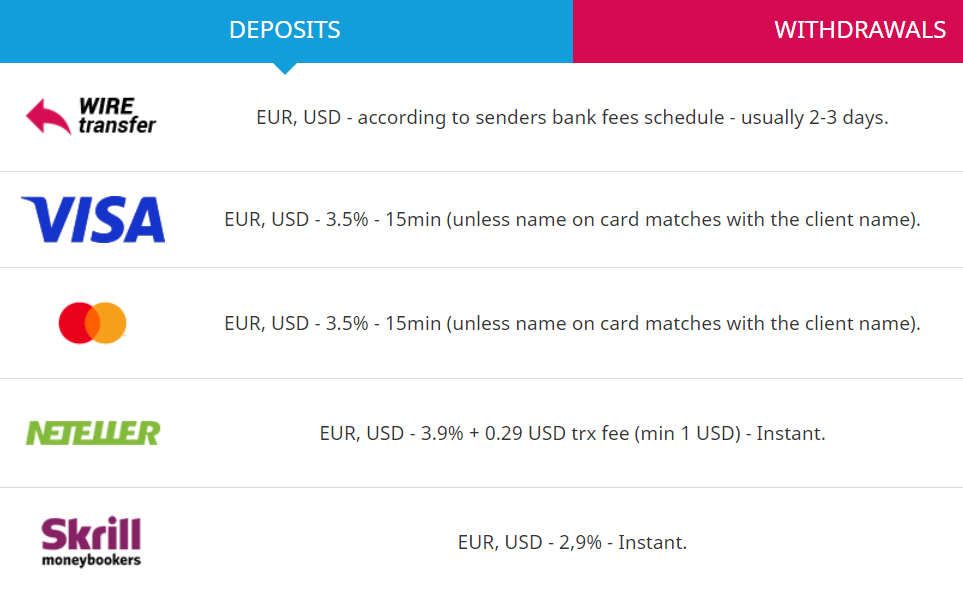 These methods are all safe, secure, and fast for traders to use. Teletrade also offers a free withdrawal every month for their clients which is a great addition for those looking to trade more frequently or just wanting to save some extra money in fees. The minimum deposit is $250 which is fairly standard among forex brokers. There are no additional fees apart from the usual transaction charges that come with any payment method used.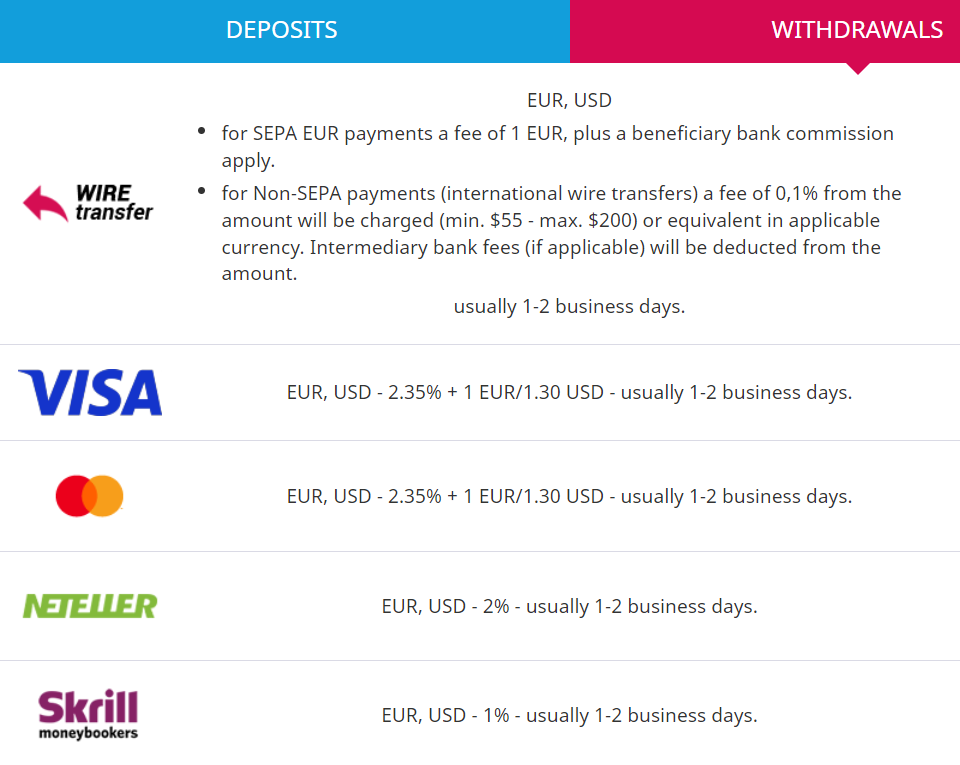 The customer support team at Teletrade is very helpful, they can provide assistance with any issues regarding deposits or withdrawals quickly and efficiently so that traders can get back to trading without any delays. It's easy to see why this broker has become such a popular choice among traders around the world as they offer excellent services in terms of both security measures and deposit/withdrawal options.
Learn More: TopFX Review 2023: A Detailed Look at Features and More
Customer Support Quality of Teletrade
When it comes to customer support, Teletrade offers a variety of options that help ensure traders stay informed and well-equipped. They have an easily accessible customer service team available 24 hours a day, 7 days a week via telephone, email or live chat. The customer service representatives are knowledgeable and friendly, providing helpful advice and responding quickly to inquiries. They also offer various tutorials and online courses for traders who wish to learn more about forex trading.

In addition, Teletrade has an extensive library of educational materials available on their website. These include video lessons, webinars, e-books and other resources that can help traders become more familiar with the trading process. This is especially beneficial for new traders who may not be familiar with how the markets work or the different types of trades they can make.
The platform also provides excellent analysis tools such as risk management calculators, charting software and market news updates so traders can stay up-to-date with the latest changes in the markets. All of these features make Teletrade a good choice for those looking for a reliable forex broker with plenty of support options. With its comprehensive resources and knowledgeable staff, Teletrade is sure to provide traders with an enjoyable trading experience.
More Resources: Moneta Markets Review 2023: Is This the Right Broker for You?
Regulatory Oversight And Compliance
Moving on to regulatory oversight and compliance, Teletrade has an impressive track record of maintaining its operations within the guidelines established by international financial authorities. In order to ensure customer trust and safety, the broker complies with the following regulations:
Regulation from the Cyprus Securities and Exchange Commission (CySEC)
Adherence to the Markets in Financial Instruments Directive (MiFID II)
Authorization from the European Central Bank (ECB)
Clearance from the International Financial Services Commission (IFSC)
Compliance with Anti-Money Laundering (AML) laws.
These safeguards are designed to protect clients from any unethical practices that may arise. This includes measures such as ensuring segregated accounts for client funds, reporting audit records to regulators, and providing clients with sufficient information about their investments. Moreover, Teletrade regularly performs internal checks to monitor its compliance with industry regulations. This is done through a combination of automated and manual checks which are conducted at regular intervals. As a result, customers can be assured that their investments are secure and monitored closely.
Teletrade's commitment to regulatory oversight and compliance demonstrates their dedication towards providing a safe trading environment for all their clients. This is further evidenced by their numerous awards and accolades they have received over the years for their excellent standards of service quality. It is clear that this broker takes customer safety very seriously, making it one of the most reliable brokers out there today.
Check out: LegacyFX Review 2023: Uncovering the Pros and Cons of Trading
User Reviews of Teletrade
User reviews and ratings of Teletrade are overwhelmingly positive. Most users report that the broker is reliable, safe, and easy to use. Deposits and withdrawals are fast and uncomplicated, making it a great choice for both beginner and professional traders. The customer service team is also well-regarded, offering timely responses to any queries or issues.

The trading platform provided by Teletrade has been praised for its user-friendly interface. It offers a range of features and tools that make it easy to monitor the markets and execute trades quickly and accurately. The broker also provides educational materials to help traders get the most out of their trading experience.
Overall, Teletrade appears to be an excellent choice for forex traders looking for a reliable broker with a good reputation for safety and reliability. Its competitive spreads and fees make it attractive for both long-term investors as well as short-term traders who need quick access to the markets. With its wide range of features, tools, and resources, Teletrade is sure to remain a popular choice among forex traders in the years ahead.
Discover: DooPrime Review 2023: A Detailed Analysis of Trading Experience
Final Thoughts About TeleTrade
Overall, it is safe to say that Teletrade is a reliable and trustworthy Forex broker. Their customer service team is knowledgeable and provides helpful support when needed. They have a wide range of account types and trading platforms available, making them suitable for traders of all levels. The resources they provide are also top notch and offer educational materials, market analysis tools, and other features which make trading easier. All in all, Teletrade has established itself as an excellent broker for those looking to participate in the Forex market.
The fees charged by Teletrade are also competitive compared to other brokers. They offer commission-free trading on some accounts and their spreads are generally very low. Additionally, they have very tight margin requirements, meaning traders can trade with more leverage than other brokers. In addition to this, they offer a variety of payment methods allowing you to deposit or withdraw funds quickly and securely.
Explore More: ACY Securities Review 2023: A Detailed Look at Trading Services
Overall, Teletrade is a great choice for Forex traders due to its reliability, customer service team, account types, trading platforms and resources offered at competitive prices. Withdrawal times are fast and secure which makes it ideal for those who need quick access to their funds. With its highly rated services combined with easy-to-use features and low fees structure, it's no wonder why so many people choose this broker for their Forex trading needs.
In conclusion, Teletrade has been in the forex trading business for more than twenty years and is a reliable forex broker. It provides comprehensive educational materials and offers Islamic accounts as well. The minimum deposit requirement to open an account is quite low, which makes it accessible to traders with different budgets. Plus, they don't charge commissions on trades, so you can rest assured that your profits will stay intact.

Overall, Teletrade is a safe and reliable choice for forex trading in 2023. Its years of experience in the industry speak for itself and its wide range of features make it an ideal choice for both experienced and novice traders alike. With its competitive fees and user-friendly platform, Teletrade offers a great opportunity to maximize your trading potential.

So if you're looking for a secure and reliable broker with excellent customer service in 2023, Teletrade should definitely be at the top of your list!
Frequently Asked Questions
How Long Has Teletrade Been In Business?
Teletrade is a forex broker that has been in business for quite some time. They have become one of the most popular brokers on the market, and many people are looking into their services. Here's what we know about how long Teletrade has been around:
Teletrade was founded in 2004.
They've since grown to serve over 500,000 clients worldwide.
They offer a variety of services such as margin trading and automated trading.
The length of time Teletrade has been in business speaks to its reliability and trustworthiness. They have had years to perfect their services, build relationships with customers, and establish themselves as a trustworthy broker. Their longevity also indicates that they have gone through numerous changes in the industry and still remain relevant today. This shows that they can handle any kind of market situation and stay afloat no matter what happens.
Moreover, Teletrade is regulated by multiple authorities, including the European CySec regulator, which further underlines their commitment to providing a safe and reliable service to clients worldwide. They also go through rigorous security checks to ensure customer funds are safe and secure at all times. Furthermore, they are constantly updating their platform with new features to make sure customers get the best possible experience when trading with them. All these factors combined make Teletrade a great choice for anyone who wants to get into forex trading or invest in it professionally.
In short, Teletrade has years of experience behind them which makes them an ideal choice for anyone looking for a reliable forex broker offering top-notch services at competitive prices. Their long history speaks volumes about how trustworthy they are as well as their commitment to providing quality services for clients worldwide.
What Educational Materials Are Available On The Teletrade's Trading Platform?
When it comes to trading, education and knowledge are key. Many traders want to ensure that they have the resources available to successfully trade and that's why it's important to understand what educational materials are offered on a trading platform. As such, this article will look at the educational materials available on the Teletrade trading platform.
Teletrade offers an array of educational materials for traders of all levels. For beginner traders, they provide comprehensive guides, tutorials and tips on how to start trading with the platform. Additionally, they have webinars and seminars which offer more in-depth information on various topics related to forex trading and market analysis. For experienced traders, Teletrade provides advanced courses and strategies as well as access to market research tools such as trading signals and economic calendars. Furthermore, they also offer a range of technical analysis tools like charting software and automated trading bots.
In terms of customer support, Teletrade has a dedicated team of professionals who provide assistance with any issues or queries that may arise while using their services. They also offer a variety of communication channels such as live chat, email, phone and social media for customers who need help navigating their platform or need further advice on their investments. All in all, Teletrade provides comprehensive educational resources for both beginners and experienced traders alike so you can be sure that you'll always find the support you need when using their services.
Does Teletrade Offer Islamic Accounts?
When looking for a trusted and reliable forex broker, one important question to ask is whether or not they offer Islamic accounts. Islamic accounts, also known as swap-free accounts, adhere to the principles of Islamic finance and are tailored to the needs of traders from Muslim countries. With this in mind, does Teletrade offer Islamic accounts?
The answer is yes. Teletrade offers both standard and Islamic trading accounts for their clients. This means that those who follow the principles of Islamic law can still take advantage of the many online trading benefits offered by Teletrade. These benefits include access to a wide range of financial instruments, tight spreads, and low margin requirements. Plus, they have a number of educational materials available on their trading platform which can help traders develop their skills and strategies.
The Islamic account option at Teletrade is suitable for clients who want to trade according to Sharia Law principles such as avoiding interest payments (riba) and overnight swaps (swap free). They provide all the same features as regular trading accounts but without incurring any additional costs or fees associated with holding positions overnight. This allows traders from Muslim countries or those wishing to trade according to Sharia law to do so without compromising their religious beliefs.
Overall, Teletrade provides an excellent option for those looking for an online trading platform that follows Sharia principles; offering competitive pricing and access to a range of financial markets through their swap-free Islamic account option.
Is There A Minimum Deposit Required To Open An Account at Teletrade?
Opening an account with Teletrade can be a great way to get involved in Forex trading. One question that potential traders may have is if there is a minimum deposit required to open an account. Here's what you need to know:
Yes, there is a minimum deposit requirement when opening an account with Teletrade. The amount of the minimum deposit varies depending on the type of account being opened and where the customer is located.
Usually, the minimum deposit for a standard Forex trading account is $100 USD or equivalent in another currency. Other types of accounts may require higher deposits depending on their features and complexity.
It should also be noted that some payment methods may incur additional fees when making deposits, so it's important to check what these might be before making any transfers.
Overall, Teletrade does require customers to make a minimum deposit before opening an account, but this varies depending on the type of account and location of the customer. It's worth knowing which fees and charges apply before transferring funds into your new trading account, too.
Does Teletrade Offer Commission-Free Trades?
Many forex traders are looking for brokers who offer commission-free trades. Luckily, Teletrade offers commission-free trades to those who open an account with them. The broker doesn't charge any commissions or fees on the trades that customers execute through their platform. This makes it one of the most attractive options for those looking to trade currencies without having to worry about additional costs.
It's important to note that Teletrade does not offer a fixed spread rate, which means that the spreads can change depending on market conditions. Therefore, traders should be aware of this before they make any decisions regarding their trading strategies. Additionally, there may be some restrictions placed on how long a customer can hold a position in certain currency pairs.
Overall, it seems that Teletrade is an attractive option for forex traders who are looking for commission-free trades without having to worry about additional costs such as spreads and holding periods. They also provide customers with access to sophisticated trading tools and resources, allowing them to stay up-to-date with market trends and news. All in all, Teletrade is a good choice for those who want to trade currencies in a secure and reliable manner.