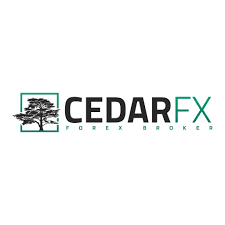 In the competitive world of online trading, the quest for a trustworthy and environmentally conscious broker can seem like a daunting challenge. However, CedarFX shines as a guiding light of sustainability and profitability in this realm. Positioned as the world's pioneering eco-friendly broker, CedarFX not only boasts an impressive array of trading options but also takes proactive measures to mitigate its carbon footprint.
This CedarFX review aims to offer an impartial and data-driven assessment of CedarFX, encompassing its platform, account varieties, trading possibilities, and user insights. Operating on the robust MetaTrader 4 platform, CedarFX caters to both seasoned traders and beginners, promising a seamless trading experience complemented by round-the-clock customer support.
While their commitment to environmental sustainability is admirable, some users have suggested potential enhancements in CedarFX's educational resources and features tailored for novice traders. Nevertheless, boasting competitive spreads, a reliable withdrawal process, and an unwavering dedication to ecological responsibility, CedarFX presents an enticing opportunity for individuals seeking to engage in cryptocurrency and securities trading.
Key Takeaways
CedarFX offers a 0% Commission Account and an Eco Account.
They provide access to a wide range of tradable securities, including stocks, futures, forex pairs, and cryptocurrencies.
CedarFX plants trees through their Eco Account by matching commissions paid.
There are no fees for both account types.
CedarFX: Platform Overview
The CedarFX platform operates on the MetaTrader 4 platform, providing users with access to a wide range of tradable securities, including stocks, futures, forex pairs, and cryptocurrencies. The platform offers several features that enhance the trading experience. Users can view real-time spreads between assets, allowing them to make informed trading decisions.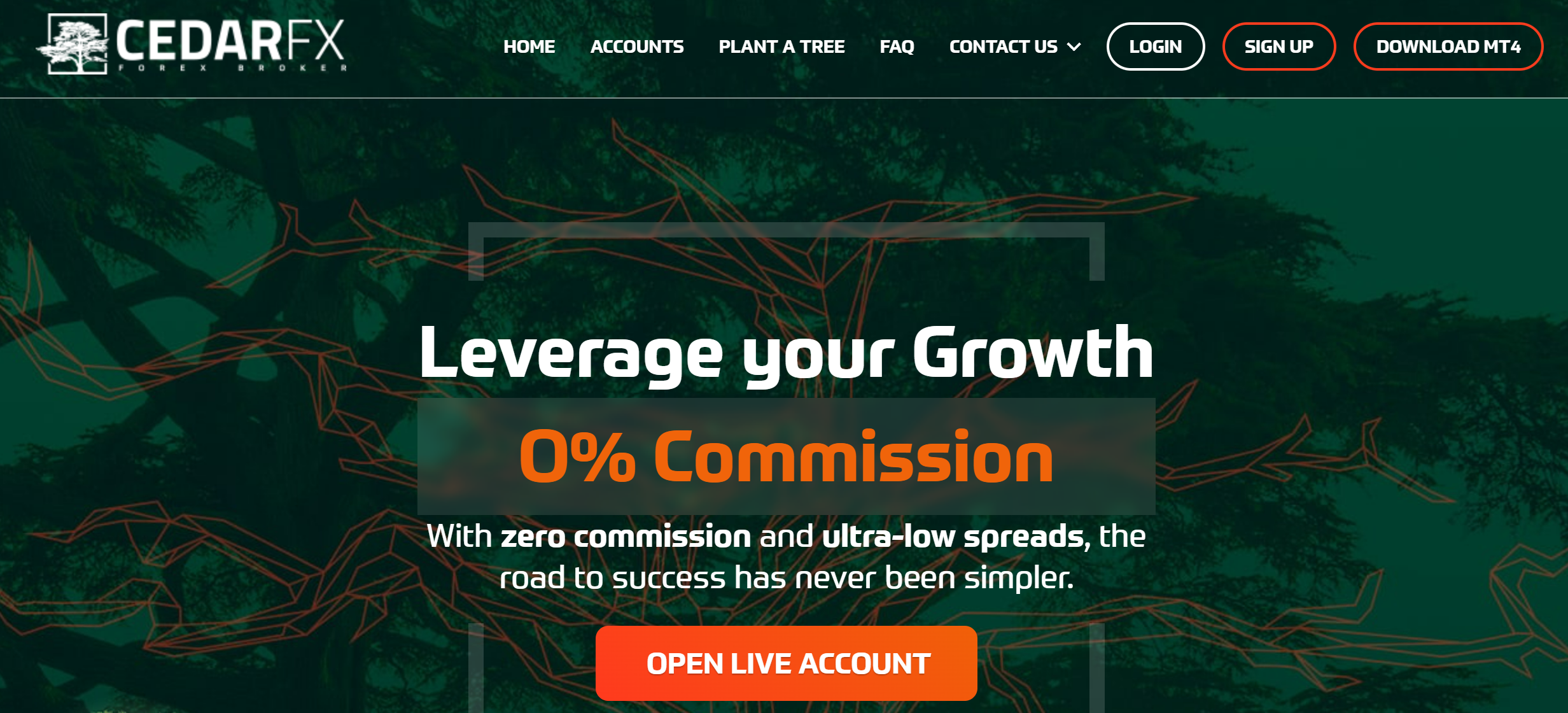 Additionally, CedarFX provides around-the-clock customer support, ensuring that users can receive assistance whenever needed. Customer support can be reached through phone, live chat, or email, making it convenient for users to address any issues or concerns. The platform's user-friendly interface and quick signup process, guided by a progress bar, contribute to a seamless trading experience. However, it would be beneficial for CedarFX to expand its educational tools and features to better support new users.
CedarFX: Account Types
There are two different account types available on CedarFX. The first is the 0% Commission Account, which offers commission-free trading on a wide range of tradable securities. This account type allows traders to access 64 major stocks, 7 major forex pairs, 21 forex cross pairs, 27 exotic forex pairs, 35 cryptocurrency pairs, 11 indexes, 1 class of futures trading, and 4 metal pairs.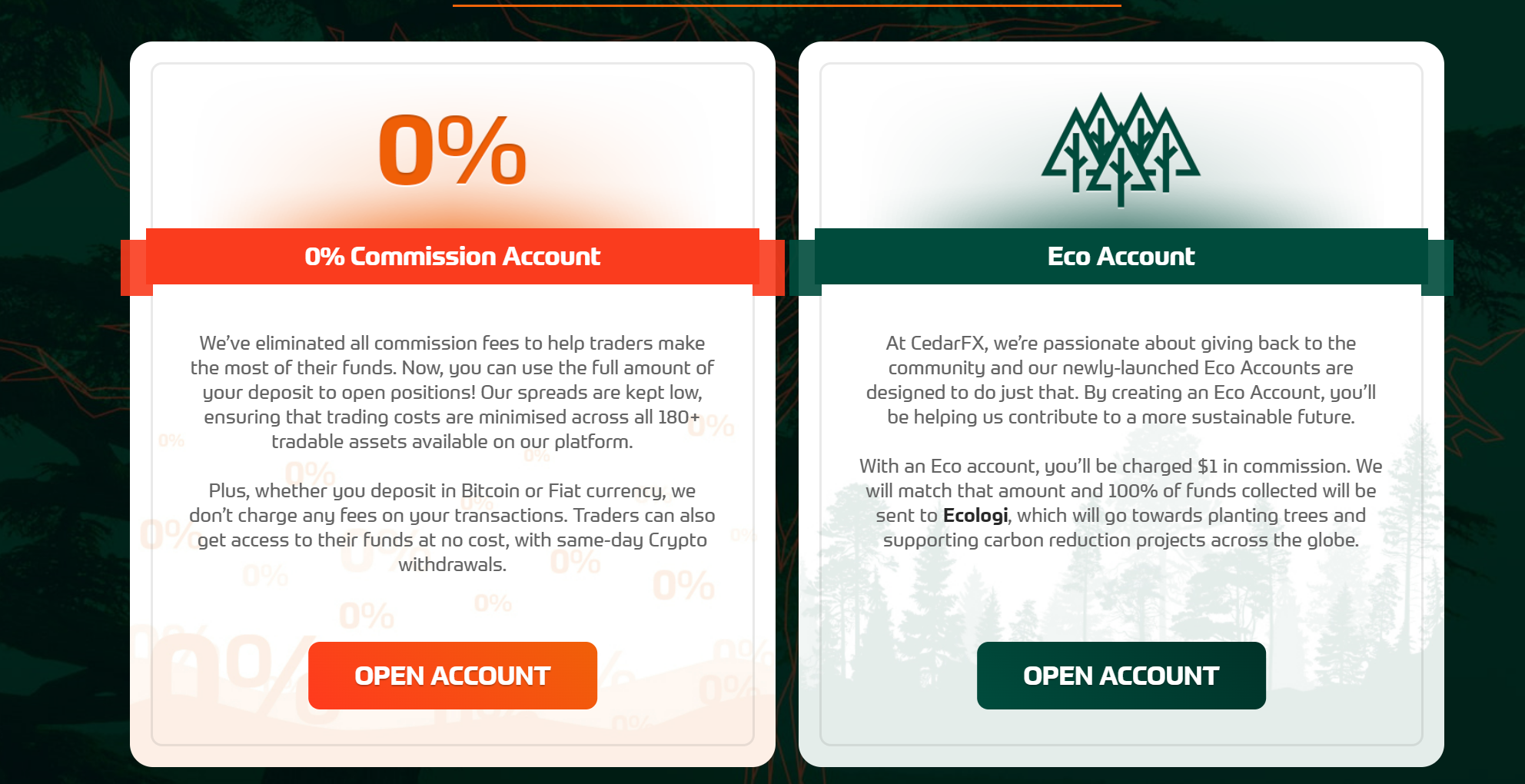 The second account type is the Eco Account, which has all the same features as the 0% Commission Account but also includes the benefit of offsetting the broker's carbon footprint. CedarFX plants trees through their Eco Account by matching commissions paid, making it the world's first eco-friendly broker. Both account types have no fees and offer leverage rates ranging from 1:20 to 1:500.
Trading Options Available At CedarFX
Trading options on CedarFX encompass a wide range of tradable securities, including stocks, forex pairs, cryptocurrencies, indexes, futures, and metal pairs, providing ample opportunities for diversification and investment. To make the most of these trading options, traders can utilize various trading strategies and conduct thorough market analysis. Here are four key points to consider:
Diversification: CedarFX offers access to a diverse range of assets, allowing traders to spread their investments across different markets and reduce risk.
Forex and Crypto Trading: Traders can take advantage of the 7 major forex pairs, 21 forex cross pairs, 27 exotic forex pairs, and 35 cryptocurrency pairs available on the platform, enabling them to participate in the global forex and crypto markets.
Index and Futures Trading: CedarFX provides access to 11 indexes and 1 class of futures trading, offering opportunities for traders to speculate on the performance of various markets and sectors.
Metal Trading: Traders interested in precious metals can choose from 4 metal pairs available on CedarFX, allowing them to participate in the fluctuations of gold, silver, platinum, and palladium prices.

By utilizing effective trading strategies and conducting thorough market analysis, traders can make informed decisions and potentially maximize their profits on CedarFX.
User Feedback
Understanding CedarFX's trading options is crucial, and user feedback plays a pivotal role in uncovering the platform's strengths and areas for improvement. One standout feature that garners praise from users is the Eco Account, an innovative offering enabling them to actively contribute to environmental conservation through tree planting. This eco-conscious feature not only aligns CedarFX as a sustainable broker but also leaves a positive impact on our planet. Furthermore, users express notable contentment with CedarFX's customer support services.
With customer service available 24/7, CedarFX provides multiple avenues for users to seek assistance, be it through phone, live chat, or email. This unwavering commitment to prompt and dependable customer support has earned accolades from users who value the assurance that their inquiries and concerns will be promptly addressed. In summary, user feedback spotlights the positive environmental influence of CedarFX's Eco Account and underscores user satisfaction with the platform's customer support, making it a notable choice in the trading landscape.
Frequently Asked Questions
What is CedarFX, and how does it stand out in the trading industry?
CedarFX is a prominent online trading platform known for its dedication to sustainability. It differentiates itself by offering traders an Eco Account, allowing them to contribute to reforestation efforts with every trade made.
What trading options are available on CedarFX?
CedarFX provides a wide range of trading options, including Forex, cryptocurrencies, stocks, commodities, and indices. Users can diversify their portfolios with ease.
Is CedarFX a reliable broker for trading?
CedarFX is considered a reliable broker, offering competitive spreads, a user-friendly MetaTrader 4 platform, and robust customer support to assist traders.
Tell me more about the Eco Account and how it benefits the environment.
The Eco Account is a unique feature of CedarFX that plants trees for every lot traded. This environmentally-friendly initiative has a positive impact by contributing to global reforestation efforts.
What is the minimum deposit required to start trading on CedarFX?
CedarFX offers a low minimum deposit requirement of just $10, making it accessible to both new and experienced traders.
What leverage options are available on CedarFX?
CedarFX offers leverage options of up to 1:500, allowing traders to amplify their potential profits. However, it's important to use leverage responsibly.
How can I deposit funds into my CedarFX account?
CedarFX supports various deposit methods, including bank transfers, credit/debit cards, and cryptocurrencies like Bitcoin and Ethereum.
What are the withdrawal options on CedarFX?
Withdrawals can be made through the same methods used for deposits. CedarFX prides itself on offering efficient and reliable withdrawal processes.
Is CedarFX regulated, and is my money safe with them?
CedarFX operates under the regulatory authority of the International Financial Services Commission (IFSC). While it provides a level of oversight, it's crucial to exercise caution and conduct thorough research when trading.
Does CedarFX offer any educational resources for traders?
CedarFX provides educational materials and market analysis tools to help traders make informed decisions. However, some users have suggested that additional educational resources could be beneficial.
Can I trade on CedarFX using a mobile device?
Yes, CedarFX offers a mobile trading app, allowing you to trade on-the-go using your smartphone or tablet.
What is the average response time for CedarFX's customer support?
CedarFX takes pride in its around-the-clock customer support. On average, users report prompt responses, ensuring their inquiries and issues are addressed in a timely manner.
Does CedarFX charge any hidden fees or commissions?
CedarFX is known for its transparent fee structure. There are no hidden fees, and the broker primarily earns through spreads.
Is there a demo account available for beginners to practice trading?
Yes, CedarFX offers a demo account, allowing novice traders to practice and familiarize themselves with the platform without risking real money.
What are some areas where CedarFX could improve based on user feedback?
Users have suggested that CedarFX could enhance its educational resources for beginners and expand its range of trading tools and features to cater to a wider audience of traders.